This article first appeared in Capital, The Edge Malaysia Weekly, on May 13, 2019 - May 19, 2019.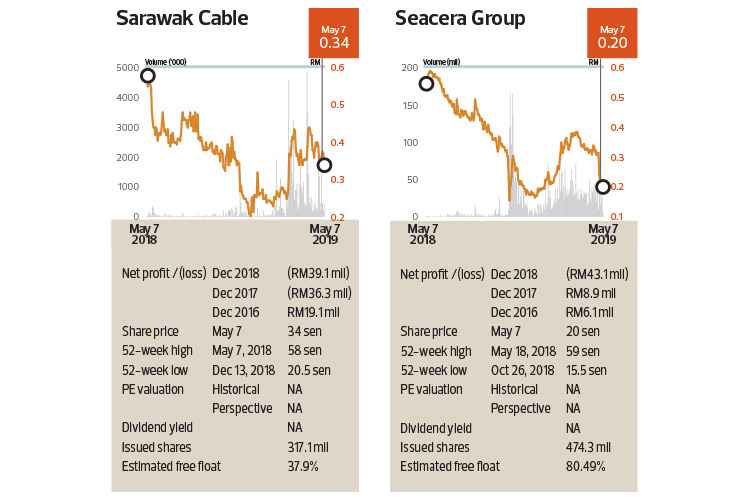 Notable filings
FROM April 29 to May 3, notable filings with Bursa Malaysia included one on the conclusion of the Kian Joo Can Factory Bhd takeover. On April 29, Datuk See Teow Chuan accepted the mandatory general offer (MGO) of RM3.10 per share from Can-One Bhd for his entire 8.45% stake or 37.54 million shares.
See was the last substantial shareholder to accept the offer, which closed on April 30. The Employees Provident Fund, which held 10.13%, accepted the offer in March.
Can-One triggered the MGO in December after raising its stake by 2.17 million shares to 33.39%. When the offer expired on April 30, Can-One held 97.48%. It does not intend to maintain Kian Joo's listing status and the counter was suspended from trading on May 9.
Halex Holdings Bhd saw the emergence of a new majority shareholder, Waras Dinamik Sdn Bhd, which acquired 559.68 million shares on April 29. The purchase raised Waras Dinamik's stake to 612.83 million or 74.68%.
The shares were payment for Halex's RM596.79 million acquisition of Hextar Chemicals Ltd in a cash plus shares deal. Waras Dinamik is the vehicle of the Ong family, led by Datuk Ong Choo Meng, who is executive director of Halex.
Over at Barakah Offshore Petroleum Bhd, timber tycoon Tan Sri Dr Yaw Teck Seng ceased to be a substantial shareholder after his vehicle Magnadrive Sdn Bhd sold 15.5 million shares, according to a May 3 filing.
Yaw is the founder of Sarawak-based Samling Group, which is mainly involved in forestry, oil palm cultivation and property development. The disposal reduced Magnadrive's 5.08% stake (42.46 million) in the debt-ridden oil and gas firm to 3.22%.
A separate filing on May 3 also showed major shareholder Nik Hamdan Daud paring his stake by 15 million shares (a 1.79% stake) on April 26. He retains a 20.1% stake.
He had stepped down as president-cum-CEO on April 15 to make way for a debt restructuring. On April 24, Barakah Offshore said it had identified white knights and obtained creditors' support for its turnaround plan.
D'nonce Technology Bhd substantial shareholder Tan Than Kau reshuffled his holdings, according to several filings during the period under review. Tan acquired 7.1 million shares off market to bump his direct stake up to 14.95 million shares or 5.94%.
On the other hand, his vehicle BM Synergy Holding Sdn Bhd sold 13.1 million D'nonce shares across multiple transactions, leaving him with 40.87 million shares or a 16.23% stake.
Notable moves
Over the past 12 months, Sarawak Cable Bhd has been on a rollercoaster ride that saw it shed 40.52% in market value. From 58 sen on May 7, 2018, its share price fell to a multi-year low of 20.5 sen on Dec 13 before rebounding to touch 44 sen earlier this year.
On April 25 and 26, non-executive chairman Datuk Seri Mahmud Abu Bekir Taib sold 2.46 million shares on the open market. He now holds 58.26 million shares (18.38%) held directly, as well as indirect interest of 8.23%.
Sarawak Cable saw widened losses in the financial year ended Dec 31, 2018, its second consecutive year in the red. Its audited pre-tax loss was RM33.24 million as revenue fell below the RM1 billion threshold to RM789.54 million, a four-year low.
According to its 2018 annual report released on April 30, some of the losses were from its construction and aviation units as well as cost overruns in the construction of its mini hydropower plant in Indonesia.
Between April 26 and May 2, Seacera Group Bhd's share price tumbled 40.65% from 32 sen to 19 sen. The counter has retreated 63.64% over the past 12 months.
Filings on May 2 and 3 show that Datuk William Tan Wei Lian had pared his stake by 45.59 million shares across four transactions. The shares amounted to a 9.61% stake. As at May 3, Tan retains 32.02 million shares or 6.75% interest.
On May 3, Seacera said Tan and six other shareholders who collectively hold a 10% stake called for an extraordinary general meeting (EGM) on May 29 to remove eight directors. Seacera said it is seeking legal advice on the matter.
Tan had previously issued similar EGM notices on March 28 and April 15 but withdrew them without giving any explanations.