This article first appeared in Capital, The Edge Malaysia Weekly, on December 9, 2019 - December 15, 2019.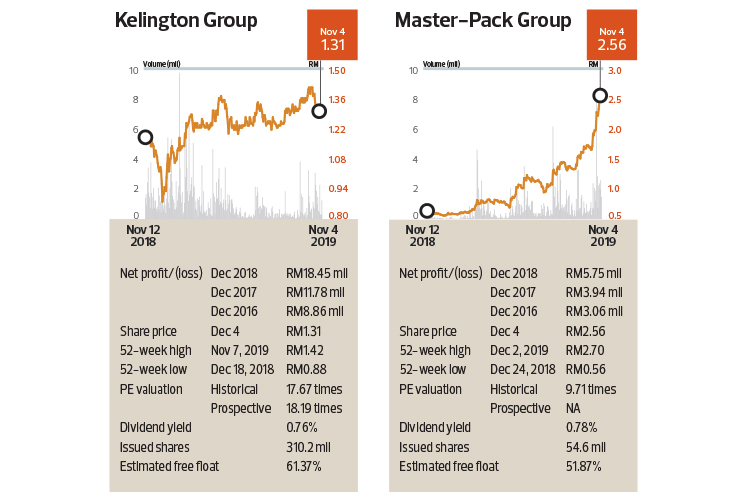 Notable filings
BETWEEN Nov 25 and 29, notable shareholding changes in companies listed on Bursa Malaysia included that at Key Asic Bhd, a loss-making Internet of Things chips and system designer.
A Nov 25 filing shows that Atlantic Quantum Sdn Bhd — a company linked to sovereign wealth fund Khazanah Nasional Bhd — ceased to be a substantial shareholder after disposing of 23.27 million shares or a 2.44% stake on the open market on Nov 21 and 22.
The buyer and transaction price were not known at press time. Key Asic closed at 5.5 sen on Nov 21 and 6.5 sen on Nov 22.
It was reported on Nov 22 that the group will focus on the licensing of its design intellectual properties (IPs) to drive future revenue.
Chairman Eg Kah Yee reportedly said that Key Asic has been investing in the development of more design IPs in the past few years and expects greater revenue contribution from the IPs it has developed.
Over at Practice Note 17 company Lotus KFM Bhd (formerly known as Kuantan Flour Mills Bhd), Datuk Lim Chun Cheong emerged as a substantial shareholder after acquiring 44.61 million shares or a 6.46% direct stake via settlement of shares on Nov 26.
The company's shareholding is rather fragmented. As at Nov 26, Wong Sak Kuan was the single largest shareholder with a 29.1% stake, followed by Yau Ming Teck with 8.48% and CWL Ventures Sdn Bhd — owned by Chia Weng Lock — with 8.35%.
Meanwhile, Yee Shia Ming is no longer a substantial shareholder of Niche Capital Emas Holdings Bhd, as his stake in the jeweller was diluted to 3.05% following a rights issue.
In April 2015, Yee was believed to have bought 12.1 million shares at undisclosed prices from former Niche Capital managing director Mah Weng Kee, who is now a non-executive director.
Loss-making diversified group PRG Holdings Bhd saw the entry of Kho Sau Hong as a new substantial shareholder with 30.29 million shares or a 7.5% stake on Nov 27.
A Nov 29 filing with Bursa shows that they are the consideration shares for the proposed acquisition of two agricultural parcels planted with teak trees in Kelantan.
Last month, PRG cancelled a plan to buy the entire stake of loss-making retail company, Premier Management International Ltd, from its 54.19%-owned Hong Kong-listed unit, Furniweb Holdings Ltd.
No reason was given for the termination, which was mutual.
Notable movements
The share price of Kelington Group Bhd has gained 17% year to date, closing at RM1.31 last Wednesday and giving the company a market capitalisation of RM406.4 million. The stock has fallen 7.7% from its 52-week high of RM1.42 on Nov 7.
The ultra-high purity gas delivery solutions provider saw the exit of Kumpulan Wang Persaraan (Diperbadankan) or KWAP as a substantial shareholder after the pension fund offloaded one million shares or a 0.32% stake on the open market on Nov 22.
To date, KWAP still owns 4.87% of Kelington.
Corrugated paper packaging manufacturer Master-Pack Group Bhd has seen its share price more than quadruple year to date. The counter closed at RM2.56 last Wednesday, giving the company a market capitalisation of RM139.8 million.
Ch'ng Eng Seong ceased to be a substantial shareholder of Master-Pack after disposing of 1.41 million shares or a 2.6% stake on the open market on Nov 26.
According to the company's 2018 annual report, Ch'ng was its second largest shareholder with a 9.91% direct stake as at March 29.
For the nine months ended Sept 30, Master-Pack's net profit more than tripled to RM12.57 million from RM3.95 million a year earlier.