This article first appeared in Capital, The Edge Malaysia Weekly, on October 14, 2019 - October 20, 2019.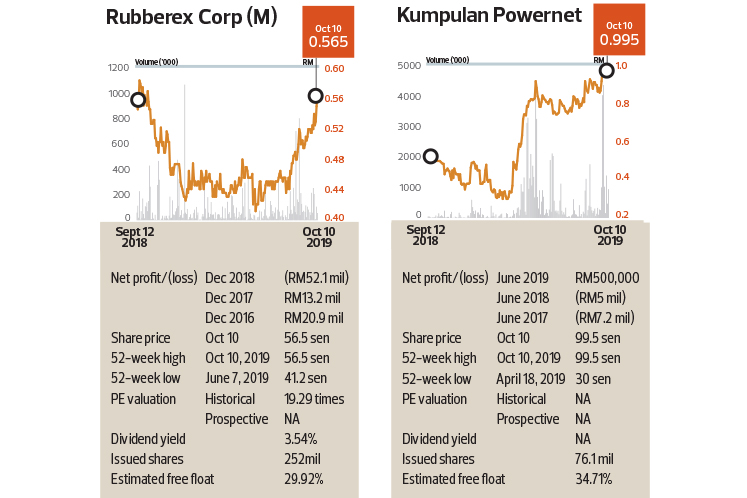 Notable filings
BETWEEN Sept 30 and Oct 4, notable shareholding changes filed with Bursa Malaysia included that at Green Ocean Corp Bhd, which saw the exit of Tawaria Sdn Bhd as a shareholder. Tawaria had sold 26.34 million shares, or a 9.1% stake, on Sept 27 at 10 sen apiece, according to an Oct 1 filing.
The sale marked the exit of former board member Ooi Chen Sheng, who resigned as non-executive director in September last year.
At the time of writing, it was unclear who had bought the stake from Tawaria. However, it is worth noting that on Sept 17, managing director Mohd Yusri Md Yusof sold 12.32 million shares, or a 4.25% stake, to non-executive director Khoo Chee Siang, who joined the board in September 2017.
As at last Wednesday, Mohd Yusri retained a 5.78% stake in Green Ocean, which manufactures green products and refines palm oil. Non-executive chairman Datuk Seri Chiau Beng Teik is the largest shareholder with 20.52% equity interest.
Sime Darby Bhd saw Permodalan Nasional Bhd (PNB) cease to be a substantial shareholder on Oct 2 after the fund manager sold 20 million of its shares. The cessation came just over a week after PNB surfaced on Sept 23, having bought 10 million shares to raise its stake to just over the 5% threshold with 341.22 million shares.
Over at Boustead Holdings Bhd, substantial shareholder Kumpulan Wang Persaraan (Diperbadankan) or KWAP sold two million shares on the open market on Oct 2, reducing its stake to 9.19% or 186.18 million shares.
The sale was the latest in a series of open-market disposals by KWAP beginning June, which saw the pension fund's stake in Boustead reduced from 204.29 million shares (10.08%) to 186.18 million shares (9.19%).
A Sept 30 filing shows that on Sept 26, Ikhmas Jaya Holdings Sdn Bhd sold two million Ikhmas Jaya Group Bhd shares on the open market. The sale reduced Ikhmas Jaya Holdings' stake to 49.38% or 290.5 million shares.
Ikhmas Jaya Holdings is the vehicle of managing director Datuk Ang Cheng Siong. Further filings show that on Oct 4, Ikhmas Jaya Holdings sold another 8.2 million shares on the open market.
Ikhmas Jaya Group is principally involved in the engineering and construction of foundations, bridges and buildings.
On Sept 26, Ikhmas Jaya Group's shares closed at nine sen after falling from its last peak of 27 sen on July 15 — a 66.67% plunge.
Notable moves
After its last peak of 64 sen in end-August last year, Rubberex Corp (M) Bhd's shares fell 34.38% over a 10-month period to hit 42 sen on June 7 — a multi-year low.
But the rubber glove manufacturer's stock has rebounded since. Last Wednesday, the counter closed at 55 sen, marking a 31% increase in 12 weeks.
An Oct 2 Bursa filing shows that despite the share price rally, non-executive chairman Datuk Abdul Rahim Abdul Halim picked up 180,000 shares at 52 sen apiece. The purchase raised his holding to 972,400 shares or a 0.04% stake.
Previous filings show that Abdul Rahim had increased his holding substantially in September and October. Prior to a series of share purchases that began in early September, his shareholding in Rubberex was 300,000 shares.
On May 6, Kumpulan Powernet Bhd, which manufactures and supplies Powernet warp-knitted fabrics, closed at 30 sen per share. Fast forward to last Wednesday, the stock was worth RM1 apiece — a surge of 233% in five months.
The rally coincided with the emergence of Datuk Dr Mohd Abdul Karim Abdullah as a substantial shareholder in June, when he acquired 20.04% equity interest. An Oct 4 filing shows that he bought another 12.25 million shares on Oct 2, raising his stake to 36.13% and triggering a mandatory general offer of RM1 per share.
Mohd Abdul Karim is a co-founder of Serba Dinamik Holdings Bhd. The collective stake held by him and persons acting in concert is 46.81%. The offerors intend to maintain the company's listing status.