This article first appeared in Capital, The Edge Malaysia Weekly, on June 22, 2020 - June 28, 2020.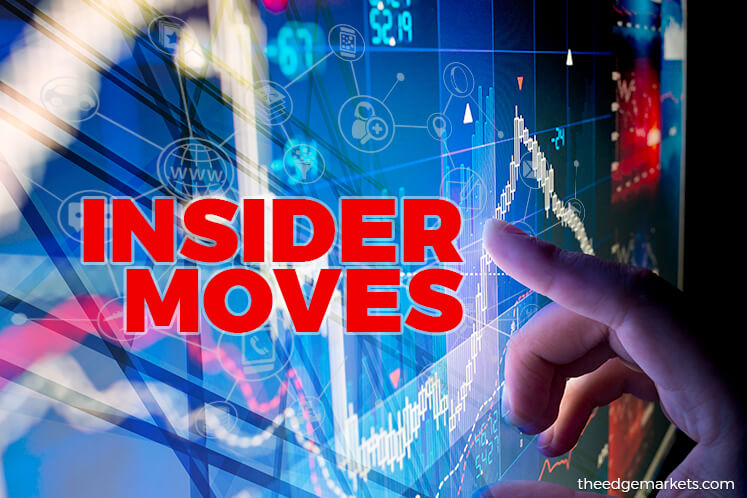 Notable filings
BETWEEN June 9 and 12, notable filings included that at Dialog Group Bhd, which saw its co-founder and executive chairman Tan Sri Ngau Boon Keat reduce his stake through Azam Utama Sdn Bhd. Filings with Bursa Malaysia show that Ngau disposed of 37 million shares at RM3.67 apiece in an off-market transaction on June 10. Dialog closed at RM3.78 that day, two sen lower than the day before.
Post-disposal, Ngau's direct and indirect equity interests were reduced to 0.81% and 18.31% respectively.
Since mid-May, Dialog's share price has been on an upward trend, especially after it reported higher earnings for the third quarter ended March 31. Net profit rose 5.1% year on year to RM151.04 million from RM143.71 million, on the back of better performance at its Langsat terminals and Pengerang Independent Terminals. Revenue, however, declined 20.61% y-o-y to RM505.43 million from RM636.61 million.
Global Oriental Bhd saw the emergence of a new shareholder, Idaman Motif Sdn Bhd, which acquired 81.44 million shares or a 17.91% stake. Filings with Bursa show that the shares were acquired through an off-market transaction on June 5.
Idaman Motif is the private vehicle of Datuk Tan Eng Beng, who holds a 0.07% direct stake in Global Oriental.
In contrast, former Global Oriental executive director Othman Mohammad ceased to be a shareholder after divesting his entire holding of 81.44 million shares on the same date. Note that he had resigned on June 15.
Over at Key Asic Bhd, substantial shareholder Ng Geok Lui disposed of 21 million shares on June 5, according to filings with Bursa. Ng sold a further 30 million shares on June 12 and ceased to be a shareholder of the company.
Key Asic, together with UCrest Bhd, recently obtained a deal to provide internet of medical things (IoMT) technology to the medical sector. The companies announced in a joint statement that Key Asic's MCard and UCrest's iMedic would be bundled with ventilators manufactured by BMC Medical.
Key Asic's share price has been rising since May 20, hitting a high of 13 sen on June 16 following the announcement.
Meanwhile, Serba Dinamik Holdings Bhd saw substantial shareholder Datuk Awang Daud Awang Putera reduce his holding by 20 million shares, according to filings with Bursa. In contrast, Datuk Dr Mohd Abdul Karim Abdullah increased his holding by 20 million shares.
Post-transaction, Awang Daud is left with a 6.95% stake in the company while Abdul Karim's equity interest has increased to 21.58%.
Notable movements
Acoustech Bhd's share price declined some 50% to 36.5 sen, from 70 sen, between June 5 and 15. On June 5, Bursa issued an unusual market activity query to the company after the counter shot up 40% to close at 70 sen, from 50 sen a day earlier. The company said it was unaware of any development that could have caused the spike in trading activity.
Singaporean Chang Yi Charles first emerged as a substantial shareholder of Acoustech on May 28 after acquiring 10 million shares. By June 9, Chang ceased to be a substantial shareholder after disposing of nine million shares.
Meanwhile, the share price of MSCM Holdings Bhd (formerly known as PanPages Bhd) gained 36% to 17 sen, from 12.5 sen, between June 5 and 9.
The company saw the emergence of a new shareholder, Lim Peng Tong, who acquired 43.86 million shares or a 13.76% stake through Radiance Dynasty Sdn Bhd via a direct business transaction.
MSCM announced recently that the commencement of its supply chain management business will be delayed as the group is seeking an extension for its rights issue, which will be used to fund the venture. No reason was given for the time extension.