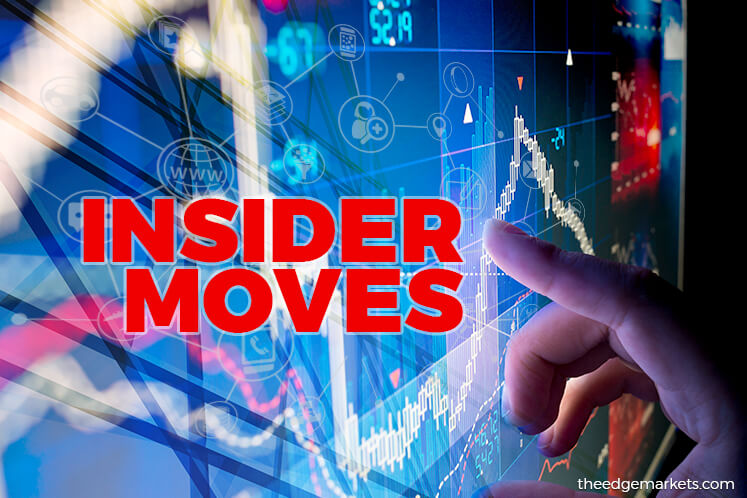 This article first appeared in
Capital, The Edge Malaysia Weekly
, on March 27 - April 2, 2017.
Notable filings
Between March 13 and 17, notable shareholding changes in Bursa Malaysia-listed companies included those at poultry company DBE Gurney Resources Bhd. Advance Capital Partners Pte Ltd ceased to be a substantial shareholder after disposing of a total of 28.22 million shares on March 13 and 14.
Nevertheless, filings reveal that Advance Capital later acquired 35.71 million shares following the conversion of redeemable convertible notes in an agreement it had entered into with DBE Gurney. This took place on March 20, which reinstated its status as substantial shareholder. Post-conversion, Advance Capital's stake in the poultry company stood at 6.15%, equivalent to 73.66 million shares.
In its fourth quarter ended Dec 31, 2016, DBE Gurney's net loss narrowed to RM932,000 from RM5.18 million a year ago on the back of better sales at higher selling prices. Its revenue climbed to RM29.06 million during the quarter compared with RM23.84 million previously.
Meanwhile, at EKA Noodles Bhd, shareholder Vibrant Class Sdn Bhd increased its stake by 33.3 million shares to 61.3 million shares, or 19.65% equity interest, on March 14. Filings show that EKA Noodles' largest shareholder, Datuk Seri Chin Seak Huat, who held a 10.67% stake, sold 33.3 million shares in an off-market deal at 15 sen apiece on the same day.
EKA Noodles also saw some boardroom changes. Executive director Datuk Ahmad Zaffry Sulaiman and independent non-executive director Raja Nazrin Raja Ghazilla resigned on March 14. Datuk Dr Chin Yew Sin, Leong Woay Hong @ Neoh Woay Hong, Lim Choo Hooi and Fong Yit Meng were then appointed as independent non-executive directors.
Over at O&C Resources Bhd, formerly known as Takaso Resources Bhd, Teoh Hwa Peng ceased to be a shareholder after he disposed of 9.26 million shares.
According to filings, 1.06 million shares were disposed of in the open market whereas the remaining 8.2 million were sold via a direct business transaction.
The company, which started as a manufacturer of Japlo baby products and condoms, ventured into the construction business. That has brought it back into the black in its first quarter ended Oct 31, 2016, following many quarters of losses.
The company's share price has been on an upward trajectory since last September. Between Jan 3 and March 20, it gained 43.82% to 64 sen.
Notable movements
Benalec Holdings Bhd's share price gained 27.47% between March 7 and 13. However, the integrated marine construction company saw its group managing director and CEO Datuk Leaw Seng Hai disposing of 47 million shares through off-market transactions on March 13, according to filings.
Leaw's stake in the company declined to 41.89%.
The shares were held by Oceancove Sdn Bhd and sold at 45 sen apiece or at a discount of 13 sen apiece from Benalec's closing price of 58 sen on March 13.
After Leaw's disposal, the company's share price dipped 9.48% to 53 sen on March 20.
On March 15 and 16, veteran stock market investor Koon Yew Yin upped his stake in Jaks Resources Bhd after he acquired 4.17 million shares at RM1.46 apiece on March 15 and RM1.54 apiece a day later.
Coincidentally, the share price rally Jaks Resources had been seeing since Feb 28 appears to have come to a halt. Between March 16 and 21, the counter fell 3.2% from RM1.56 to RM1.51 apiece. Prior to that, the share price rose a total of 44.48% between Feb 28 and March 16.
Nevertheless, Koon still managed to acquire the shares at a discount to its closing price of RM1.51 on March 21. Koon's shareholding in Jaks Resources totalled 79.65 million, or a 18.17% stake.