This article first appeared in Capital, The Edge Malaysia Weekly, on July 9, 2018 - July 15, 2018.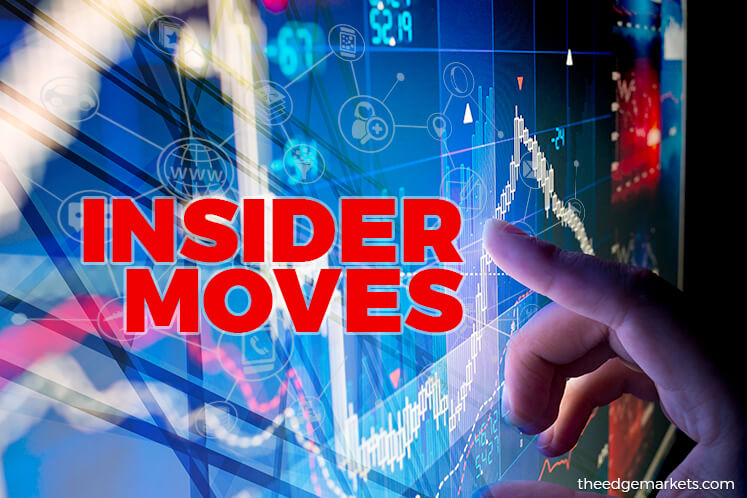 Notable filings
DBE Gurney Resources Bhd's largest shareholder, Doh Properties Holdings Sdn Bhd, has continued to purchase shares in the poultry firm. On June 26, it bought 89.25 million shares or a 3.33% stake, raising its holding to 608.77 million shares or 22.73%.
Over at Destini Bhd, its second largest shareholder, BPH Capital Sdn Bhd, disposed of 1.4 million shares, trimming its stake to 16.58%.
Felda Investment Corp Sdn Bhd continues to dispose of its shares in Iris Corp Bhd, selling 8.6 million shares on the open market between June 22 and 26. FIC remains the largest shareholder with a 15.76% stake.
Prominent investor Yu Kuan Chon bought more shares in Imaspro Corp Bhd, which has seen its share price nosedive after hitting a record high of RM2.30 on May 31. Yu, who is Imaspro's second largest shareholder, purchased 1.25 million shares between June 25 and 28, according to a filing with Bursa Malaysia.
MLabs Systems Bhd saw its second largest shareholder, First United Technology Ltd, buy 16 million shares on the open market between June 22 and 27. The transaction raised the Hong Kong-based company's holding to 9.56%.
Filings show that Erwin Selvarajah, a former CEO of CI Holdings Bhd, bought more shares in two companies — Censof Holdings Bhd and Multi Sports Holdings Ltd. Erwin bought some seven million shares in Multi Sports on June 25. He is the third largest shareholder of the China-based sports shoe manufacturer.
Meanwhile, Erwin bought 529,000 shares in Censof on the open market between June 25 and 27. He is the second largest shareholder with 26.6 million shares or a 5.31% stake.
T7 Global Bhd's substantial shareholder, Tan Kay Vin, bought 7.18 million shares in the company on June 29. It came under the spotlight after Tan Sri Vincent Tan surfaced as a substantial shareholder in mid-May. However, perturbed at what he deemed "mischievous" and "sinister" news reports linking his 5.04% stake with the controversial East Coast Rail Line (ECRL) project, the tycoon said he intends to dispose of all his T7 Global shares in due course.
Notable movements
WCT Holdings Bhd's share price has been on a downward trend for more than a year, falling from a peak of RM2.35 in May last year to a 10-year low of 69.5 sen on May 18 this year. The downward pressure heightened after the 14th general election as the construction sector was hit by a wave of selling over concerns about their prospects in winning new jobs. In addition, some mega infrastructure projects are being reviewed.
Tan Sri Lim Siew Choon, better known as Desmond Lim, bought some 600,000 shares in WCT on the open market between June 22 and 25, a filing shows. He holds an 18.23% direct stake in WCT after the purchase.
The property tycoon took control of WCT in November 2016 after buying a 19.66% stake. According to Bloomberg data, he paid RM2.50 per share for the block — a nearly 43% premium over the market price then.
Borneo Aqua Harvest Bhd, which has ventured into gold mining, saw its share price buck the downward trend, surging 95.3% year to date. The stock hit a high of RM1.41 on March 19 — just short of its record high of RM1.48 in August 2013.
Controlling shareholder Datuk Lo Fui Ming, who is also its managing director, purchased an additional 1.6 million shares at RM1.13 apiece through an off-market transaction on June 25. Lo is its single largest shareholder with 15.9% equity interest, followed by Lembaga Tabung Haji with an 8.52% stake.
For the financial year ended March 31 (FY2018), Borneo Aqua posted a net profit of RM18.36 million, up 67.5% from RM10.96 million a year ago. The earnings increment was partly due to a gain on fair value of its fishery stock after the company adopted the MFRS Framework. However, its gold mining business has yet to start contributing to its earnings.
Save by subscribing to us for your print and/or digital copy.
P/S: The Edge is also available on Apple's AppStore and Androids' Google Play.