This article first appeared in Capital, The Edge Malaysia Weekly, on September 17, 2018 - September 23, 2018.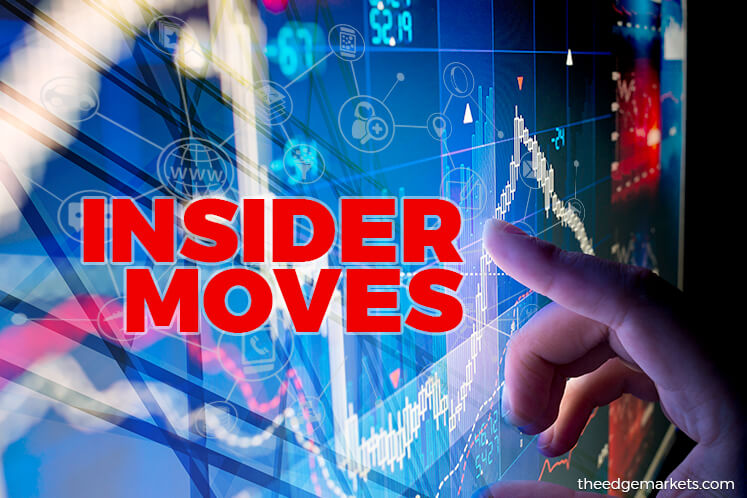 Notable filings
BETWEEN Sept 3 and 6, notable filings with Bursa Malaysia included that by Compugates Holdings Bhd, which showed its managing director Goh Kheng Peow adding 24.21 million shares to his name through direct business transactions and trading on the open market.
Post-acquisition, Goh holds a direct stake of 10.66% or 250.26 million shares in the consumer electronics distributor, which recently diversified into renewable energy. He is the company's largest shareholder, followed by Khor Chong Hai, who has a 9.09% stake.
In the quarter ended June 30, Compugates saw its net loss widen to RM1.72 million from RM1.1 million in the previous corresponding period while its revenue more than halved to RM5.07 million.
According to filings with Bursa, Doh Properties Holdings Sdn Bhd triggered a conditional mandatory general offer for DBE Gurney Resources Bhd on Sept 3 after acquiring 3.5 million shares in the poultry group, which raised its stake to 33.02% from 32.89%.
As at Sept 6, Doh Properties had acquired 65.5 million shares in DBE Gurney Resources, upping its stake in the latter to 33.185%. The company says it plans to keep the poultry group's listing status on Bursa.
Doh Properties is wholly owned by Setia Awan Holdings Sdn Bhd, which in turn is owned by the Doh family, namely Datuk Doh Jee Ming (30%), Datuk Doh Tee Leong (30%), Datuk Doh Jee Chai (30%), Datuk Doh Neng Chiong (5%) and Datin Lee Hong King (5%).
Jee Ming, Tee Long and Jee Chai are sons of Neng Chiong and Lee.
During the week in review, TA Enterprise Bhd saw its co-founder and chairman Datuk Tony Tiah Thee Kian acquire 12.22 million of the company's shares, raising his stake to 38.25%.
Tiah had earlier offered TA Enterprise's shareholders 66 sen apiece for the remaining shares he did not own.
On Aug 30, the company released a circular prepared by independent adviser on the deal, BDO Capital Consultants Sdn Bhd, that said Tiah's offer price was unfair and unreasonable. It advised the shareholders to reject the offer.
However, on Sept 12, the company announced that the takeover bid fell through after Tiah failed to receive the required acceptance level from the minority shareholders.
Notable movements
Software company N2N Connect Bhd rose 5.26% during the week in review to close at RM1.20 on Sept 6. Its shares changed hands between Quick Corp Japan, Nikkei Inc Japan and SBI Holdings Inc Tokyo.
Quick Corp and Nikkei Inc each sold 31.022 million shares in N2N to SBI Holdings, which saw the latter up its stake in the company to 19.92% or 114.09 million shares.
The stakes of Quick Corp and Nikkei Inc (held directly) in N2N then shrank to 5.23% or 29.99 million shares.
It is noteworthy that N2N's share price had gained a whopping 79.1% from 67 sen on April 4 to RM1.20 on Sept 6.
Between Sept 3 and 6, Panpages Bhd's share price gained 11.63% from 21.5 sen to 24 sen. Filings with Bursa show that Innofarm Sdn Bhd disposed of 23 million shares in the company on Aug 30. Post-disposal, Innofarm's holding in the company dropped to 47 million shares.
Innofarm is the private vehicle of Lay Hong Bhd chairman Yap Hoong Chai, who has a direct holding of 10 million shares in Panpages, which provides search and advertising, and IT solutions.
Also on Aug 30, Yap's son, Yap Chor How, who is an executive director of Panpages, acquired three million shares in the company, increasing his stake to 1.13%.
Save by subscribing to us for your print and/or digital copy.
P/S: The Edge is also available on Apple's AppStore and Androids' Google Play.