This article first appeared in Capital, The Edge Malaysia Weekly, on January 20, 2020 - January 26, 2020.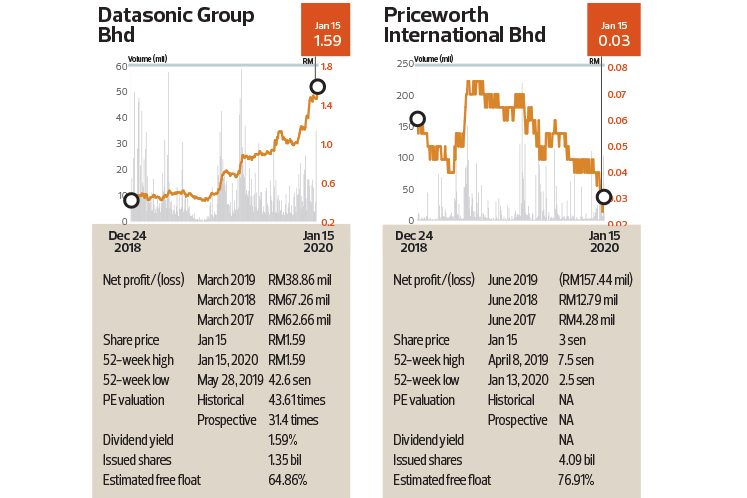 Notable filings
BETWEEN Jan 6 and 10, notable shareholding changes in companies listed on Bursa Malaysia included that at Chin Hin Group Property Bhd (CHGP), which saw 41.4 million shares, or a 13.96% stake, acquired off market by Divine Inventions Sdn Bhd, the private vehicle of CHGP non-independent and non-executive chairman Datuk Seri Chiau Beng Teik and his family.
Following the acquisition, the Chiau family's stake rose to 37.59%. CHGP announced to the stock exchange on Jan 13 that the Chiau family, through Divine Inventions, have extended a mandatory general offer for the rest of the shares and warrants they do not own in the company, at 30 sen and 10 sen apiece respectively.
Nevertheless, shareholders Datuk Goh Boon Koon, BKNT Resources Sdn Bhd, Teoh Hai Him, Teoh Huan Shim and Mohd Salleh Hashim, who collectively hold 24.49% of CHGP shares and warrants, have decided not to take up the offer.
Goh is a non-independent and non-executive director of CHGP, formerly known as Boon Koon Group Bhd and taken over by the Chiau family in April 2017. It was renamed CHGP in September 2018.
During the period in review, Dolphin International Bhd saw several shareholding movements. Group executive director Hoh Yeong Cheng disposed of 19.81 million shares, or an 8.1% stake, on the open market, according to filings with Bursa.
Filings also show that Dolphin group managing director Low Tech Yin disposed of 13.59 million shares via an off-market transaction while another shareholder, Chua Seong Seng, sold 13.27 million shares, also via off-market deals.
Post-disposal, Low holds 19.54 million shares while Chua is no longer a substantial shareholder.
Filings show that a new shareholder, Asia Poly Holdings Bhd, has emerged in Dolphin after acquiring 26.86 million shares, or an 11% stake. The number of shares bought matches the amount disposed of by Low and Chua.
At Gunung Capital Bhd, 22.48 million shares, or a 9.5% stake, were sold by its CEO and executive chairman, Datuk Syed Abu Hussin Hafiz Syed Abdul Fasal. Post-disposal, he still holds 10.3% direct interest in the company.
Ooi Hock Lai also disposed of 5.9 million shares in the company off market, according to filings, leaving him with 18.35 million shares, or a 7.77% stake.
At Minetech Resources Bhd, Bertam Roadbase Sdn Bhd ceased to be a substantial shareholder after it disposed of 9.69 million shares. Post-disposal, Bertam Roadbase is left with 40 million shares, or a 4.34% stake.
At the same time, group executive director Chin Leong Choy acquired 18 million shares in the company, bringing his shareholding to 2.08%.
Notable movements
Priceworth International Bhd's share price dipped 25% to three sen on Jan 15 from four sen on Jan 6. During the period, Maha Gayabina Sdn Bhd disposed of 31 million shares, leaving it with a 5.08% stake.
In the first quarter ended Sept 30, 2019, Priceworth's net loss fell to RM6.23 million, from RM17.94 million a year ago.
Datasonic Group Bhd's share price, which began to rally from late last year, has risen 9.03% to RM1.57 as at Jan 15, from RM1.44 on Jan 6.
Part of the interest can be linked to the emergence of a new shareholder, Demi Mekar Sdn Bhd, which acquired 87.16 million Datasonic shares, or a 6.45% stake.
Demi Mekar is linked to Datuk Razali Mohd Yusof, who was appointed deputy president of Datasonic. He also sits on the board of Marine & General Bhd as an independent non-executive director.