This article first appeared in Capital, The Edge Malaysia Weekly, on August 6, 2018 - August 12, 2018.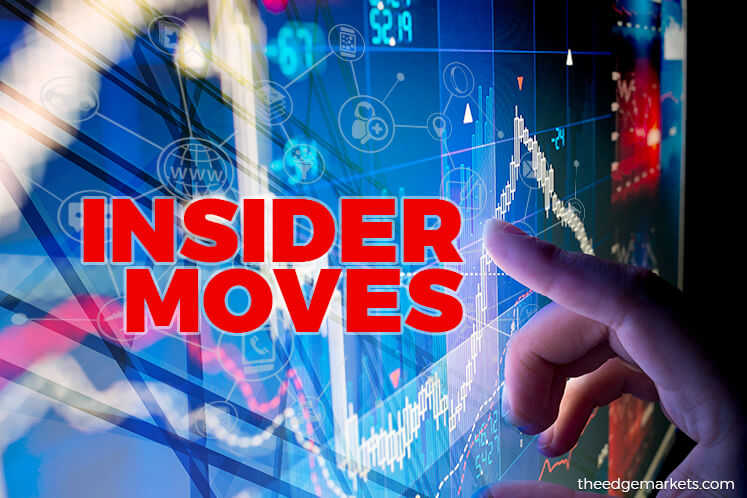 Notable filings
BETWEEN July 23 and 27, notable filings with Bursa Malaysia included that at Bertam Alliance Bhd, where managing director Lim Nyuk Foh trimmed his stake. On July 20 and 23, Lim sold a total of 11.32 million shares, of which 10.2 million shares were transacted off market.
Lim is left with 37.7 million shares or 18.23% equity interest in the property firm and he is the single largest shareholder. As at press time, it was not known if a single party had purchased the block of shares.
Meanwhile, Lim's sibling, Datuk Lim Nyuk Sang @ Freddy Lim, has been reducing his stake in Kretam Holdings Bhd, selling 16 million shares in the company after a RM1.18 billion deal to divest Kretam's plantation assets to Hap Seng Plantations Holdings Bhd fell through. Freddy still owns 1.078 billion shares, or 46.32% equity interest in Kretam after the share sale.
Med-Bumikar Sdn Bhd, the second largest shareholder of Ewein Bhd, continued to dispose of the shares as the Penang-based property company's share price staged a strong rebound in May. It sold 15 million shares on July 23, according to a July 25 filing, and the latest filing on Aug 2 shows that it sold another block of 10 million shares on Aug 1.
Med-Bumikar retains 25.5 million shares, or an 8.46% stake, after the transactions.
Over at Ideal Jacobs (M) Corp Bhd, Andrew Conrad Jacobs sold 3.3 million shares in an off-market trade on July 24. The block appears to have been sold to Datuk Meng Bin, who bought the same number of shares on the same day via a direct deal, according to a Bursa filing.
Media Prima Bhd's largest shareholder, Mitsubishi UFJ Financial Group Inc, has been mopping up shares in the media giant. It bought an additional 215,400 shares between July 19 and 25 via Morgan Stanley & Co.
Orion IXL Bhd saw substantial shareholder Yahya Razali sell 15 million shares on July 23, according to a July 25 filing. He is left with 32.1 million shares, or 5.39%.
At  SCH Group Bhd, Hextar Holdings Sdn Bhd bought 79.77 million shares between July 23 and 26. Thianjing Holdings Sdn Bhd, meanwhile, sold down its stake and ceased to be a substantial shareholder. It disposed of 68 million shares on July 23.
Datuk Dr Yu Kuan Chon bought 1.05 million shares in YNH Property Bhd, bringing his stake in the property firm to 172.7 million or 28.8%.
Notable Movements
Tadmax Resources Bhd's share price has been heading south for more than two years. Since the beginning of the year, the stock has declined 28% to 21.5 sen last Thursday.
Last Monday, Tadmax announced that it signed a memorandum of understanding with Selangor state-owned Worldwide Holdings Bhd. The latter intends to buy a 30% stake in Tadmax's wholly-owned unit Tadmax Indah Power Sdn Bhd, which has been awarded the project to develop a new 1,000mw to 1,200mw combined cycle gas-fired power plant in Pulau Indah.
A Bursa filing shows that substantial shareholder, Datuk Tan Kak Seng, bought 2.56 million shares through private placement. The purchase bumped up his shareholding to 56.37 million shares or 7.19% equity interest in Tadmax as at July 19. Tan is the third largest shareholder.
SMTrack Bhd's share price has yet to recover from the doldrums. The RFID technology-based solutions provider has been loss-making for six consecutive years from 2011. Its share price revisited its all-time low of 10 sen apiece in mid-June. The stock has more than halved from its peak of 26 sen in late December last year, dropping to 12 sen last Thursday.
Its largest shareholder, Tan Choon Hwa, sold some five million shares on July 24, according to a July 26 filing. He disposed of another five million SMTrack shares on July 25, paring down his stake to 18.3 million shares or 12.7%. 
Save by subscribing to us for your print and/or digital copy.
P/S: The Edge is also available on Apple's AppStore and Androids' Google Play.