This article first appeared in Capital, The Edge Malaysia Weekly, on November 25, 2019 - December 01, 2019.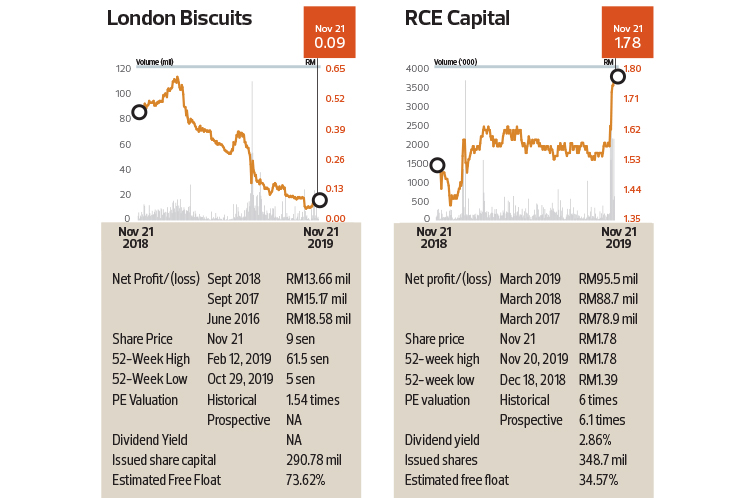 Notable filings
BETWEEN Nov 11 and 15, notable changes in shareholding included that at Bertam Alliance Bhd, where Chinese national Liu Sheng­hui emerged as a substantial shareholder after acquiring 15.62 million shares, or a 7.6% stake, off market. Post acquisition, Bursa filings show that Liu's stake in the property company increased to 11.56%, or 23.92 million shares.
Liu could play the role of white knight to Bertam, which is currently a PN17 company. In a recent filing, the company announced that it had entered into a memorandum of understanding with Liu to negotiate in good faith with a view to entering into a definitive collaboration or a joint-venture agreement for him to participate in its proposed regularisation plan, involving a proposed private placement.
Bursa filings show that Setia Sempurna Sdn Bhd ceased to be a shareholder of PCCS Group Bhd after it disposed of 24 million shares in the company during the period under review. Setia Sempurna is the private vehicle of the Chan family and the shares were transferred from the private vehicle to family members.
PCCS is one of the few textile manufacturers left on Bursa. Recently, it announced it had acquired a piece of land in Cambodia, on which textile operations are ongoing, for US$2.5 million.
Over at Priceworth International Bhd, filings show that Maha Gayabina Sdn Bhd disposed of 18.5 million shares to reduce its stake in the company to 5.87% or 240.49 million shares. Maha Gayabina is the second largest shareholder after managing director Lim Nyuk Fuh, who owns 7.64%.
For its financial year ended June 30, 2019 (FY2019), Priceworth's external auditors, Messrs PKF, expressed in its audited financial statements an unqualified opinion with material uncertainty related to it being a going concern. This was due to a net loss of RM157.43 million the group incurred for FY2019 and the group's current liabilities exceeding its current assets by RM35.91 million. It has also defaulted on the repayment terms of its bank borrowings.
Goodway Integrated Industries Bhd's CEO Tai Boon Wee is no longer a substantial shareholder of the company after he sold 25.46 million shares off market during the period under review.
Post-disposal, Tai is left with an indirect interest of 85,000 shares, or a 0.07% stake, which are held by his sons Tai Qiyao and Tai Qisheng.
Notable movements
Closing at 10 sen on Nov 18, shares of London Biscuits Bhd had doubled from their lowest close in 52 weeks of five sen on Oct 29. While the shares had also closed at 10 sen on Oct 21, it is worth noting that the company recently saw the emergence of a new shareholder, MembersOne Ventures Fund. The Sydney-based fund acquired 33 million shares, or 11.35% equity interest in the company on Nov 9, making it the largest shareholder. Meileelanusa Sdn Bhd, a private vehicle of the Liew family, is the second largest shareholder with a 7.36% stake.
London Biscuits has been served a winding-up petition by creditors and bankers, and the court has appointed an interim liquidator. The confectionery manufacturer has defaulted on over RM285 million in bank loans.
RCE Capital Bhd's share price rose 11.46% from Nov 11 to RM1.75 on Nov 15. Substantial shareholder Cempaka Empayar Sdn Bhd disposed of 16.95 million shares through a married deal on Nov 12.
Cempaka Empayar is wholly owned by Amcorp Group Bhd, which is in turn wholly owned by Clear Goal Sdn Bhd, controlled by Tan Sri Azman Hashim. The other party in the transaction is unknown at this juncture.