This article first appeared in Capital, The Edge Malaysia Weekly, on March 5, 2018 - March 11, 2018.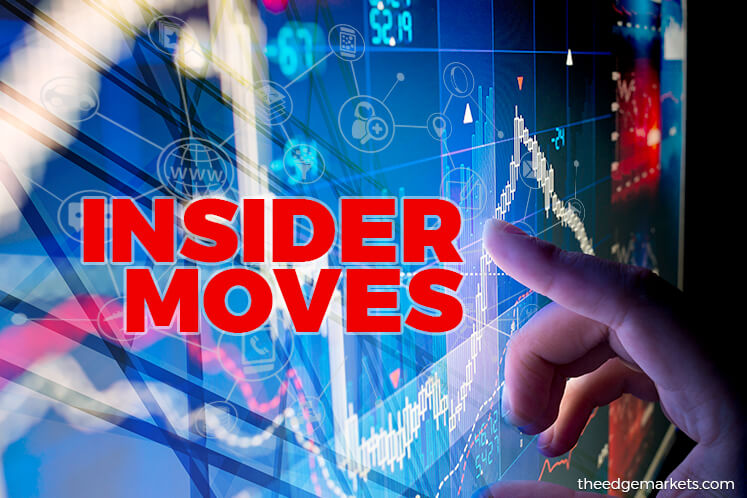 Notable filings
BETWEEN Feb 19 and 23, notable filings included one on Sultan of Johor Sultan Ibrahim Sultan Iskandar acquiring Berjaya Assets Bhd shares from the open market.
The three million shares bought on Feb 19 and 20 increases the ruler's shareholding to 243 million shares, or 9.5% equity interest. The sultan first emerged as a shareholder in the company last October with 120 million shares, a 10.09% stake at the time. By Feb 23, his holdings had risen by 4.5 million shares to 247.5 million shares, or a 9.675% stake. Berjaya Assets closed at 45 sen last Wednesday.
At Comfort Gloves Bhd, major shareholder Datuk Lau Eng Guang bought 255,000 shares from the open market over Feb 19 to 21. The purchases bumped up his overall stake to 19.41%, of which 6.872% is held directly.
At the time of writing, Comfort Gloves shares were trading at levels unseen in four years since breaking above the RM1 mark last October. Closing at RM1.10 on Feb 28, it has risen 57.14% in the past year.
On Feb 20, substantial shareholder Signaland Sdn Bhd sold 8.23 million shares of Southern Steel Bhd to its holding company, Hong Leong Manufacturing Group Sdn Bhd.
Off-market data shows the same number of shares changing hands in a single direct deal at RM2.36 apiece on Feb 20, above the RM2.30 to RM2.32 they were fetching on the open market. Hong Leong Manufacturing and Signaland hold stakes of 45.31% and 22.14% respectively in Southern Steel, whose share price has rallied 56.5% over the past year.
Omesti Holdings Bhd purchased 179,500 shares of Microlink Solutions Bhd between Feb 20 and 23, increasing its holding to 98.52 million shares or 58.865% equity interest. Microlink Solutions closed on Feb 28 at 65 sen, down 40.83% over the past year. On Feb 26, it reported a RM1.77 million net profit from RM158.79 million in revenue for FY2017, compared with a net loss in the previous year.
Permodalan Nasional Bhd (PNB) sold 10 million Chemical Company of Malaysia Bhd (CCM) shares, or almost a tenth of its shareholding, on Feb 13. CCM closed at RM2.18 that day, capping a rally of 9% over four consecutive days.
CCM went on to hit a multi-year high of RM2.29 on Feb 22. On Feb 28, it fell as much as 6.31% to RM2.08 before recovering to close the day at RM2.19. On Feb 27, CCM reported RM26.35 million in net profit for FY2017 compared with a net loss of RM63.63 million the year prior.
Notable moves
On Feb 20, Destini Bhd saw 16 million shares or 1.385% equity interest traded off market. Group managing director Datuk Rozabil @ Rozamujib Abdul Rahman bought the shares from his vehicle BPH Capital Sdn Bhd.
The transfer of the block from indirect to direct shareholding came a week before Destini released its financial results for the year ended Dec 31, 2017 (FY2017). Its full-year net profit fell 7% y-o-y to RM30.7 million despite revenue doubling to RM685.6 million.
The results sent the counter dropping as much as 5.6% intraday on Feb 28 before ending 1.57% lower at 63 sen. Destini rallied 47.72% between Dec 18 and Jan 9, regaining some lost ground after it tumbled as much as 73.17% from its peak of 82 sen in March 2017.
Last Wednesday, Seacera Group Bhd closed at 77 sen, half its last peak of RM1.61 on May 8 last year. Noble Summer Sdn Bhd, a vehicle of Seacera chairman Datuk Mansor Masikon, purchased 328,300 shares on Feb 20 and 21, raising Mansor's overall stake to 32.27 million shares (one million shares of which are held directly).
Another substantial shareholder, Datuk Ismail Othman, bought 102,600 shares via Duta Global Sdn Bhd on Feb 21, raising his overall holding to 90.84 million shares.
On Feb 28, Seacera announced a 46.29% y-o-y increase in net profit to RM8.92 million for FY2017 despite revenue falling 45% y-o-y to RM38.01 million. It attributed the improvement to lower operating costs.
Save by subscribing to us for your print and/or digital copy.
P/S: The Edge is also available on Apple's AppStore and Androids' Google Play.