This article first appeared in Capital, The Edge Malaysia Weekly, on September 9, 2019 - September 15, 2019.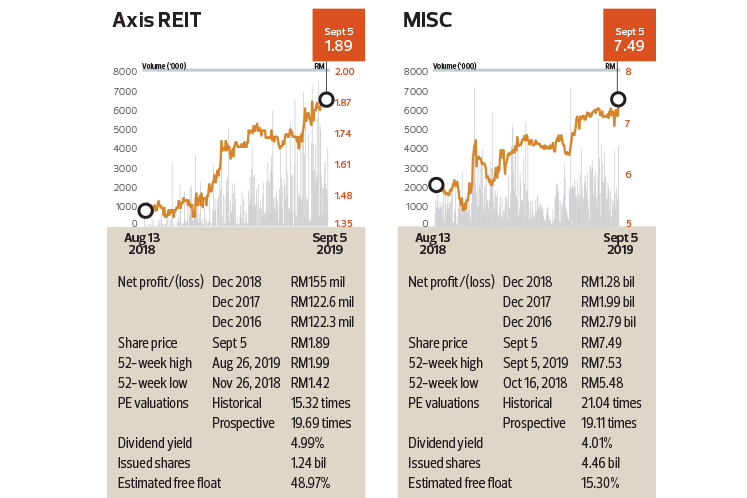 Notable filings
BETWEEN Aug 26 and 29, notable changes in shareholding included those in Barakah Offshore Petroleum Bhd. The oil and gas outfit's president and CEO Nik Hamdan Daud saw his shareholding reduce to 84.84 million shares, or a 10.15% stake, after he disposed of 45.24 million shares.
In an Aug 27 filing with Bursa Malaysia, Barakah said Nik Hamdan's shareholding was reduced to rectify a shortfall in personal margin account position.
Barakah, a Practice Note 17 company, closed last Wednesday at 3.5 sen apiece, with a market value of RM29.25 million.
It is worth noting that Barakah had sought legal recourse against national oil company Petroliam Nasional Bhd (Petronas) for suspending an operating licence for three years, and is seeking RM1.02 billion in damages from the oil company.
At Impiana Hotels Bhd, VIP Consultants Sdn Bhd — the private investment vehicle of Datuk Sri Krishna Kumar Sivasubramaniam — emerged as a substantial shareholder on Aug 27, with 539.48 million shares or 9.64% equity interest.
What role VIP Consultants will play remains uncertain. According to its website, VIP Consultants is an investment company formed to invest in commercial disputes in Malaysia, as well as international arbitration matters. The company provides services such as litigation funding or litigation finance, which is a third-party funding for dispute resolutions, aiming to give attractive dividend returns and capital appreciation to investors through investing in claims and disputes.
Impiana closed last Wednesday at 2.5 sen a share, giving it a market capitalisation of RM139.88 million.
Meanwhile, Daniel Boo Hui Siong ceased to be a substantial shareholder in TFP Solutions Bhd after selling 405,000 shares via the open market on Aug 28. Boo first surfaced as a substantial shareholder at end-January after acquiring 10.5 million shares or a 5.15% stake in the company.
TFP's mainstay is in providing business productivity solutions and services for businesses. Boo is the managing director of iDimension Consolidated Bhd, an information technology and online games firm, in which he has a 14.34% shareholding.
Last Wednesday, TFP closed at nine sen per share, giving it a market capitalisation of RM18.6 million.
Over at Netx Holdings Bhd, Asiabio Capital Sdn Bhd — a wholly-owned unit of Fintec Global Bhd — acquired 34 million shares, or a 1.04% stake. Post-acquisition, Asiabio has 8.08% equity interest.
Netx Holdings' core business is in research and development of software system design, integration and installation services.
Last Wednesday, Netx Holdings closed at 1.5 sen apiece, with a market capitalisation of RM49.1 million.
Notable movements
Axis Real Estate Investment Trust (Axis REIT) hit its 52-week high of RM1.99 on Aug 26. Since early July, the company's stock has gained 19 sen or increased 11% to close at RM1.87 per share last Wednesday.
During this period of strength in Axis REIT's share price, the Employees Provident Fund (EPF) disposed of 2.75 million shares, or a 0.22% stake, in the trust. This brings its stake to 15.61%.
EPF has been trading in Axis REIT shares for some time, but has been a net seller.
Filings with Bursa Malaysia show that EPF has trimmed its stake in MISC Bhd to 5.96%, after disposing of 2.05 million shares in the shipping company. As at end-June, the pension fund had 276.73 million shares or a 6.2% stake in MISC.
Since mid-May, MISC shares have gained 12% or 76 sen to close at RM7.16 last Wednesday.
In the six months ended June 30, MISC posted a net profit of RM910.3 million on revenue of RM4.44 billion. Compared to the year-ago period, net profit and revenue were up 44.08% and 6.73% respectively.
MISC is 62.67%-controlled by Petronas.