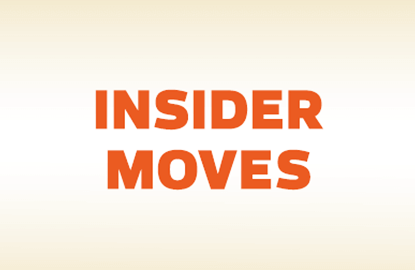 This article first appeared in Capital, The Edge Malaysia Weekly, on February 8 - 14, 2016.
Notable filings
Between Jan 22 and 28, notable shareholding changes in companies listed on Bursa Malaysia included that at AWC Bhd, which saw substantial shareholder Tan Siew Kheng dispose of his entire stake of eight million shares.
Tan became a major shareholder in the engineering company on Oct 9 last year, after a share swap when AWC acquired Qudotech Sdn Bhd and DD Techniche Sdn Bhd. Tan was a shareholder in both companies. Since then, he had been actively paring his stake in AWC.
AWC recently won a RM61.95 million subcontract for plumbing works at the upcoming KL118 tower. The company's share price, which climbed 16.88% a week before the announcement was made on Jan 11, failed to continue its ascent, falling 3.33% on profit-taking the next day to close at 43.5 sen.
iDimension Consolidated Bhd saw substantial shareholder Ang Beng Leong disposing of 30 million shares, which he held indirectly through EClub Interactive Sdn Bhd, and acquiring them directly at one sen apiece on Jan 21, according to filings with Bursa. This represented a steep discount of 84.62% to the open market price of 6.5 sen on that day.
Ang is deemed an interested party in EClub Interactive due to his holding of 15% equity interest in the company.
E-solutions provider iDimension posted a net loss of RM258,000 in the third quarter ended Sept 30, 2015, compared with a net profit of RM61,000 a year ago. This came despite a 74% year-on-year increase in revenue to RM12.38 million.
Over at KBES Bhd, 22.42 million shares changed hands between Sani Zaleha Sdn Bhd and Arca Corp Sdn Bhd during the period in review. According to filings, the shares were transacted at 50 sen apiece on Jan 21 — 30% above the open market price on that day.
After the off-market transaction, the express bus operator's largest shareholder, Sani Zaleha, ceased to hold any shares in the company.
KBES slipped deeper into the red in the third quarter ended Sept 30, 2015, with its net loss rising to RM2.89 million from RM758,000 a year ago. This came on the back of lower revenue of RM7.2 million compared with RM14.97 million previously.
Franklin Resources Inc re-emerged as a substantial shareholder in Prestariang Bhd after it acquired 24.92 million shares in the company on Jan 21. This came three days after the fund management company disposed of its entire stake in Prestariang.
Prestariang, a talent and technology solutions player that benefits from government contracts, has been garnering interest from investors in recent times. Its share price has jumped 76.55% since early September last year to RM2.85 on Feb 2.
Prestariang announced last November that it has received a letter of approval in principle from the Ministry of Home Affairs to implement an immigration control system. However, the details of the contract have not been disclosed thus far.
Notable movements
CAB Cakaran Corp Bhd's share price has increased 16.67% to RM1.75 between Jan 7 and 19. However, the gains could not be sustained as the share price fell 4.57% to RM1.67 on Feb 2. During the period in review, Plant Wealth Holdings Ltd acquired 10.72 million shares on the open market and through off-market deals.
Pavilion Real Estate Investment Trust's (REIT) share price has risen 5.32% to RM1.59 between Jan 21 and 28. During that period, AmanahRaya Trustees Bhd acquired 150.93 million shares in the REIT.
Recently, the REIT announced a 3.4%, or 0.27 sen, increase in its distribution per unit for 2015 compared with a year ago. Gross revenue rose 2.9%, or RM11.8 million, to RM413.9 million in 2015 while core net income inched up 3.6% to RM240.7 million.