This article first appeared in Capital, The Edge Malaysia Weekly, on July 15, 2019 - July 21, 2019.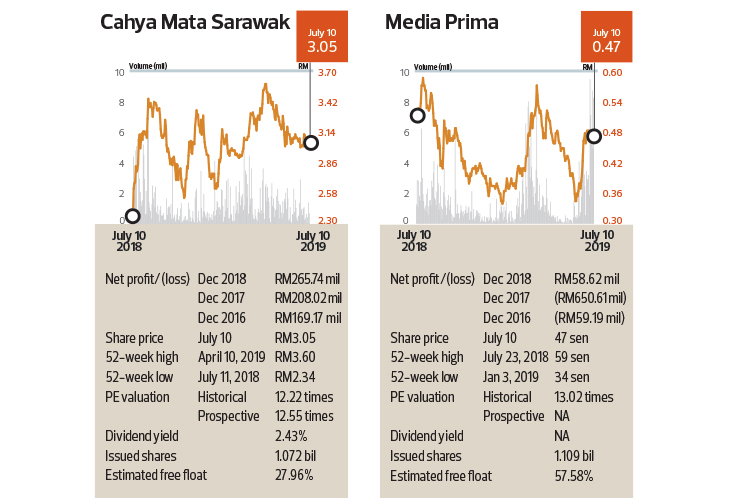 Notable filings
BETWEEN July 1 and 5, notable shareholding changes in companies listed on Bursa Malaysia included that at beleaguered flight training school operator APFT Bhd.
A July 1 filing shows that Liau Chee Kiong ceased to be a substantial shareholder in the company after offloading 65 million shares, or a 4.84% stake, in a direct transaction on June 26.
Neither the transacted price nor the buyer was disclosed as at press time. However, a check on Bloomberg reveals that the shares were transacted at 0.5 sen apiece, or RM325,000 in total.
Liau, who hails from Melaka, remains a shareholder of APFT with 64.77 million shares, or a 4.82% stake. He was appointed as non-independent non-executive director of the Practice Note 17 company on June 20.
The 54-year-old is the founder of Beyond Marketing and a director of Beyond Gift Sdn Bhd, Pioneer Cove Sdn Bhd and Ayer Keroh Sports Centre Sdn Bhd.
Over at jewellery retailer DeGem Bhd, Datuk Hasan M Taib emerged as a substantial shareholder with an 8.55% direct stake, after acquiring five million shares, or a 3.82% stake, on the open market on June 26. He mopped up another five million shares on July 5, raising his stake to 12.37%.
Hasan, 65, was appointed to the board of directors of DeGem in April 2001. In 1986, he formed Misbah Group of Companies, which is involved in travel and property investment and development.
The seller or sellers and transacted price were not known at the time of writing.
Pension fund Kumpulan Wang Persaraan (Diperbadankan) ceased to be a substantial shareholder of Genting Plantations Bhd on June 28, due to the dilution of its shareholding to 4.991% following the exercise of warrants.
According to a July 1 filing, Genting Plantations' share capital was enlarged to 897.198 million ordinary shares as a result of the exercise of warrants of the company.
Interestingly, the Employees Provident Fund accumulated 1.76 million Genting Plantations shares between June 26 and July 1. To date, it owns 90.25 million shares, or a 10.05% stake, in the company.
Rengit Capital Sdn Bhd — co-owned by Kor Beng and his wife Kwan Yet Ming — emerged as the controlling shareholder of Ipoh-based precast concrete manufacturer Leweko Resources Bhd following the acquisition of 162.47 million shares, or a 50.47% stake, on June 28, pursuant to a share and warrant sale agreement between Rengit Capital and several shareholders of Leweko.
A total of 97.7 million shares, or a 30.35% stake, were acquired from Leweko founder and managing director Datuk Leong Wei Kong, along with 32.5 million warrants.
Rengit Capital then launched an unconditional mandatory takeover offer for the shares and warrants that it does not own in Leweko at 18 sen per share and one sen per warrant.
Notable movements
Cahya Mata Sarawak Bhd (CMS) saw its share price gain 13% year to date, to close at RM3.05 last Wednesday, for a market capitalisation of RM3.271 billion. The stock has fallen 15% from its 52-week high of RM3.60 on April 10.
On July 1, Datuk Seri Mahmud Abu Bekir Taib sold 5.7 million shares, or a 0.531% stake, in CMS via a direct deal. The disposal was done at RM3.03 per share. Mahmud still owns 5.14 million shares, or 0.479%, of the infrastructure firm. He is the son of Yang di-Pertua Negeri of Sarawak Tun Abdul Taib Mahmud.
Media Prima Bhd, which is involved in print media, TV and radio, saw its share price advance 36% year to date, to close at 47 sen last Wednesday, giving it a market capitalisation of RM521.3 million.
Aurora Mulia Sdn Bhd, whose board members include Syed Danial Syed Mokhtar Shah — the son of tycoon Tan Sri Syed Mokhtar Albukhary — has been revealed as the buyer of a recent disposal of 123.02 million shares, or an 11.09% stake, in Media Prima by Umno's Gabungan Kesturi Sdn Bhd.