This article first appeared in The Edge Malaysia Weekly, on May 6, 2019 - May 12, 2019.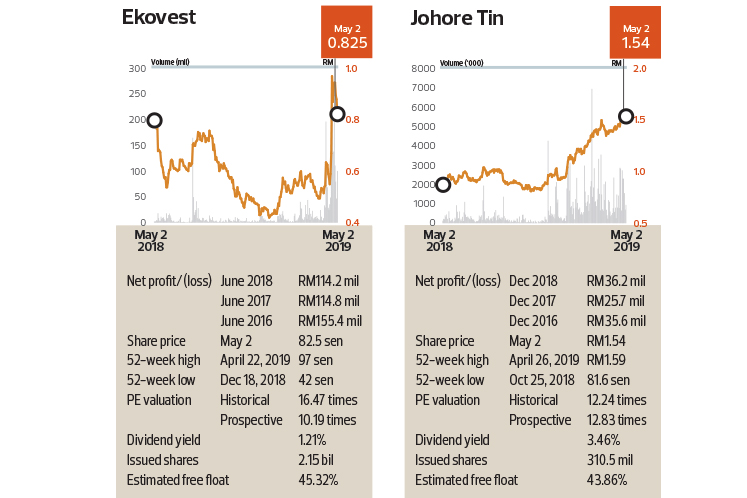 Notable filings
BETWEEN April 22 and 26, notable filings with Bursa Malaysia included that by Alam Maritim Resources Bhd. According to the filing, Datuk Poh Yang Hong ceased to be a shareholder of the company after he disposed of 2.68 million shares on March 28.
Poh is also the president and managing director of IRIS Corp Bhd.
The offshore support vessel owner recently won a RM2.32 million service order contract for the provision of manpower, equipment, remotely operated vehicles and diving support vessels for underwater inspection in lieu of dry-docking operations for floating, storage and offloading vessel Angsi.
On April 22, Kien Huat Realty Sdn Bhd acquired 156.65 million shares in Genting Bhd, which, according to filings, were sold by Golden Hope Ltd. Post-acquisition, Kien Huat's stake in Genting increased to 42.1% or 1.62 billion shares.
Both Kien Huat and Golden Hope are linked to Genting chairman and CEO Tan Sri Lim Kok Thay.
Over at Ideal United Bintang International Bhd, Tan Sri Ooi Kee Liang disposed of 12.4 million shares or a 6.73% stake in the company through an off-market transaction. The shares were transacted for a total consideration of RM14.04 million. Ooi, who is popularly known as the "Penang Condo King", is the chairman of Ideal. Post-disposal, his stake in the company fell to 58.95% or 108.48 million shares.
In the fourth quarter ended Dec 31, 2018, Ideal's net profit surged 92% year on year to RM12.28 million. This came on the back of an 85% year-on-year increase in revenue to RM172.21 million.
Over at OSK Holdings Bhd, Tan Sri Ong Leong Huat sold 33.12 million shares through private vehicle Land Management Sdn Bhd. The shares were disposed of in a direct transaction at 98 sen apiece. OSK's share price has been on an upward trend since January this year, hovering between 87 sen and RM1.
PLS Plantations Bhd saw Ekovest Bhd, whose executive chairman is Tan Sri Lim Kang Hoo, increase its holding in the company by 10.12 million shares in a direct transaction. Post-acquisition, Ekovest's stake in the plantation company rose to 26.43% or 92.71 million shares.
According to PLS Plantations, FGV Holdings Bhd and three Chinese companies are collaborating with it on durian planting. The company had recently acquired durian plantations from its controlling shareholder Kang Hoo.
The agreement signed between the Chinese companies, FGV and PLS Plantations will allow them to venture into durian planting and export the fruits to China.
Notable movements
Between April 17 and 22, Ekovest's shares gained 76%, rising from 55 sen to 97 sen. However, the counter dropped 7.7% from 97 sen to 89.5 sen between April 22 and 29.
Filings with Bursa show that Lim Seong Hai Holdings Sdn Bhd, a company linked to Tan Sri Lim Keng Cheng, disposed of 23.5 million shares on the open market. Keng Cheng is Kang Hoo's nephew.
Last month, Ekovest proposed to raise up to RM202.59 million through a private placement to third-party investors in order to repay bank borrowings, fund its property projects and for working capital. The proposal entails the issuance of up to 256.45 million new shares, representing 10% of its issued shares.
Between April 22 and 26, Johore Tin Bhd's share price rose 4.6% from RM1.52 to RM1.59. The counter has been climbing since last November. Between Nov 14 and April 26, the share price had surged 92.57% from 82.6 sen to RM1.59.
During the period in review, non-executive director Lim Hun Swee disposed of eight million shares to executive director Ng Keng Hoe. Post-disposal, Lim's holding in the company shrank to 25.24 million or an 8.13% stake while Ng's stake increased to 12.44% or 38.63 million shares.