This article first appeared in Capital, The Edge Malaysia Weekly, on February 17, 2020 - February 23, 2020.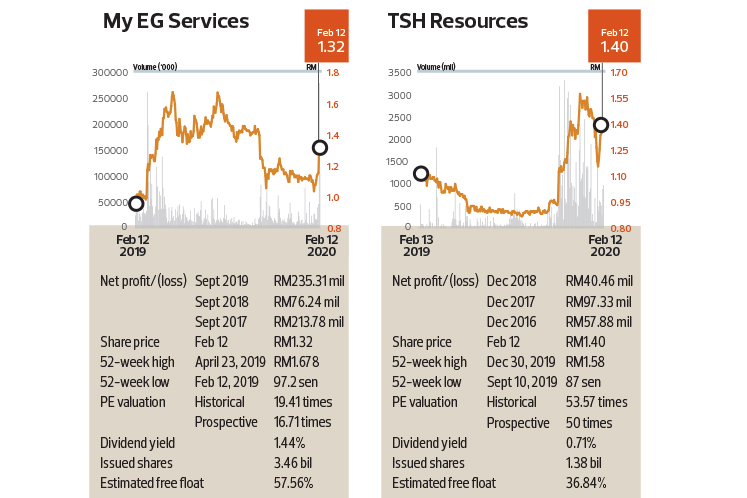 Notable filings
NOTABLE filings of shareholding changes in Bursa Malaysia-listed companies between Feb 3 and 7 included the Employees Provident Fund (EPF) paring its stake in AirAsia Group Bhd.
As at Feb 6, the EPF likely still had about 160 million shares or a 4.77% stake, but was no longer a substantial shareholder of AirAsia after the provident fund and its external managers sold 18.56 million shares. By Feb 5, the EPF's stake had declined to 5.328%, down 1% in just five market days, from 6.313% on Jan 28, the day it sold 7.44 million shares.
Closing at RM1.20 last Wednesday, AirAsia's share price has slumped nearly 50 sen or 30% year to date. The most bearish target price was RM1, below consensus of RM1.46, with 10 "sell", 10 "hold" and two "buy" calls at the time of writing.
Over at Cahya Mata Sarawak Bhd, filings show Datuk Seri Sulaiman Abdul Rahman Abdul Taib raised his stake in the company to 9.88% or just over 106 million shares after buying 539,600 shares on Feb 3. This is about the same as the 109.8 million shares or 10.2% stake he had as at March 1 last year, according to CMS' 2018 annual report, but 22.5 million shares above the 83.5 million shares or 7.78% stake he had as at April 26 last year.
Closing at RM2.17 last Wednesday, CMS' share price had eased 10 sen or 4.4% year to date. It slipped to a 52-week low of RM2.16 on Jan 31, down 40% from the 52-week high of RM3.596 on April 10 last year. Analysts are split on the stock, with two recommendations each for "buy", "hold" and "sell". Target prices were between RM2.03 and RM2.94, averaging at RM2.50.
Notable movements
On Feb 11, shares of e-government solutions provider My EG Services Bhd closed 17 sen or 14.66% higher at RM1.33 — its highest close in four months (Oct 16: RM1.40). The gains last Tuesday were on the back of increased trading volume of more than 281 million shares or about 8% of its share base, catapulting it to the top of Bursa's most active list and making it one of the top gainers that day.
Filings show a left-to-right pocket transaction by group managing director Wong Thean Soon on Feb 4. Wong increased his direct holding by buying 10 million shares or a 0.289% stake from Asia Internet Holdings Sdn Bhd, a company that he is deemed interested in and had a 21.827% stake post-disposal. The transaction raised Wong's direct holding to 9.034%.
The transacted price of RM1.10 per share for the single direct deal off market was near the top of the day's trading range of RM1.08 to RM1.11.
On Jan 13, My EG said it expects positive contribution to its current year earnings from its Indonesian associate, PT Cartenz Inti Utama, which secured an additional mandate to roll out its tax monitoring system in 30 more cities on a pilot basis, marking an expansion of the Tax Monitoring Programme in Jakarta.
At the time of writing, Bloomberg data showed four analysts had a "buy" call on the stock, with target prices ranging from RM1.49 to RM1.96, and one "neutral" with a target price of RM1.25. My EG closed at RM1.32 last Wednesday, up 20% year to date.
The share price of Sabah-based oil palm planter TSH Resources Bhd was down 9.09% year to date, following its close at RM1.40 last Wednesday. At RM1.40, it was still the highest in about 2½ weeks.
Filings show Tunas Lestari Sdn Bhd was no longer a substantial shareholder of TSH after its holding fell below the 5% threshold with the disposal of 3.3 million shares on Feb 6. Tunas Lestari had pared its holding to 5.166% or 71.3 million shares after selling 14.2 million shares on Dec 23 last year.
The EPF had a 7.384% stake in TSH after acquiring 145,000 shares on Feb 3, up from 7.04% or 4.75 million shares on Dec 5, filings show.
There were six "buy", four "hold" and two "sell" calls on TSH, with target prices ranging from RM1.06 to RM1.90, averaging at RM1.43, at the time of writing.