This article first appeared in Capital, The Edge Malaysia Weekly, on November 11, 2019 - November 17, 2019.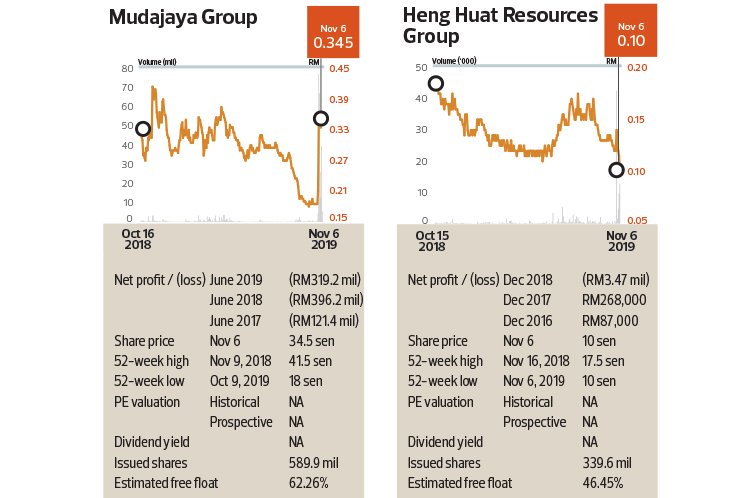 Notable filings
BETWEEN Oct 25 and Nov 1, notable filings included those at Aemulus Holdings Bhd, which saw Kan Ky-Vern cease to be a substantial shareholder after disposing of his entire 1.3% stake or 7.2 million shares in the manufacturer of testers for the automotive test equipment market.
The disposal was done through Beach Capital Sdn Bhd, in which Kan is deemed to be an interested party. He is a non-executive director of Aemulus.
On Sept 13, Aemulus announced that its memorandum of understanding with Shanghai Testrong Technologies Co Ltd had lapsed and the MoU was terminated with effect from Sept 14.
Over at Karambunai Corp Bhd, the construction and property development group saw its largest shareholder, Tan Sri Dr Chen Lip Keong, raise his holding by 40.97 million shares on Oct 29, increasing his direct stake to 74.12% and indirect stake to 5.87%.
Chen, who is better known as the founder of Hong Kong-listed NagaCorp Ltd, made an unconditional voluntary takeover offer for Karambunai on Sept 23, aiming to acquire the remaining 1.54 billion shares or 26.59% equity interest not already held by him at 11 sen each.
Key Asic Bhd saw substantial shareholder Atlantic Quantum Sdn Bhd disposing of 33.94 million shares or a 3.5% stake on the open market, reducing its holding in the technology company to 6.2%. It is worth noting that Atlantic Quantum is linked to Khazanah Nasional Bhd.
For the first quarter ended Aug 31, Key Asic fell into the red with a net loss of RM1.49 million from a net profit of RM1.31 million in the previous corresponding period. Revenue slid to RM3.12 million from RM7.95 million last year.
Multi Sports Holdings Ltd saw Erwin Selvarajah Peter Selvarajah cease to be a shareholder after he disposed of 61.7 million shares on the open market during the period under review.
The disposal came shortly after an announcement that Bursa Malaysia had rejected the shoe manufacturer's application to delay the issuance of its 2019 annual report from Oct 31 to Dec 31.
Multi Sports explained that it had failed to issue the annual report within the relevant time frame due to the resignation of its auditors, Messrs RT LLP. The China-based company is at risk of having its shares suspended next month, or subsequently delisted.
Notable movements
Over at Mudajaya Group Bhd, the civil engineering group saw its share price rise 89% between Oct 25 and Nov 1. Exchange filings show that a new substantial shareholder, Yakin Setiamas Sdn Bhd, has emerged after acquiring 162.33 million shares or a 27.52% stake.
Yakin Setiamas is linked to Taiwanese Kuo Jen-Hao.
At the same time, Dataran Sentral (M) Sdn Bhd and Kingsman Capital Ltd of Hong Kong both ceased to be shareholders in loss-making Mudajaya after disposing of 162.33 million shares and 52.42 million shares respectively.
Mudajaya remained in the red for the second quarter ended June 30, although its net loss shrank to RM31.59 million from RM77.71 million the previous year. Revenue fell to RM86.05 million from RM301.38 million due to the completion of the 49mw solar photovoltaic energy plant in Sungai Siput, Perak, in November last year and the slow progress of LRT3 projects.
Meanwhile, the share price of biomass producer Heng Huat Resources Group Bhd fell 21%, from 14 sen on Oct 31 to 11 sen on Nov 6.
On Nov 1, filings with Bursa show that Datuk H'ng Choon Seng and Kee Swee Lai ceased to be shareholders of the company after disposing of 109.88 million shares and 55.63 million shares respectively.
Heng Huat has seen the emergence of a new shareholder, Skylitech Resources Sdn Bhd, which acquired 59.03 million shares or a 17.38% stake. Skylitech is connected to Ooi Chieng Sim — the executive chairman of Atta Global Group Bhd — who also now holds the same position in Heng Huat.
Ooi is the second largest shareholder in Heng Huat.