This article first appeared in Capital, The Edge Malaysia Weekly, on May 7, 2018 - May 13, 2018.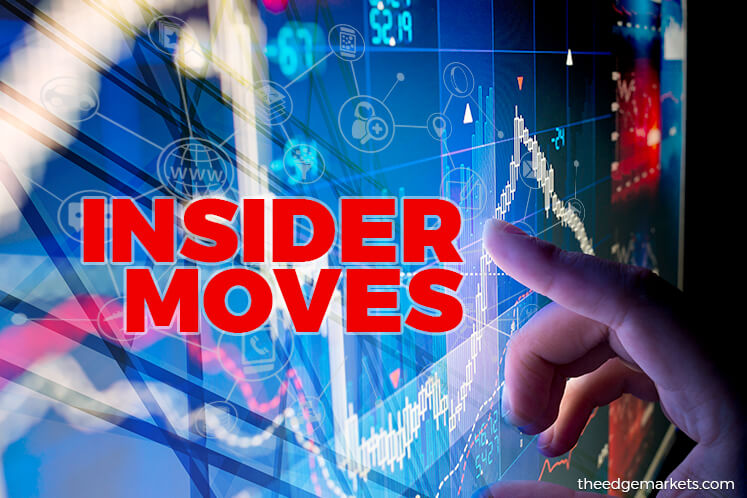 Notable filings
FROM April 23 to 27, notable shareholding changes included that at printed circuit board manufacturer AE Multi Holdings Bhd (AEM). Lim Teck Seng is no longer a substantial shareholder after selling 18.46 million shares, or 6.2% equity interest, off market to ACE Credit (M) Sdn Bhd on April 20.
The disposal came barely nine months after Lim, who is the former executive director of Apex Equity Holdings Bhd, emerged as substantial shareholder of AEM on Aug 9 last year. He was appointed a non-executive director on Sept 21 last year but resigned two months later due to other commitments.
A financial services provider, ACE Credit now has 77.86 million shares, or a 26% stake in AEM, and is its single largest shareholder.
Over at property developer Ideal United Bintang International Bhd (IUB), the largest shareholder and chairman Tan Sri Alex Ooi Kee Liang acquired 29.72 million shares, or 26.9% equity interest, on April 23, via his vehicle ICT Innotech Sdn Bhd at 54 sen per share or RM16 million.
The shares were acquired from Bumimaju Gaya Sdn Bhd and its holding company Lakaran Asia Sdn Bhd. Both companies are controlled by Datuk Mohamad Zekri Ibrahim — who is also an executive director at property developer Ark Resources Bhd — and Muhamad Adzrill Abu Bakar.
With the acquisition, Ooi's shareholding in IUB, held via ICT, has increased from 27.16% to 54.06% and, according to IUB's filing on April 30, ICT is now offering to take over the remaining shares it does not own at 54 sen apiece. The offeror intends to maintain the listing status of IUB on the Main Market of Bursa Malaysia.
Central Industrial Corp Bhd (CICB), which is involved in the manufacturing of specialised industrial tape and labelling, saw non-executive director Chuah Guan Leong acquire 1.6 million shares in the company from April 23 to 26 at RM1 to RM1.15 per share. The total of RM1.66 million he paid implies an average cost of RM1.04 per share. With the acquisition, Chuah's shareholding stood at 4.03 million, or 8.1% equity interest, as at April 26.
At ACE Market-listed technology company MMAG Holdings Bhd, 10.3 million shares were acquired by Grandstead Sdn Bhd, a vehicle of MMAG non-executive director Lim Siew Ping and Lim Siew Eng. Grandstead emerged as a substantial shareholder in MMAG on April 11, and increased its shareholding to 123.3 million shares, or a 27.1% stake, as at April 26.
Notable movements
Berjaya Assets Bhd, which is involved in property investment and development, gaming and food and beverage, saw its share price increase 17.5% to 47 sen on April 27 from April 6.
On April 20, B&B Enterprise Sdn Bhd, which is a vehicle of tycoon Tan Sri Vincent Tan Chee Yioun, acquired 44.84 million, or 1.7% of Berjaya Assets shares, raising its holding to 7.25%. Tan's direct and deemed shareholding in Berjaya Assets stands at 61.66% following the purchase.
Filings also show that Sultan Ibrahim Sultan Iskandar of Johor bought 2.32 million Berjaya Assets shares from April 24 to 27, raising the Sultan's direct stake to 11.88%, or 304 million shares, as at April 27.
Berjaya Assets closed at 45.5 sen last Wednesday for a market capitalisation of RM1.16 billion.
Meanwhile, private equity firm Creador II LLC — founded by renowned investor Brahmal Vasudevan — is no longer a substantial shareholder of education group Minda Global Bhd, which owns and operates the Cyberjaya University College of Medical Sciences.
Creador's subsidiary, Arenga Pinnata Sdn Bhd, disposed of 50 million Minda Global shares on April 19. The disposal reduced Creador's stake in Minda Global to 58.67 million shares or 4.73%.
Minda Global shares fell 20.6% to 13.5 sen on April 25 from April 17. The counter closed at 12 sen last Wednesday for a market capitalisation of RM148.8 million.
Save by subscribing to us for your print and/or digital copy.
P/S: The Edge is also available on Apple's AppStore and Androids' Google Play.