This article first appeared in Capital, The Edge Malaysia Weekly, on April 2, 2018 - April 08, 2018.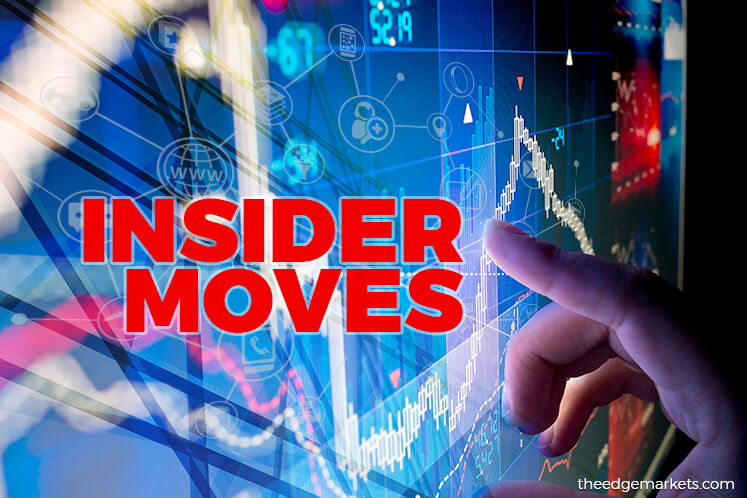 Notable filings
NOTABLE filings from March 19 to 23 included that on the disposal of 46.23 million shares or a 15.4% stake in AE Multi Holdings Bhd (AEM) by its largest shareholder Chang Choon Ming on March 6. Following the disposal, Chang is no longer a substantial shareholder of the group.
The shares are believed to have been sold to ACE Credit (M) Sdn Bhd, a non-bank financial services provider, as per AEM's filing with Bursa Malaysia on March 9. Following the acquisition, ACE Credit has become the largest shareholder of AEM with a 19.84% stake.
In its financial year ended Dec 31, 2017 (FY2017), AEM incurred a net loss of RM1.25 million despite revenue rising 20.3% year on year to RM62.15 million.
The group expects positive growth from its printed circuit board business due to an increase in its customer base and greater emphasis on higher value-added products. It sees a busy season ahead with its new customers and products.
At Cuscapi Bhd, Datuk Jayakumar Paneer Selvam emerged as its largest shareholder on March 19 after subscribing for a total of 200 million shares or a 26.1% stake in the group via Ultimate Quality Success Sdn Bhd, Rose Vision Sdn Bhd and Rosetta Partners Sdn Bhd.
The shares were issued in a private placement that raised RM53.2 million. Besides the 200 million shares, Jayakumar also subscribed for 40 million warrants issued by Cuscapi as part of the placement.
The stock rallied 83.6% between Oct 10, 2017, and Jan 23 this year to reach its 52-week high of 61.5 sen after news broke that Jayakumar was participating in the placement. However, the stock has since fallen 35.77%, closing at 39.5 sen last Wednesday.
Menang Harmoni Sdn Bhd, the largest shareholder of Nexgram Holdings Bhd, disposed of 31 million shares or a 1.65% stake on March 21 and 22, reducing its shareholding in the ICT and property development company to 6.85%.
Nexgram is in the midst of undertaking a private placement of up to 188.07 million shares, which is expected to raise RM7.52 million. The proceeds will be utilised to kick-start Angkasa Icon City and repay bank borrowings.
Apparel retailing-cum-construction company Vertice Bhd saw 1.75 million of its share base or a 1.2% stake sold by its largest shareholder Vista Lestari Development Sdn Bhd on March 22, which pared the latter's stake to 18.55%.
Vista Lestari is the investment holding vehicle of Datuk Zarul Ahmad Mohd Zulkifli, an executive director of Vertice. He has been reducing his stake, held through Vista Lestari, from more than 50% since Nov 8, 2016.
Notable movements
During the period under review, the share price of Lien Hoe Corp Bhd fell 5.4% to 35 sen. From the beginning of the year to March 28, the stock had gained 2.99% to 34.5 sen, giving the group a market capitalisation of RM117.9 million.
On March 15, 16 and 19, Lien Hoe's substantial shareholder Lee Yew Chen acquired a total 1.749 million shares or 0.5% of the group's issued shares. This was followed by the acquisition of another 345,000 shares on March 21 and 22.
The acquisitions increased Lee's shareholding in the property and investment holding company to 5.65%.
At Wah Seong Corp Bhd, AmanahRaya Trustees Bhd-Skim Amanah Saham Bumiputera (ASB) is no longer a substantial shareholder after the fund disposed of five million shares on March 21. Prior to the disposal, ASB had held a 5.44% stake in Wah Seong.
The oil and gas pipeline service provider's share price fell 10.49% during the week under review to RM1.45. From the beginning of the year to March 28, the counter had risen 36.94% to RM1.49, valuing the company at RM1.15 billion.
Save by subscribing to us for your print and/or digital copy.
P/S: The Edge is also available on Apple's AppStore and Androids' Google Play.