This article first appeared in The Edge Financial Daily, on June 3, 2019.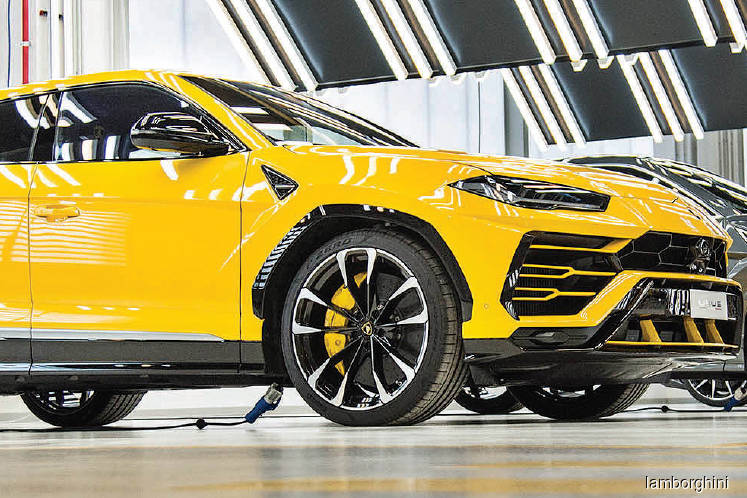 In 2017, the 56-year-old company produced fewer than 3,900 cars globally.
It is difficult to overstate the impact that the Urus, Lamborghini's US$200,000 (RM838,000) sport utility vehicle (SUV), has had on the legendary Italian carmaker.
In 2017, the 56-year-old company produced fewer than 3,900 cars globally. (For years before that, the total volume had hovered near 2,000.) This year, thanks to the Urus, it expects distribution to reach 8,000.
It is an easy car to love: With seven drive modes and seating for five, the Urus packs a zero-to-60mph (96.56kph) sprint time of 3.6 seconds. Its 4.0-litre V8 engine gets 641 horsepower and 627 pound-feet of torque, the most of any production SUV today. Top speed is 190mph.
But the vehicle's effect goes beyond a bump in company revenue, according to Lamborghini's influential head of research and design Maurizio Reggiani. "Urus changed completely the perception of Lamborghini in Italy," he said at his office in Sant'Agata Bolognese, Italy during an interview on May 21. "Before Urus, Lamborghini was something really only for a small number of people. Exclusive. And if you have a super sports car like Lamborghini, people think you show off too much of yourself. You would be too flashy ... too much."
Even so, stars ranging from Kylie Jenner and Cardi B to Kanye West proudly display their Lamborghini SUVs on social media, and wait times for a Urus can run to four months or longer.
Proof of tangible results will show after the end of 2019, the first full year of production and sales. But the considerable investment Lamborghini has put into its new, futuristic, Urus-only dedicated factory an hour by train south-east of Milan — a space that doubles the total footprint of the company Ferruccio Lamborghini founded — indicates the brand's expectations. One year after the first models started rolling off the line, we visited the manufacturing plant for an inside look at the process of building Lamborghini's latest hit. — Bloomberg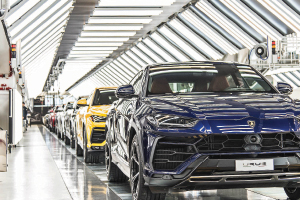 01.    The all-new, carbon-neutral facility opened in early 2018 after a year and a half of construction. It is located in Sant'Agata Bolognese, the same town the brand has inhabited since its first model, the 350GT. The facility doubles the company's total footprint to 160,000 sq m of the former farmland Ferruccio Lamborghini bought in 1963 to build cars that could compete with Ferrari. The operation includes a new paint shop and a track with 13 surfaces oriented towards testing the Urus for different road and weather conditions. Photo by Lamborghini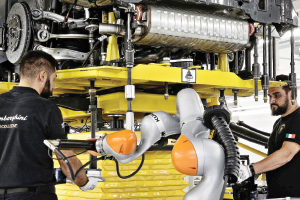 02.    The Urus factory illustrates a new model of manufacturing for Lamborghini, which Lamborghini chief manufacturing officer Ranieri Niccoli called 'Manifattura Lamborghini'. The model was developed to provide flexibility in production schedules, allowing workers such as those above to adjust the timing of their schedule installing the chassis and transmissions. It also allows improved access to information in the factory line, allowing workers to determine the progress of a vehicle along every stop of assembly. The model also facilitates connectedness among work stations on the factory floor, thanks to centralised clock and timekeeping systems, little helper robots that move parts and tools among stations, and ergonomic lifts, as seen in the photo. Photo by Lamborghini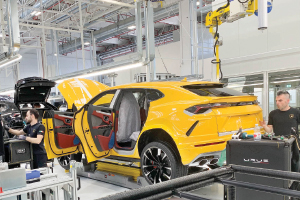 03.    Of the 1,800 workers employed at Lamborghini's headquarters north-east of Bologna, Italy, 700 of them work on the Urus line. Shifts run twice a day, five days a week, with two or three workers at each assembly station. The cars in this photo are nearing the end of production, receiving nappa leather seats, leather trimming for the doors and interior cabin, and sound system speakers before final quality checks. Some 26 Urus SUVs such as these are completed daily. Photo by Bloomberg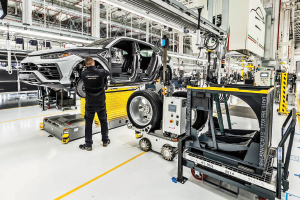 04.    A worker applying wheels to a Urus in the middle of its journey through the Lamborghini factory. Standard rims come in the 21-inch (53.34cm) variety, while 22-inch and 23-inch options are also an option. There are four wheel-style options to choose among, ranging from five spokes to 10. Brake caliper colours come in six hues (silver, black, yellow, orange, green and red). Pirelli All-Weather, Pirelli PZero Summer or Pirelli PZero Corsa tyres are available too. Photo by Lamborghini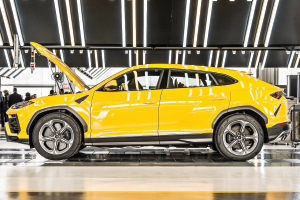 05.    Lamborghini belongs to Volkswagen AG, so the Urus is based on the same platform as the Bentley Bentayga, the Audi Q7 and the Porsche Cayenne. Here, a just-finished Urus in giallo auge (yellow boom) rolls off the line to complete final quality checks and undergo at least 50km of on-the-road testing in the Bologna region before it can be delivered. Photo by Lamborghini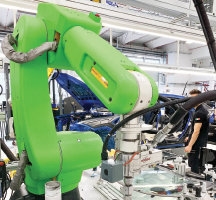 06.    Under the Industry 4.0 model — as the trend of automation and data exchange in manufacturing technologies is known — robots 'collaborate' with workers to improve repetitive operations such as gluing windows (shown here), screwing in bolts underneath the vehicle chassis and assembling wheels. This robot is designed to provide ergonomic assistance for the workers using it, allowing them to perform very little repetitive lifting and bending. A worker oversees the process. Photo by Bloomberg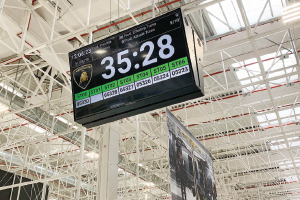 07.    A centralised clock counting down how much time remains on the factory floor before the next change in work stations. In the event of an issue down the line, the clock resets until it is resolved. Such attention towards increased efficiency is part of the Industry 4.0 model. Photo by Bloomberg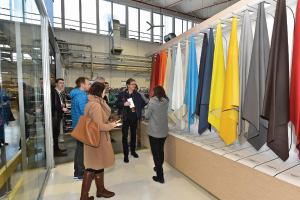 08.    It takes roughly seven cowhides to cover the interior of an Urus SUV. Customers can choose among dozens of colours or design their own customised piping and stitching on the seats through the separate atelier. The leather cutting and the stitching of details on the seats are done by hand in the factory. The waiting list for Urus SUVs in the US, its biggest market, runs from three months to more than six, said Reggiani. If you want a custom creation, the wait is longer. Photo by Lamborghini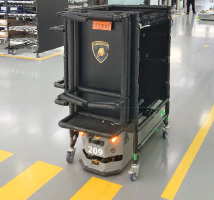 09.    Tiny, mobile robots called 'robotini', like the one here, are part of the futuristic mode of the Urus factory, focused on 'helping, not replacing' human workers, according to a young tour guide. The robotini do such simple chores as transporting components and tools to different work stations and keeping the floor clean. This one is moving storage racks across the Urus floor. Photo by Bloomberg