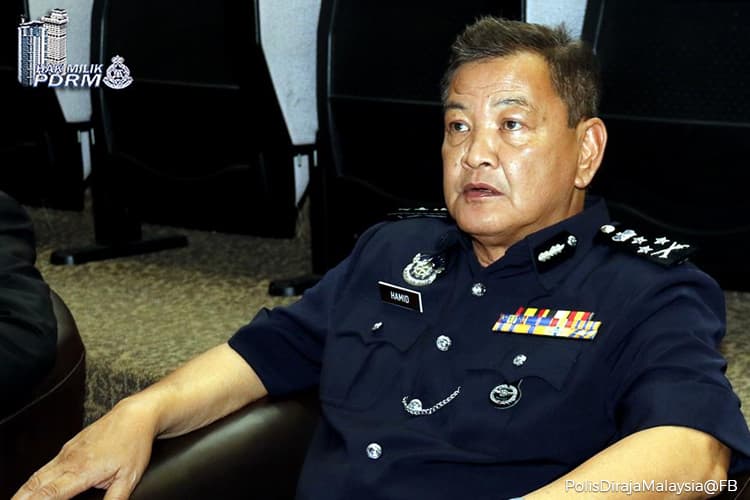 KUALA LUMPUR (March 17): Inspector General of Police (IGP) Tan Sri Abdul Hamid Bador has appealed to all Malaysians who need to travel between states or districts to inform the police and obtain a permit to do so.
At a press conference today, Abdul Hamid said Malaysians may bring the necessary documents to the police station, to show cause as to why they need to travel — such as to visit sick family members or to pick up their underaged children.
"That should suffice," said Abdul Hamid. "Please inform the authorities to ease your journey."
Abdul Hamid said the police will in turn provide a document to explain that the document carrier will need to make that journey.
"The process will only take a while. We will make it very simple," he said.
He added that at this point in time, the police force has not mobilised for check-ups at district or state borders. 
"I am still appealing… we are not undertaking a total clampdown," he said, adding that the police have been on standby over the past two weeks, especially to respond to the Covid-19 outbreak.
He also urged the public not to take advantage of the leeway and give false information to obtain a permit for other purposes such as for holiday.
Meanwhile, it is within the purview of each state government whether a quarantine process is necessary for inbound visitors.
As for employees working in one state and living in another, Abdul Hamid pointed out that most offices are shut down except for essential services.
"Our role is to control the movement of the public inter-state. This exercise is crucial to stop the outbreak of the virus," he said. "It is not a lockdown."
Abdul Hamid also called for public cooperation, adding that there are provisions under the Movement Control Order to stop the public from disobeying the movement restrictions or sharing false information.
Read also:
Police backtracks on decision to restrict inter-state travelling