This article first appeared in The Edge Financial Daily, on September 21, 2017.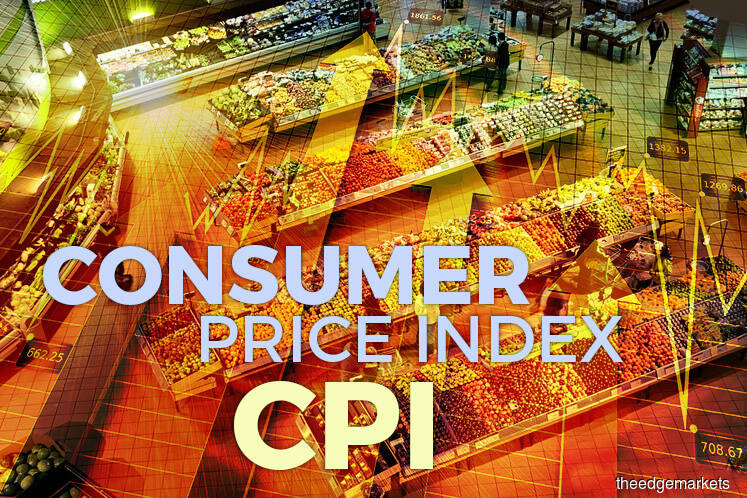 KUALA LUMPUR: The cost of living or inflation data measured by the consumer price index (CPI) is expected to rise further in September, after a sharp increase to 3.7%, compared with a year ago in August, on rising domestic retail petrol pump prices.
Nomura Global Markets Research expects the inflation to rise further to about 4.2% year-on-year (y-o-y) in September after a surge seen in the headline CPI in August.
"So far, in September the daily average RON95 petrol price ceiling of RM2.19 per litre is 3.3% higher than August's daily average of RM2.12 per litre. A base effect from a fuel price cut in September last year should also nudge inflation higher," Nomura senior economist for Southeast Asia Euben Paracuelles said in his report released yesterday.
UOB Malaysia economist Julia Goh also concurs with Nomura as inflation is expected to trend higher to about 4% from September to October, given the lower base effect and higher brent oil price towards US$55 (RM230.45) to US$60 per barrel.
In her report, she said the main culprit for the August uptick was domestic oil prices which rose by 4.3% to 7.8% from a month ago, which translated into a 20.4% increase y-o-y, in the fuel and lubricant component and an 11.7% gain in the transportation component.
Similarly, MIDF Research also pointed out that September's inflation rate will be close to 4% with fuel-related items remaining as dominant driving factors, with average brent oil price and that of the RON95 for the first three weeks of September having registered at US$54.1 per barrel and RM2.19 per litre respectively.
The research company also noted that food inflation remains above 4%. "The cost of food rose by 4.3%, slightly higher than previous months. Across the board, food prices were fairly stable. Non-food prices, meanwhile, rose 3.4%, the highest in three months. We opine the increase in food and non-food prices in August were mainly impacted by fuel prices' pass-through effects.
"Looking ahead, these two components are expected to move higher given the fuel price's current level is greater than August's average price," it said.
It added that all Malaysian states' inflation rates in August were in line with the country's overall trend. MIDF Research maintains its view that in the second half of 2017, inflation in every state will increase at a moderate pace due to stability in fuel prices and seasonal factors.
"We maintain our forecast of 3.8% for inflation in 2017, projecting a slowing down in prices during the second half. The impacts from cost-driven factors are tapering off due to moderating global commodity prices and a modest appreciation of the ringgit," it said.
Similarly, Affin Hwang Investment Bank Bhd chief economist Alan Tan told The Edge Financial Daily that for 2017, the country's headline CPI is expected to average around 3.5% compared with 2.1% in 2016.
"We believe BNM (Bank Negara Malaysia) will likely maintain its overnight policy rate (OPR) at 3% in its remaining MPC (monetary policy committee) meeting for 2017, to be held on Nov 9. However, going into 2018, if domestic economic conditions improve strongly [especially on the exports front], we believe this may lead to a possible 25 bps (basis points) hike in the OPR to 3.25%, but it is likely to take place only in the second half of 2018," Tan said.
According to him, the headline inflation of 3.7% in August was driven by rising domestic retail petrol prices, particularly for RON95 at RM2.12 per litre — higher than in the previous month at RM1.96 per litre.
He also noted the headline inflation figure is the highest in three months but core inflation, excluding volatile and administered price items, trended lower from 2.6% y-o-y in July to 2.4% in August.
"The improvement in core inflation was due to base effect from higher cost of cultural services in the corresponding period of last year. The cost of cultural services declined sharply from 4.9% in July to 0.3% in August."
RHB Research Institute shares the same view with Tan, with headline inflation expected to pick up to 3.5% in 2017 from 2.1% in 2016.
In its economic report released yesterday, RHB economist Vincent Loo said BNM would likely keep the OPR unchanged at 3% in 2017, as inflation is expected to ease in the second half of this year while the ringgit has stabilised recently.
"Further out, however, we think the monetary policy stance is tilted towards an upside in 2018. We believe the central bank would likely increase its OPR by 25bps to 3.25% next year, as major global central banks are stepping up talks to tighten monetary policies with the Malaysian economy improving further."