This article first appeared in The Edge Malaysia Weekly, on July 5, 2021 - July 11, 2021.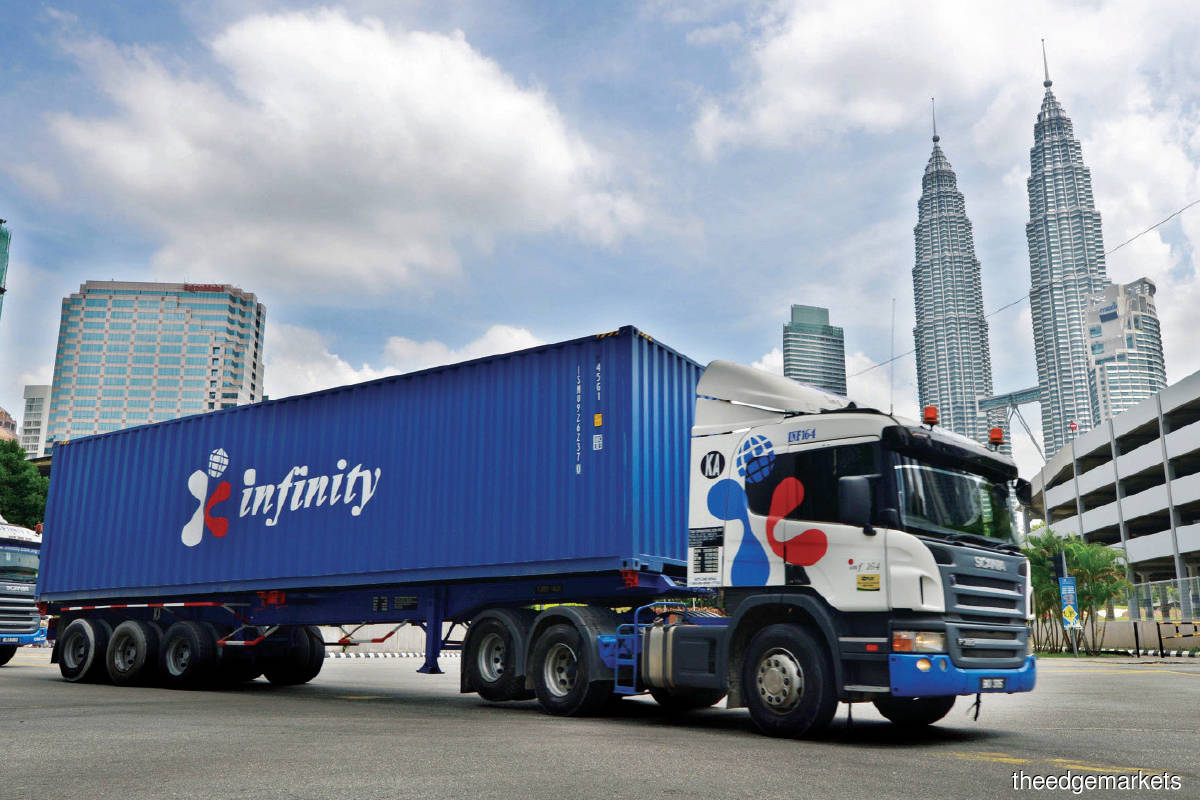 IT would have been easier to list on Bursa Malaysia, but Infinity Logistics and Transport Ventures Ltd believed that the bigger and higher profile of the Hong Kong Stock Exchange (HKEX) would give the company greater exposure and better serve its global ambitions.
Although it is a small fish in a big pond, the target for Infinity — the first logistics company from Malaysia to be listed on the main board of HKEX — is to become a regional, then global, logistics services provider, says Infinity founder and chairman Datuk Kong Yew Chan.
Better known as KY Chan, he is clear about where he sees Infinity's future and is not afraid of the competition. He tells The Edge in an exclusive interview that the group wants to play in a bigger market than Bursa and that listing in Hong Kong is the right move, given its young and dynamic team.
"We don't want to belittle Bursa. It is big, it is active, especially during the pandemic. It was a difficult decision, but we were motivated for a few reasons.
"The first reason is that we wanted to turn the company into a regional or global player one day. So, we need to be on that platform to play that game."
Chan was speaking at a virtual interview on the company, which was listed in January 2020 after issuing 500 million shares to the public, including a private placement, at the price of HK$0.31 per share.
Infinity's corporate image is improved by being a HKEX-listed company as this allows it to stand out from the crowd of logistics players, he says. "If you google logistics, transport or shipping, you would get about 25,000 companies. Then, you start searching for the best companies that you want to do business with, and maybe that number would be 3,000 to 5,000.
"So, you could have prepared a very good mission statement, [and] your corporate profile is superb, but people don't know who you are. However, the moment you say you are listed in Hong Kong, then there is a link straight away."
Hong Kong's active secondary market was another draw. Infinity raised HK$155 million (currently about RM83 million) through the listing, with the bulk of the proceeds for the building of a 331,000 sq ft warehouse in the Port Klang Free Zone. The warehouse — Westports FZ Warehouse — will be used as a regional distribution centre (RDC). RDC is a segment that Infinity is very keen to expand and it plans to leverage the e-commerce boom in the region.
"We also have our logistics centre segment, which is still quite small, but we are building it. If we talk again in 1½ years from now, we will be one of the players with more than one million sq ft of warehouse space in our portfolio," says Chan.
Apart from the RDC, Infinity is also keen to capture a chunk of the London Metal Exchange's (LME) metal storage business in Port Klang. The port has replaced Port of Singapore as a major LME storage hub in the region because the island republic has run out of space. According to LME's website, 1.1 million tonnes of LME metals are stored in warehouses in Port Klang, compared with 371,271 tonnes stored in Singapore as at May.
While it is not the biggest logistics company in Malaysia, Infinity has been consistently profitable. In the financial year ended December 31, 2020, it recorded a net profit of RM25.1 million, or an increase of 29% year on year (y-o-y). Its profit before tax had grown at an average of 35.9% over the last five financial years, from RM12.7 million in FY2016 to RM30.97 million in FY2020. Gross profit and net profit margins in FY2020 amounted to 23.7% and 11.23% respectively, which is quite respectable.
Infinity's revenue was derived from the provision of integrated freight forwarding services, logistics centre and related services, railroad transport services and flexitank solution and related services.
The flexitank solution helps give the company a leg-up over its peers as the logistics player is the fifth largest flexitank operator in the world, and the largest outside of China and Europe. Moreover, it produces its own flexitank — a container that contains a polymer bag inside it that enables the transport of liquid cargo in bulk and is transported using trailers and container ships, instead of tankers.
Apart from the flexitank operation, Infinity is growing its integrated logistics services, which includes the non-vessel operating common carrier (NVOCC) business.
An NVOCC is generally a freight-forwarding company that is responsible for organising shipments and signing of contracts with shipping lines and carriers to ensure that a specific number of containers can be shipped every year. By negotiating for a specific number of containers to be shipped every year, an NVOCC is able to make a higher margin on the container freight rate that it charges its customers, particularly as shipping lines often provide better rates to NVOCC companies.
According to Infinity's 2020 annual report, the revenue from its flexitank solution and related services had increased 10.5% y-o-y while that of its integrated freight forwarding services rose 6.2%. The revenue from its logistics centre and related services grew a faster 17.3%.
The company attributed the revenue improvement at its flexitank solution segment to the growing demand for essential liquid cargo transport for treatment purposes. The boom in the rubber glove industry last year also pushed up demand for synthetic and natural latex, which are transported using flexitanks.
"Additionally, the global disruption of the transport supply chain has converted some of the bulk movement into container bulk. Therefore, the flexitank industry benefited from this as well. The disruption in the supply chain in the People's Republic of China when it was under lockdown was another factor that contributed to the revenue [increase]," says its annual report.
Lower freight costs in the first three quarters of last year helped improve the performance of its freight forwarding services, notwithstanding a sudden spike in freight costs in the final quarter. Meanwhile, heightened demand for e-commerce starting last year, due to the lockdowns globally, pushed up demand for Infinity's logistics centre to the extent that it achieved maximum utilisation of all its warehousing facilities.
Infinity has managed to differentiate itself in the freight forwarding/NVOCC segment by offering to transport its customers' bulk items using 20ft high cube containers that are 30cm taller than the 20ft general containers.
"Offering the 20ft high cube is where we are different from the other players in the market, where the customers pay us a premium. We are not competing with the 20ft general containers. Between a 20ft general and 20ft high cube, for some of the materials, we can carry 12% more," Chan explains.
"From the freight charges, we can save the customer [money] if we charge the same freight as those using 20ft general containers. And the savings is not just on the freight but also the terminal charges."
Hong Kong investors are increasingly paying attention to the Malaysian company. Trading at HK$1.37 per share last Friday — a huge jump from HK$0.41 on March 5 — the group's market capitalisation stood at HK$2.74 billion (RM1.47 billion).
In a March 19 filing with HKEX, Infinity announced the appointment of Datuk Tan Jyh Yaong as an executive director of the group. Tan is chairman of Perfect Hexagon Ltd, a commodity trading company based in Hong Kong that has a strong regional presence in Asia and network offices in Australia, Europe and South America.
According to the filing, Tan holds a 7.32% stake in Infinity. His emergence as a substantial shareholder and executive director has fuelled speculation that the group is poised to benefit from the LME storage business, as Perfect Hexagon is the most active liquidity provider for HKEX LME minis and precious metals contracts.
Its recent share price rally has also pushed Infinity's valuations ahead of the pack as the stock is currently trading at 57.81 times historical earnings, compared with the average of only 14.4 times for the other logistics companies listed on HKEX.