This article first appeared in Personal Wealth, The Edge Malaysia Weekly, on June 8, 2020 - June 14, 2020.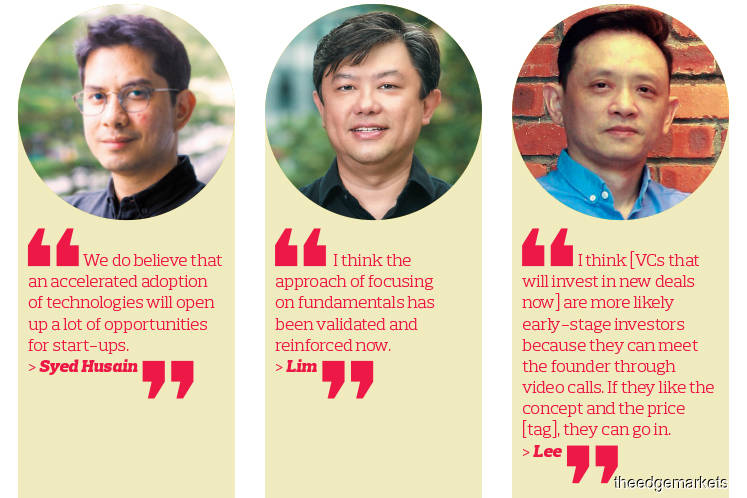 The Covid-19 pandemic has highlighted the importance of digitalisation, which is a trend many venture capital firms are already invested in. In fact, this focus on technology prior to the virus outbreak has helped to prop up the performance of their portfolios during this time, say industry players.
"Our companies in the software-as-a-service, online education and online collaboration spaces have seen their user traffic grow four or five times in a month. We also have portfolio companies that are benefiting from the rise in e-commerce online purchases, such as logistics companies. The digital health space is more of a mixed bag because while there are more online consultations and pharmacy orders, some offline components are seeing less [of these]," says Lim Kuo-Yi, co-founder and managing partner of Monk's Hill Ventures.
Similarly, Kairous Capital has portfolio companies in the travel industry that are badly impacted. But that negative performance is countered by growth in its insurtech and telemedicine portfolio companies. Another advantage for Kairous is that its portfolio companies mostly operate in China, which has started reopening its economy.
"We invest quite a fair bit in China, which has been managing the pandemic quite well compared with other parts of the world. So we'll probably see negative results for one quarter to four months, and then the economy will revive. And while we may see some impact to our portfolio companies from weak consumer sentiment, we have companies in other sectors to smooth out the effect. That's why diversification across sectors and geographies is important," says Joseph Lee, managing partner of Kairous Capital.
500 Startups, which has telemedicine start-ups like Alodokter and digital workforce management platform provider eko in its portfolio, has also seen growth in a number of its investments. It has also continued making new deals during the pandemic. Since the end of February, its 500 Durians II fund has closed five investments.
"If the pandemic has shown us anything, it is that technology has been further embedded into the core of our lives. Imagine going through this period without GrabFood, HappyFresh or social-based apps to keep us connected … We do believe that an accelerated adoption of technologies will open up a lot of opportunities for start-ups," says Syed Husain Albar, who is part of the 500 Durians capital formation team at 500 Startups.
"We've observed that the pandemic has not affected all industries equally … our 500 Durians I and II portfolios … include companies that have seen a slowdown caused by the pandemic and others that have seen an acceleration. From our perspective, the biggest advantage of investing the way we do and continue to do is having a diverse enough portfolio that creates resilience through shocks in the market."
You win some, you lose some
Nevertheless, many start-ups will be impacted due to the pandemic. There could be fewer new deals in the near future, as most venture capitalists (VCs) are occupied with helping their portfolio companies navigate through tough times.
"You may see more bridge rounds being undertaken to support the companies [VCs] believe in. This delay in new funding rounds could lead founders to take less money for the same amount of equity. However, we see convertible notes as a useful instrument in these times, as they allow founders and investors to postpone the valuation discussion to another day," says Syed Husain.
Lee, meanwhile, believes start-ups will likely have to lower their valuations since earnings will be impacted. While that may be good for investors, they still need to be cautious.
"I think [VCs that will invest in new deals now] are more likely early-stage investors because they can meet the founder through video calls. If they like the concept and the price [tag], they can go in. Since we are doing series A and B funding, we need to [be more selective due to the larger deal sizes] and visit the start-ups personally," says Lee.
Under these circumstances, should limited partners (LPs) expect lower returns from their investments? Both Lee and Lim say the impact is likely to be for the short term, which should not be too damaging for long-term investors.
"I think in the short term, it will look negative on the books for investors. The portfolio companies that are more distressed may have to shut down and that will impact everyone's portfolio value. But at this time, every other asset class is getting hit. The only question is how badly it will be hit [and] for how long," says Lim.
According to Andrew Tan, managing partner of TinkBig Venture, his LPs are invested for the long term and willing to support existing portfolio companies with additional funding. "They are open to exploring new deals but most of them are interested in supporting existing companies," he says.
All in all, the pandemic could be seen as the first major test for regional venture capital firms and start-ups, the majority of which were started after 2008, observes Lim.
"A lot of investors and founders have not experienced this before. In addition, a lot of angel investors weren't investing in technology until recently," says Lim. Before the pandemic, the Southeast Asian start-up industry was a hot spot for investors, and many VCs were pitching the same investment themes to their LPs, he adds.
"It was a rising tide, so everyone was investing into companies that did well. When the economy goes through a shock, you start to differentiate the good fund managers from the not-as-strong ones. This should make it clear to LPs [as to] which fund managers they should bet on for the long term."
Investing in tech and good fundamentals
It is a known fact that the pandemic has further spurred the digitalisation trend in many sectors. According to a survey by 500 Startups in April, most of its respondents (venture capital firms and angel investors) are seeing rising interest in healthcare and remote working solutions.
"We foresee a new willingness to pay for online communication and collaboration tools, entertainment, e-sports, gaming and media. For instance, we recently invested in Esports Players League, a global e-sports tournament and media network … There is also a surge in enterprise spending as corporations of all sizes start investing in more tech due to cost-cutting measures, mass-sampling from widespread work-from-home movements or top-down use of new technologies by CEOs," says Syed Husain. Governments are also becoming customers and investors of tech solutions, he adds.
On the other hand, digital health, education technology and e-commerce are areas that Lim is focusing on. "In China, only 50% of its students are back to school now. The other half are still taking online classes. This is going to change the habit of students and teachers going forward. It's the same for digital health, as people avoid going to the hospital now, and hospitals realise they cannot do without online solutions," he adds.
Similarly, Tan believes that investors should look at the offline-to-online trend. "I would advise investors to start looking into deep-tech companies in the areas of agriculture technology, food safety and food traceability technology, as well as artificial intelligence," he says.
Other than those sectors, Lim observes that cybersecurity and cloud storage are growing areas. But he will not invest merely based on these trends. "We have to determine whether the accelerated trend will be entrenched as well," he says.
Aside from solidifying his conviction in the tech sector, the pandemic also affirmed Lim's principle of focusing on fundamentals.
"Our first investment was in Ninja Van in 2014. When I signed a term sheet with the founder, I told him that 'while I would love to see your revenues growing, I'm also focused on how your gross margin growth is maintained'. That was not a very fashionable thing to focus on in 2014, when most people wanted companies to grow at a breakneck pace. I think the approach of focusing on fundamentals has been validated and reinforced now," says Lim.