This article first appeared in Enterprise, The Edge Malaysia Weekly, on June 10, 2019 - June 16, 2019.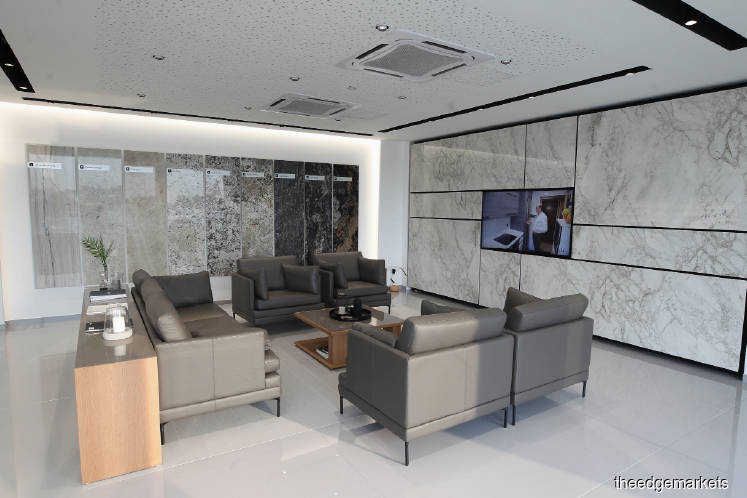 Cosentino successfully turned architectural surfaces into a fashion trend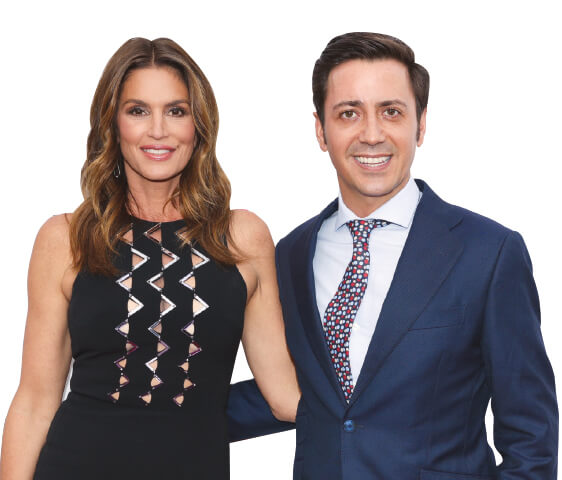 More than a fashion statement: Eduardo with Cosentino brand ambassador, Cindy Crawford
What do architectural surfaces and high fashion have in common? Apparently, a lot more than you would think. So says Eduardo Martinez Cosentino, Vice President of The Cosentino Group and CEO of Cosentino North America.
Eduardo, who was in town for the official launch of the Cosentino Centre Malaysia in April, points out that both industries develop new collections, with new designs and new colours, at least twice a year. So much so that the Spanish-based company, one of the world's leading producers and distributors of innovative surfaces for architecture and design, decided to engage Cindy Crawford as its brand ambassador.
"We try to sell an experience rather than just a product and we want it to be aspirational. We contacted Cindy three years ago and explained the campaign we wanted to do with her. She loved it because she really likes the architectural and design world and so we started with that. We have a campaign with her that we call 'top on tops' [referring to countertops]," says Eduardo.
On Cosentino promotional posters, Crawford perches on one of its famous countertops, turning it from a simple building material into a fashion trend. "We wanted people to see our products not just as natural stone products or something like that. We sell designs, we sell very nice concepts," says Eduardo.
The company has come a long way since his father, Francisco, took over the business from his grandfather in 1979, when it was just a small traditional workshop with 12 employees, mainly focusing on natural stone products.
"During that period, my father had two or three marble quarries and he started the business with that in the southeast of Spain in a town called Macael. From there, he started looking for new quarries in the region and started building the business with marble," says Eduardo.
Francisco realised that there was a lot of wastage in the production process and started looking for a technology that would address this. He discovered a Breton technology in Italy that could produce agglomerate marble from scrap.
"He made a very big investment in it and started producing something we called Marble Stone — and it was a disaster! It was more expensive than natural stone and did not even have the same properties. It was beautiful, but it was neither stain nor scratch-resistant and it nearly sent him into bankruptcy," says Eduardo.
In the meantime, Francisco was assiduous in looking for new opportunities and new things to be done with the technology. Refusing to give up, the company discovered that if it used quartz instead of marble scrap, it could produce a surface that was not only beautiful but tougher than natural stone.
As Eduardo explains, "Quartz is the second hardest material in the world after diamond. He came up with a product called Silestone in 1992. It was more resistant and had better properties than natural stone, which allowed us to deliver nicer designs. At the time, we mainly focused on flooring and wall applications. But we found that this was a great product for kitchen countertops because it was so hard and did not absorb anything."
With the introduction of Silestone, Francisco started developing new business in the kitchen and bath segments and the company recovered from its suffocating debt. "During that period, people only used natural stone or laminate products for these things. So, we found a very nice niche in these markets because we could deliver new designs that were not possible with natural stone. At the time, we got several designers to help us develop new colours and started delivering these new products to kitchen and bath dealers," says Eduardo.
Once the company's financials had been sorted out, Francisco decided it was time to look at establishing a presence in the international market. In 1999, Cosentino went into the US market in a big way.
In 2002, when Eduardo joined as sales director, the company closed a deal with famous retailer Home Depot and started receiving what he describes as "a boom of orders" from there. "We started developing the US market through Home Depot. After that, we started Cosentino Centres across North America.
The company established a presence in Latin America in 2001 and Europe in 2002. "We built teams and worked together with them to develop the markets. We had started in various markets through partnerships, but we figured out that it would be better to go in directly. So, we bought back all those partnerships and today, everything we have in these markets is 100% owned by Cosentino," says Eduardo.
"We figured that if we wanted to grow faster, we would need to invest. And partners sometimes do not want to do so. So, we bought back the partnerships and reinvested the money we made in each market in the companies we have there."
Cosentino also has six centres in Australia and New Zealand and two in South Africa. The company started doing business in Asia in 2001 through distributors.
"We believe Asia is the future. We decided about five years ago to start developing some markets directly such as Singapore, Japan and now Malaysia," says Eduardo.
He is not simply paying lip service to the concept if his schedule is anything to go by. His visit to Malaysia to launch the first Cosentino Centre here was shoehorned between a trip to South Korea and Vietnam, from where he would go on to Singapore.
"We have third-party distributors in Vietnam with whom we started two years ago and they are doing a very good job. I will visit them and see how everything is going on there and after that, spend some time with the team in Singapore," says Eduardo.
The company decided to establish a direct presence in Malaysia after discovering the huge potential here. "We had started with several distributors, but the growth was not what we expected. So, we decided to do a market study and found that the potential was actually huge," says Eduardo.
"We found that the number of kitchen and bath dealers in this country and the number of projects under construction right now were sizeable. In Malaysia, there is a very healthy middle class and a lot of construction going on. We really believe there is huge potential here."
However, the company is not only interested in new projects. "We are a company that tries to sell more than 4,000 countertops a day. We are not only looking for big projects. We are going out there to convince individuals to purchase our countertops," he says.
Hence, the huge focus on marketing and getting Crawford as a brand ambassador — something only a retailer on a brand-building drive would do. "We believe in the brand. That is why we invest a lot in marketing and also why we brought Cindy Crawford on board," says Eduardo.
"We are not interested in simply selling a product, but a service and an experience. I think you can find various products in the market where they sell on price. We are not a company that sells on price. We want the consumer or architect or designer to come to our showroom and see the different applications we can offer them and the quality they can expect."
He says the company's business model is pretty simple. "We try to establish a presence with the kitchen and bath dealers in the country, invest in marketing to get to the end-consumers and also work with architects and designers to explain what we can offer them — explain the properties of our materials and, most importantly, tell them how the material and inventory here in Malaysia can provide the service they are looking for."
To this end, Cosentino has invested RM2 million in its 2,000 sq m centre in Kota Damansara, Petaling Jaya, which serves as both a showroom and a warehouse.
Eduardo is keen to develop the Malaysian market. "We really believe that in the next few years, we will continue to add resources. We now have 12 people here and we will continue to grow the team so we can cover the whole country. Of course, the biggest potential right now is in Kuala Lumpur but we are also looking at Penang and other parts of the country," he says.
"There are plenty of things we can do differently in this country. We are here to stay and invest in the market. And we will have success."
Cosentino has come a long way from its origins. When it first started establishing a presence outside Spain in 1999, some 85% of its business still came from there. Today, Spain only represents 7% of its business, says Eduardo.
"There are three very important things for the company — internationalisation, R&D and people. We try and invest in these three areas for the success and future of the company," he adds.
In 1999, the company only saw €50 million to €60 million in sales. Today, it has crossed the €1 billion mark and is present in 140 locations around the world.