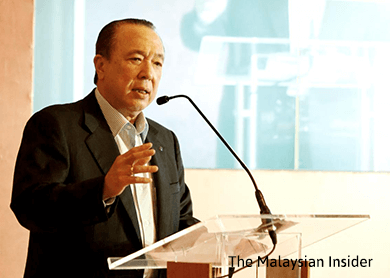 (June 24): Indonesian tycoon Tan Sri Peter Sondakh says his conglomerate Rajawali Group is not interested in investing in 1Malaysia Development Bhd (1MDB)'s Tun Razak Exchange (TRX).
Sondakh, who is chairman and CEO of the group, was quoted by The Star as saying that the group's property portfolio is full and that it has no more funds for property in Malaysia.
It was previously speculated that Sondakh would be investing in TRX after a RM 2.8 billion deal between Malaysian palm oil giant Felda Global Ventures Bhd (FGV) and the Rajawali Group for oil palm and sugar cane plantations in Indonesia, which the former allegedly purchased at above-market rates.
"I am not interested in TRX," Sondakh was quoted as saying by The Star.
He also rebutted claims that the FGV deal was overpriced, saying Indonesian plantation companies were "not easily acquired".
Sondakh was linked to TRX due to his close relationship with Prime Minister Datuk Seri Najib Razak, but he denied the relationship had won him business opportunities in Malaysia.
His Rajawali Group owns the Westin Langkawi Resort and Spa, and also the Sheraton Imperial Hotel in Kuala Lumpur.
Sondakh admitted to his friendship with Najib, but said that he also knew many other world leaders, including former United States president Bill Clinton.
The group also owns a 40% stake in the Integrated Nautical Resort Sdn Bhd (INR), which consists of a RM300 million St Regis hotel in Langkawi and a RM115 million convention centre.
Langkawi Development Authority and the Finance Ministry own 30% each, and Sondakh described his group as a "minority partner" in the project.
Sondakh, who is worth an estimated RM8.5 billion, is the sixth richest man in Indonesia.
1MDB's TRX is now looking to attract foreign investors to help allay the state owned investment arm's cash flow problems, as it sits on a RM42 billion debt.
Another Indonesian conglomerate, the Mulia Group, had signed on to build the signature tower in the TRX project, which has a Gross Development Value (GDV) of RM40 billion. – The Malaysian Insider