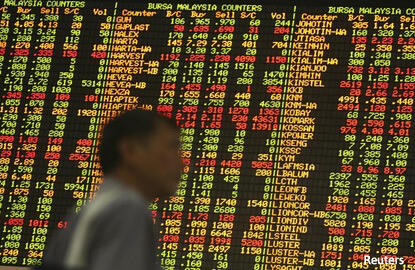 BENGALURU (Jan 18): Indonesian shares rose on Wednesday, snapping a seven-session losing streak, with consumer staples accounting for nearly half of the gains, while Singapore fell for a third straight day.
In Asia, MSCI's ex-Japan Asia-Pacific shares index rose 0.4%, as investors judged U.S. President-elect Donald Trump's concerns over a stronger dollar will be beneficial to some of the regional bourses. 
In an interview with the Wall Street Journal, Trump said U.S. companies "can't compete with (China) now, because our currency is strong and it's killing us."
The dollar index, which measures the greenback against a basket of six major peers, last stood at 100.50, up 0.2%, after falling to 100.26 on Tuesday, its lowest since Dec 8.
"At the current level that the dollar has reached from six months ago, I think it is already high enough to invite some investments into exporting countries," said Joseph Roxas, president of Manila-based Eagle Equities Inc.
Jakarta posted its first rise in eight sessions, with gainers outnumbering losers.
Investors are keeping a close eye on Indonesia's central bank which is widely expected to keep its benchmark policy rate unchanged on Thursday, as it monitors the rupiah's movement at a time of global uncertainty and price pressures at home. 
To maintain the balance of Indonesia's macroeconomic stability and the recovery of the domestic economy, policy rates are expected to remain unchanged in this month, said Rahmi Marina, analyst at Maybank Kim Eng Securities, in a note.
Philippine stocks rose half a percent and snapped five straight sessions of falls, powered by real estate and telecom stocks.
"Philippines is rebounding a bit after a few days of corrections. Last few days were really just corrections. We did not even break 7,100 (level)," Roxas said.
At the other end, Singapore recorded a third straight session of fall with financials accounting for nearly half of the losses. United Overseas Bank Ltd, the city-state's third-biggest lender, closed 1% lower, after recording its biggest intraday percentage loss in nearly eight weeks.
Thai stocks dipped with consumer staples and energy stocks accounting for most of the losses.
SOUTHEAST ASIAN STOCK MARKETS
Change on day
| | | | |
| --- | --- | --- | --- |
| Market | Current close | previous | Pct Move |
| Singapore | 3000.22 | 3012.77 | -0.42 |
| Bangkok | 1560.83 | 1566.84 | -0.38 |
| Manila | 7156.36 | 7123.33 | 0.46 |
| Jakarta | 5294.784 | 5266.938 | 0.53 |
| Kuala Lumpur | 1665.02 | 1663.03 | 0.12 |
| Ho Chi Minh | 683.28 | 684.71 | -0.21 |
Change this year
| | | | |
| --- | --- | --- | --- |
| Market | Current | End 2016 | Pct Move |
| Singapore | 3000.22 | 2880.76 | 4.15 |
| Bangkok | 1560.83 | 1542.94 | 1.16 |
| Manila | 7156.36 | 6952.08 | 2.94 |
| Jakarta | 5294.784 | 5296.711 | -0.04 |
| Kuala Lumpur | 1665.02 | 1641.73 | 1.42 |
| Ho Chi Minh | 683.28 | 672.01 | 1.68 |