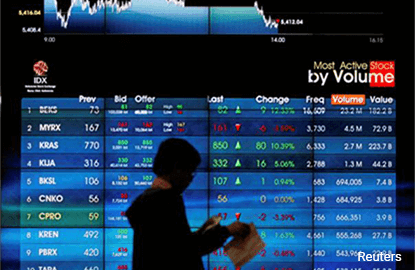 (Feb 16): The Indonesian stock index was marginally lower on Thursday, after the much-watched first round election for Jakarta governor produced no clear outcome, while most other Southeast Asian markets rose in line with Asian peers.
Unofficial sample vote counts pointed to a second round between the incumbent Basuki Tjahaja Purnama and Anies Baswedan, a Muslim former education minister, after neither appeared to win a majority in Wednesday's election.
"While this result might not be surprising, what was interesting to see was the vote difference between the two was quite thin, only around 2-3%", said Pandu Anugrah of Maybank KimEng Securities in Jakarta.
The Jakarta poll has been overshadowed by religious tensions, with Islamist-led protests against Governor Purnama, an ethnic Chinese Christian, and calls for voters to choose a Muslim leader for the city. Purnama is backed by President Joko Widodo's ruling party, and the poll is widely seen as a proxy battle for the 2019 presidential election.      
The Jakarta SE Composite index, which fell as much as 0.4%, recouped some losses after data showed that the country's January exports surged more than expected on rising commodity prices.
Indonesia's PT Bank Mandiri Tbk fell as much as 4.6%, its biggest intraday percentage drop in 12 weeks. The biggest Indonesian bank by assets reported a 32% drop in its 2016 net profit to the lowest in five years, after market close on Tuesday.
Indonesian markets were closed on Wednesday for the Jakarta poll.
Philippine shares surged as much as 1.6%, their biggest intraday jump since Jan. 23, led by industrials and financials.
"There is a technical rebound from yesterday's losses... as of now we have net foreign buying of 270 million pesos (US$5.4 million), which bucks the trend from the past trading session," said Victor Felix, equity analyst at AB Capital Securities.
Philippine conglomerate SM Investments Corp gained as much as 3.5% to record its biggest intraday jump in more than three weeks.
Vietnam shares gained as much as 0.6% to a hit a nine-year high. The index was on track for its fifth straight session of gains, led by financials and consumer staples.
Vietcombank and Saigon Beer Alcohol Beverage Corp were each up about 1%.
SOUTHEAST ASIAN STOCK MARKETS
Change at 0455 GMT
| | | | |
| --- | --- | --- | --- |
| Market             | Current        | Prev close    | % move |
| Singapore          | 3088.78        | 3088.48       | 0.01 |
| Bangkok            | 1577.33        | 1573.37       | 0.25 |
| Manila             | 7291.32        | 7174.3        | 1.63 |
| Jakarta            | 5377.512       | 5380.67       | -0.06 |
| Kuala Lumpur       | 1706.73        | 1709.79       | -0.18 |
| Ho Chi Minh        | 715.85         | 711.57        | 0.60 |
Change this year
| | | | |
| --- | --- | --- | --- |
| Market             | Current        | End 2016      | % Move |
| Singapore          | 3088.78        | 2880.76       | 7.22 |
| Bangkok            | 1577.33        | 1542.94       | 2.23 |
| Manila             | 7291.32        | 6840.64       | 6.59 |
| Jakarta            | 5377.512       | 5296.711      | 1.53 |
| Kuala Lumpur       | 1706.73        | 1641.73       | 3.96 |
| Ho Chi Minh        | 715.85         | 664.87        | 7.67 |
(US$1 = 49.9490 Philippine pesos)