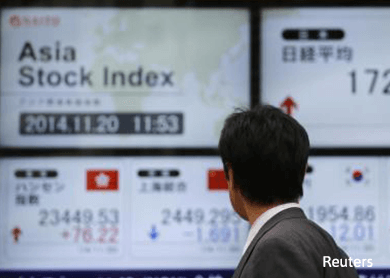 BANGKOK (Aug 27): Southeast Asian stock markets rose on Thursday after US and Chinese equities rebounded, with stocks in Indonesia rallying ahead of a government stimulus package and the Philippine index advancing after positive economic data.
Jakarta's composite index jumped 3.28%, heading for its biggest single-day rise since September 2013. Foreign investors bought recently-battered large-caps such as Bank Rakyat Indonesia and Bank Negara Indonesia.
Indonesia on Thursday will unveil a policy package intended to prop up the rupiah, which hit another fresh 17-year low, and boost investment at a time when Southeast Asia's largest economy faces its weakest growth in six years.
The Philippines' main index was up 2.2%, a third day of gains this week. Data showed the Philippine economy rebounded with a growth of 5.6% in the second quarter, defying a regional slowdown.
Much of the regional share slide this week was due to foreign outflows amid selloffs in Chinese stocks, stock exchange data showed.
A sharp rebound on Wall Street and gains in battered Chinese shares eased fears of a deep and protracted global market rout, lifting Asian stocks on Thursday.
The Thai SET index was up 1.9%, after a drop the day before. Consumer-related shares such as CP All and Kasikornbank outperformed on hopes about the government's economic measures.
"Further institutional buying should be a major driver for SET Index, especially on the domestic plays which benefit from the stimulus packages, focused on low income earners," said broker KGI Securities in a report.
Singapore was up 2%, after a weak spell on Wednesday. Malaysia and Vietnam were both on track for a third straight gain, climbing 1% and 1.6%, respectively.
SOUTHEAST ASIAN STOCK MARKETS
Change at 0549 GMT
Market
Current
Prev Close
Pct Move
Singapore
2928.99
2873.00
+1.95
Kuala Lumpur
1596.70
1580.37
+1.03
Bangkok
1345.30
1320.08
+1.91
Jakarta
4376.52
4237.73
+3.28
Manila
7019.63
6867.92
+2.21
Ho Chi Minh
554.82
545.89
+1.64