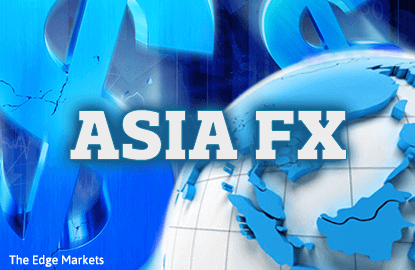 SINGAPORE (Feb 27): The Indian rupee set a three-month peak and the Thai baht hovered at a four-month high on Monday, as investors looked to U.S. President Donald Trump's speech to Congress later this week for fresh catalysts.
The Thai baht rose to 34.85 per dollar. That matched Friday's peak, which was the highest in almost four months.
The Indian rupee touched a high of 66.645, its strongest level since Nov 10.      
Emerging Asian currencies such as the baht and Indian rupee held firm, ahead of Trump's speech to the joint session of Congress due on Tuesday.
Trump will use the event to preview some elements of his sweeping plans to cut taxes for the middle class, simplify the tax system and make American companies more globally competitive with lower rates and changes to encourage U.S. manufacturing, Treasury Secretary Steven Mnuchin told Fox News Channel's "Sunday Morning Futures" programme.
Uncertainty over whether Trump will offer enough details on his plans for infrastructure spending and tax reforms, were helping to weigh on the dollar, traders said.    
"The market is positioning for disappointment," said Stephen Innes, a senior trader for FX broker OANDA in Singapore.      
"Traders are going to start asking themselves undoubtedly, the longer the tax reform gets played out, is the market's expectations too high?" 
At the same time, traders will probably be wary of selling the dollar aggressively ahead of Trump's address, Innes said.  
The Indonesian rupiah showed limited reaction to news that Indonesian police exchanged gunfire with an attacker, after a reported explosion in a government building in the city of Bandung. 
The rupiah hardly moved after the news, and was last down 0.1% on the day at 13,345. The rupiah remains within its trading range so far in February of between 13,385 to 13,280.    
CURRENCIES VS U.S. DOLLAR
Change on the day at 0513 GMT
| | | | |
| --- | --- | --- | --- |
| Currency | Latest bid | Previous day | Pct Move |
| Japan yen | 112.22 | 111.96 | -0.24 |
| Sing dlr | 1.4052 | 1.4050 | -0.01 |
| Taiwan dlr | 30.650 | 30.650 | -0.00 |
| Korean won | 1131.40 | 1131.50 | +0.01 |
| Baht | 34.85 | 34.91 | +0.17 |
| Peso | 50.275 | 50.215 | -0.12 |
| Rupiah | 13345 | 13329 | -0.12 |
| Rupee | 66.71 | 66.82 | +0.17 |
| Ringgit | 4.4410 | 4.4370 | -0.09 |
| Yuan | 6.8769 | 6.8700 | -0.10 |
Change so far in 2017
| | | | |
| --- | --- | --- | --- |
| Currency | Latest bid | End prev year | Pct Move |
| Japan yen | 112.22 | 117.07 | +4.32 |
| Sing dlr | 1.4052 | 1.4490 | +3.12 |
| Taiwan dlr | 30.650 | 32.279 | +5.31 |
| Korean won | 1131.40 | 1207.70 | +6.74 |
| Baht | 34.85 | 35.80 | +2.73 |
| Peso | 50.28 | 49.72 | -1.10 |
| Rupiah | 13345 | 13470 | +0.94 |
| Rupee | 66.71 | 67.92 | +1.82 |
| Ringgit | 4.4410 | 4.4845 | +0.98 |
| Yuan | 6.8769 | 6.9467 | +1.01 |