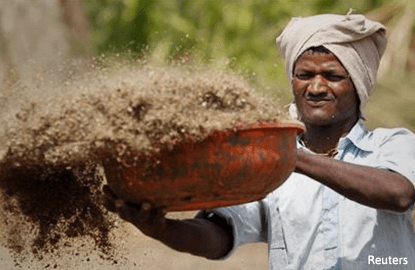 MUMBAI (Feb 16): An Indian ministry has proposed slashing potash subsidies by 17% in the next financial year to reduce the fiscal deficit, officials said, a move that would hit demand in one of the world's largest importers of the fertiliser.
Although global prices have been falling, a reduction in government support in India — which alongside China is the world's biggest bulk potash importer — will make potash relatively expensive for the companies that import it.
Some officials at those companies said that were the proposal to be adopted, they would seek lower prices when negotiating annual contracts with global suppliers and also raise retail prices charged to farmers, dampening demand.
Global producers including Uralkali, Potash Corp of Saskatchewan, Agrium Inc, Mosaic, K+S, Arab Potash and Israel Chemicals have been hoping for robust demand to help counter weak prices.
Asian import prices have fallen around 10% in the last 12 months.
India's fertiliser ministry has proposed fixing the potash subsidy at 7,669 rupees (US$114.61) a tonne for the 2017/18 fiscal year beginning in April, down from 9,280 rupees per tonne this year, said a senior government official.
He did not wish to be identified, because he was not authorised to talk to the media.
Prime Minister Narendra Modi's cabinet has to decide on the proposal, said the official, who is directly involved in the decision making process.
If India were to import 4 million tonnes of potash in 2017/18, the savings from the proposed subsidy cut would equate to almost US$100 million.
Two other industry officials confirmed the plan.
The Ministry of Chemicals and Fertilisers spokesman declined to comment on the proposed changes.
Not so rosy outlook
India relies on imports to meet its annual potash demand of about 4 million tonnes, but higher prices are expected to limit how much its 263 million thrifty farmers use.
India buys potash from global miners in annual contracts that the south Asian country usually signs, before the start of the fiscal year.
Contracts signed by India and China are considered benchmarks globally, and are closely watched by other potash buyers such as Malaysia and Indonesia.
"The subsidy reduction will weigh on the new contract negotiations. We cannot offer higher prices in new contracts due to the proposed subsidy reduction," said an official who takes part in the negotiation process with overseas miners.
Leading producer Potash Corp last month expressed hopes for a pick-up in demand from India in 2017, while Agrium earlier this month forecast a 5% rise in global potash shipments this year.
Some industry officials in India say the demand outlook is not so rosy, and doubted imports of the crop nutrient would exceed 4 million tonnes if the subsidy cut went through.
Last year suppliers had to sell potash to India at US$227 per tonne, down from US$332 previously and the lowest in a decade, after India delayed purchases due to sluggish demand.
That allowed importing companies to reduce retail prices, but that could be reversed in 2017/18.
"If the subsidy goes down, then we have no choice but to raise retail prices," said an official with a state-run fertiliser company. The official declined to be named.
In his budget for the 2017/18 fiscal year, Finance Minister Arun Jaitley in fact kept the overall fertiliser subsidy unchanged at 700 billion rupees.
But fertiliser importers said that almost half of the amount would be spent on settling arrears accumulated from 2016/17, necessitating savings.