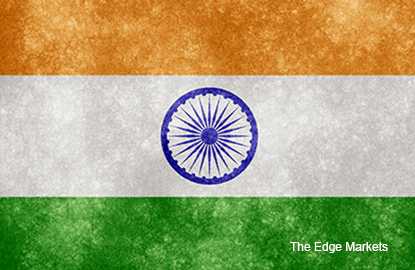 NEW DELHI (Feb 28): India's economy is forecast to slow less than estimated as banks work to replace cash sucked out by Prime Minister Narendra Modi's shock clampdown in November.
Key Points
Gross domestic product will probably grow 7.1% in the year through March after a 7.9% expansion the previous year, the Statistics Ministry said in a statement in New Delhi on Tuesday  
While that's the slowest pace since 2014, it's faster than the 6.8% median estimate in a Bloomberg survey of 32 economists
GDP expanded 7% in October-December, compared with 6.1% in the survey and the previous quarter's revised 7.4%
Big Picture
The surprising resilience in growth masks job and revenue losses at small companies, which employ as much as 40% of the country's workers and are the secret to India's growth, according to some economists and lobby groups. Any slowdown therefore carries risks for policy makers, who lack space for fiscal stimulus and who this month signaled an end to monetary easing. The central bank said it expects a sharp rebound in growth after a slump.
Economist Takeaways
"We have only advance filings by corporates. These have been incorporated in the estimates," TCA Anant, the government's chief statistician, told reporters after the data was published. "Full corporate filing data will not be available until the close of the financial year. Full data will be available only by January next year."
"This is a positive surprise," said Anjali Verma, economist at Phillip Capital, who had predicted 6.5% growth for October-December. "We are expecting the economy to continue growing at 7% in the next quarter too."  
Consumption probably surged in the period before the cash ban was announced — Oct 1 to Nov 8 — that hosted two important festivals and crop harvests, said Sunil Kumar Sinha, principal economist at India Ratings and Research. "Clearly these factors have had an equal say in October-December GDP growth as opposed to the adverse impact of demonetization," which will show only in January-March and cut full-year growth to 6.8%, he said.
Details
Gross value added — a key input of GDP that strips out taxes and subsidies — rose 6.6% in October-December; that's slower than the previous quarter's 7.1% but faster than the survey's 6% prediction
Full-year GVA is seen rising 6.7% compared with 7.8% the previous year
Private consumption is expected to slow to 7.2% from 7.3%
GDP hasn't slowed as much as GVA because indirect tax collections rose and subsidies fell, Anant said
Gross fixed capital formation — the creation of productive assets such as factories — is estimated to slump to 0.6% from 6.1%
Exports are seen rising 2.3% compared with a fall of 5.4%
Among sectors, mining slowed to 1.3% from 12.3%; manufacturing to 7.7% from 10.6%; financial services to 6.5% from 10.8%; agriculture expansion revived to 4.4% from 0.8%; construction to 3.1% from 2.8%