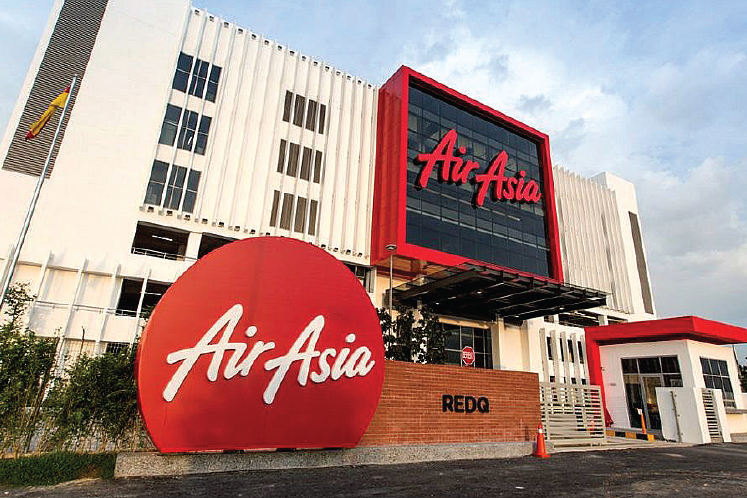 KUALA LUMPUR (Aug 28): AirAsia Group Bhd, Asia's largest low-cost carrier by passenger volume, saw its second-quarter net profit drop 95% year-on-year (y-o-y), dragged down by losses at AirAsia India and a charge of RM19.8 million due to foreign exchange losses.
Net profit for the quarter ended June 30, 2019 (2QFY19) fell to RM17.94 million from RM361.81 million a year ago. This resulted in a lower earnings per share of 0.5 sen for 2QFY19 compared with 10.8 sen for 2QFY18.
Quarterly revenue, however, was up 19.7% to RM3.14 billion from RM2.62 billion in 2QFY18, driven by an 18% y-o-y increase in passengers carried to 12.8 million during the quarter under review. 
In a bourse filing today, AirAsia blamed the lower 2QFY19 net profit to a RM147 million share of prior years losses at AirAsia India previously not recognised, but now recognised as a result of the airline's increase in its investment in AirAsia India.
It also attributed the additional cost related to building up RedBeat Ventures entities, 105% higher maintenance and overhaul expenses on the back of higher number of leased aircraft and a RM10 million fine from the Malaysia Competition Commission for breaching a market-sharing prohibition to the lower quarterly earnings.
The weak quarterly earnings pulled down the airline's net profit for the cumulative six months (1HFY19) by 92.7% to RM110.2 million from RM1.5 billion a year ago. Revenue rose 16.2% to RM6.02 billion in 1HFY19 from RM5.18 billion in 1HFY18.
Nevertheless, AirAsia remains positive that the overall core results of the group in 2019 will be better than 2018.
It said load factors for the rest of 2019 is expected to remain strong, while fares are expected to hold following the 1H19 trends.
In a separate statement, AirAsia president of airlines Bo Lingam said it is on target for all its Asean air operator's certificate (AOCs) to be profitable this year, with a target group load factor of 85%.
In 2QFY19, AirAsia Indonesia returned to profitability, while AirAsia Philippines's net profit increased more than eight-fold. 
"We are also focused to recuperate AirAsia Thailand, which reported a loss in 2QFY19 as it was negatively impacted by the sluggish growth of tourism and the baht appreciating, by recreating demand with more marketing," said Bo.
"We intend to further develop Thai tourism corridors to India and the rest of Asean, as well as cut costs, fueled by increasing our aircraft utilisation," he added.
Bo said the airline's strategy remains to gain dominance in the countries it operates in, especially within the Asean region. This year, it has planned for a fleet growth of 20 aircraft across its six AOCs – Malaysia, Indonesia, the Philippines, Thailand, Japan and India.
The airline is expected to receive its first A321neo in November, which is more fuel efficient, has a longer range and holds an additional 50 seats worth of capacity.
"We continue to work on reducing costs including investment in digitalisation, which we believe will help reduce costs in the long run," said Bo.
To reduce risk to fuel price volatility, AirAsia has hedged 70% and 85% of its fuel requirement for 3QFY19 and 4QFY19 at average Brent hedge prices of US$62 per barrel and US$60.77 per barrel respectively.
Its financial service arm BigPay, meanwhile, will be rolled out in multiple markets in Asean, with the target to get a e-money licence in Singapore by year-end, said Bo.
Shares of AirAsia closed two sen or 1.12% higher at RM1.80 today, valuing the airline at RM6.02 billion.