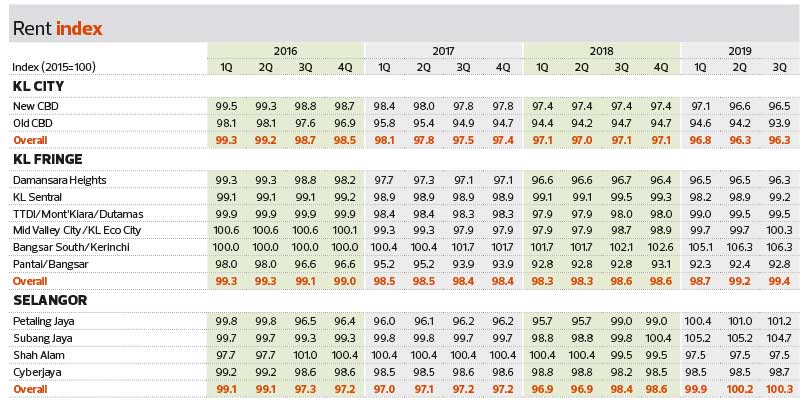 Click / Tap image to enlarge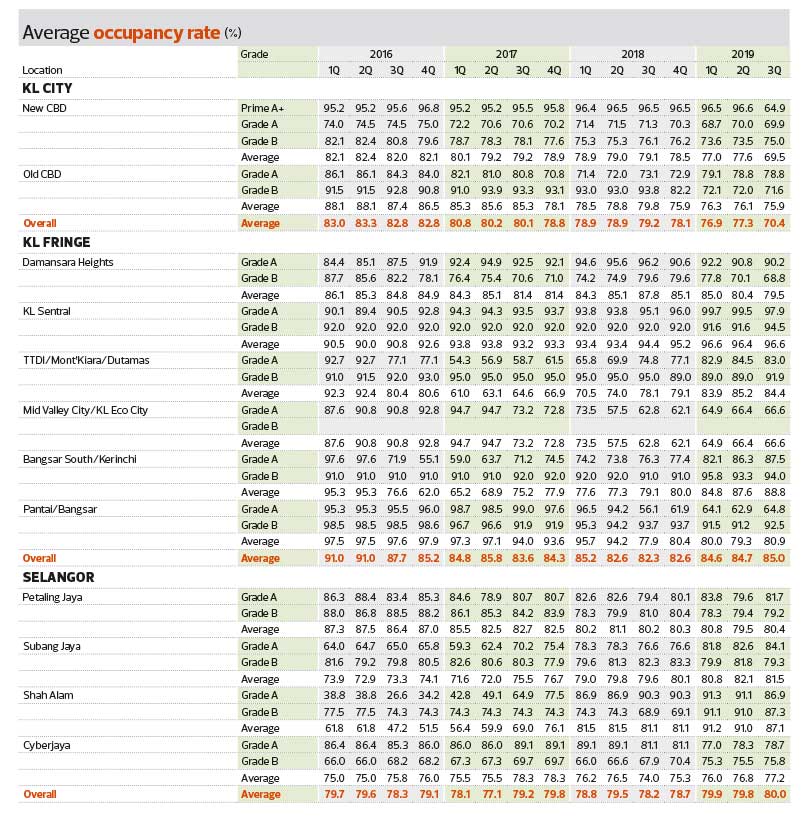 Click / Tap image to enlarge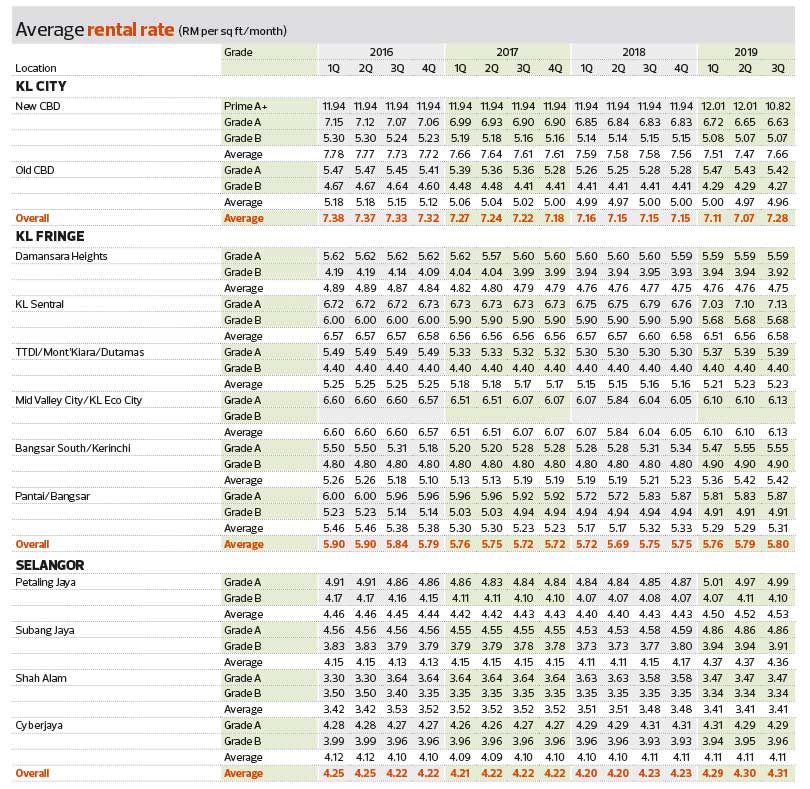 This article first appeared as 'Incoming supply remains a concern' in City & Country, The Edge Malaysia Weekly, on December 16, 2019 - December 22, 2019.
The outlook for the Klang Valley office market remains challenging in the medium term because about 22 million sq ft of incoming supply is targeted for completion in the next two to three years.
"As business conditions remain lacklustre with no immediate catalyst to boost demand, we anticipate weak market absorption," says Knight Frank Malaysia executive director of corporate services Teh Young Khean when presenting The Edge/Knight Frank Kuala Lumpur and Selangor Office Monitor 3Q2019.
According to the real estate consultancy, KL City has an estimated office supply of 55.73 millionsq ft, KL fringe has 29.45 million sq ft and Selangor, 22.15 million sq ft. This brings the estimated total to 107.33 million sq ft.
Teh notes that the prime A+ office segment in the city's new CBD is facing more downward pressure due to a growing mismatch between supply and demand, and as existing and new buildings compete for the same pool of tenants.
"However, there is a growing number of multinational companies looking to set up their offices in premium or Grade A office space. Hence, newly completed buildings in ongoing mega developments, such as TRX, and other mature economic clusters that offer good quality space with high specifications at competitive rental rates and attractive tenancy terms will appeal to the MNCs."
InvestKL is confident it will achieve its target of attracting 100 MNCs to set up their regional offices in Malaysia by next year. Knight Frank Malaysia says from its inception in 2011 until September, the government investment promotion agency has reportedly attracted 85 MNCs.
"The increasing number of MNCs in Malaysia is expected to have a multiplier effect on the real estate market and can create jobs and stimulate the office market," says Teh.
Meanwhile, selected real estate investment trust (REIT) management teams are reportedly focusing on cost discipline and effectiveness as well as tenant retention due to the lacklustre office market while many landlords remain open to the idea of partnering co-working space providers to fill vacant areas in their office buildings, says Knight Frank Malaysia.
"There is also a growing trend of old/dated office buildings being repurposed for new/alternative uses depending on the location and neighbourhood and surrounding developments. With the current oversupplied office market, developers are reviewing their approved or proposed office developments for other potential uses," says Teh.
Decentralised office markets holding steady
The average rental rates of Prime A+ and Grade A offices in KL City decreased in 3Q2019. For Prime A+ offices in the new CBD, rental rates fell 9.9% quarter on quarter to RM10.82 psf. The substantial drop was partly due to new entrants like The
Exchange 106 and Menara Prudential.
Average rental rates for Grade A offices in the new CBD and those in the old CBD dipped 0.3% (RM6.63 psf) and 0.2% (RM5.42 psf) respectively from 2Q2019.
In the KL fringe, average rental rates for Grade A offices in Damansara Heights, Taman Tun Dr Ismail (TTDI)/Mont'Kiara/Dutamas and Bangsar South/Kerinchi remained unchanged at RM5.59 psf, RM5.39 psf and RM5.55 psf respectively. Rental rates in KL Sentral, Mid Valley City (MVC)/KL Eco City (KLEC) and Pantai/Bangsar increased 0.4% (RM7.13 psf), 0.6% (RM6.13 psf) and 0.6% (RM5.87 psf) respectively quarter on quarter.
Over in Selangor, the weighted average achievable rental rate for Petaling Jaya was flattish at RM4.53 psf compared with RM4.52 psf in 2Q2019 while the rental rate in Subang Jaya dipped to RM4.35 psf from RM4.37 psf.
Rental rates in Shah Alam and Cyberjaya were unchanged at RM3.41 psf and RM4.11 psf respectively. The overall average rental rate moved marginally to RM4.31 psf from RM4.30 psf quarter on quarter.
Teh expects the mature decentralised office markets in the KL fringe and Selangor to hold steady. "Amid the heightened competition in the tenant-led office market, there is growing availability of good grade space at competitive rents in these mature decentralised office locations. Well-connected office locations supported by improved road and rail infrastructure with sufficient amenities, including food and beverage outlets, within the vicinity are in demand," he says.
New supply affecting occupancy in KL City
In 3Q2019, the average occupancy rate in KL City dropped 6.9% quarter on quarter to 70.4%. Offices in the new CBD bore the burnt of new entrants into the market with their occupancy rate falling 8.1% quarter on quarter to 69.5%. The newly completed office buildings — The Exchange 106, Menara Prudential and BB Tower — added 3.32 million sq ft to office space supply.
The KL fringe fared better in the quarter under review with the overall average occupancy rate dipping 0.3% to 85% quarter on quarter. Damansara Heights and TTDI/Mont'Kiara/Dutamas registered dips of 0.9% to 79.5% and 0.8% to 84.4% respectively while KL Sentral and MVC/KLEC saw an increase of 0.2% to 96.6% and 66.6% respectively.
Bangsar South/Kerinchi and Pantai/Bangsar benefited from tenant movements with the occupancy rate rising 1.2% to 88.8% and 1.6% to 80.9% respectively. The former saw new tenants moving into Vertical Corporate Tower B while the latter had tenants moving into Menara Etiqa and Wisma Volkswagen.
Over in Selangor, the overall average occupancy rate increased to 80% from 79.8% in 2Q2019.
In Petaling Jaya, the rate increased to 80.4% in 3Q2019 from 79.5% in 2Q2019 due to improved take-up in Symphony Square and Wisma LYL. Cyberjaya also saw an improvement, albeit marginally, in 3Q2019, with the rate rising to 77.2% from 76.8% in the previous quarter.
Subang Jaya and Shah Alam, however, saw the rate dip to 81.5% from 82.1% and to 87.1% from 91% respectively quarter on quarter due to tenant movements from buildings such as Menara Summit and Menara MRCB.