This article first appeared in The Edge Malaysia Weekly, on October 7, 2019 - October 13, 2019.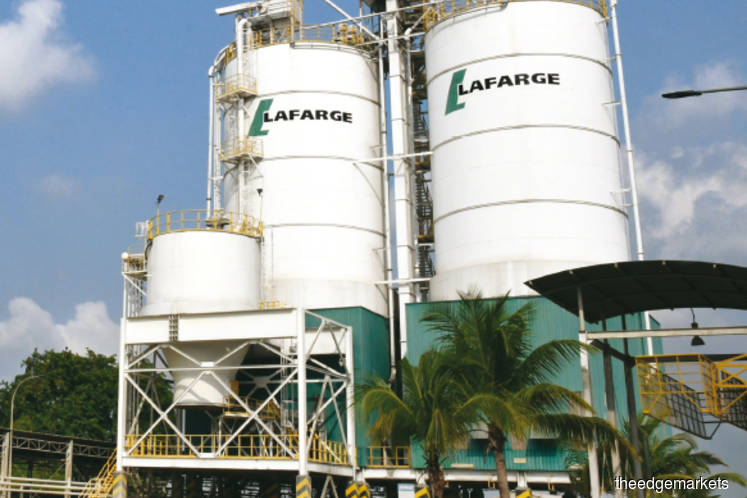 Since YTL took over, Lafarge's plants have been running at full steam except for the one in Rawang, which is being refurbished. Photo by Low Yen Yeing/EdgeProp.my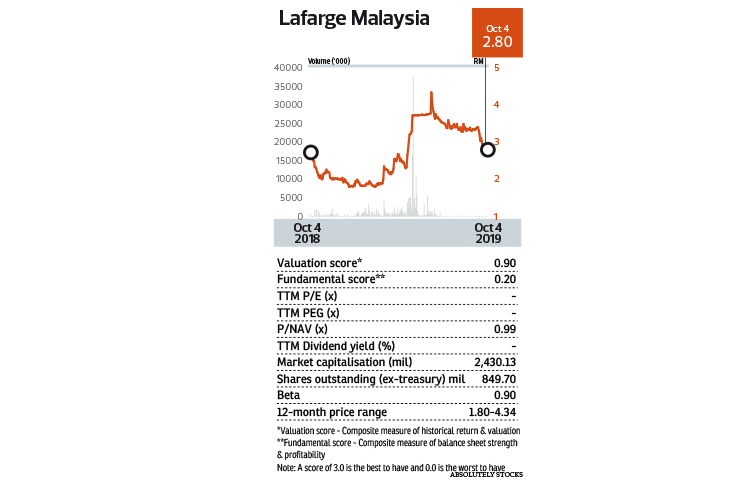 INADEQUATE explanation may have been the reason the minority shareholders of Lafarge Malaysia Bhd (now known as Malayan Cement Bhd) blocked a resolution that would have mandated the company to undertake recurrent related-party transactions (RRPTs) worth RM3.51 billion with its largest shareholder YTL Cement Bhd.
When contacted by The Edge, a spokesperson for YTL Cement says the setback was not due to the nature of the RRPTs but because the details were not well explained.
"The RRPTs were explained in detail to the shareholders at the extraordinary general meeting (EGM) [held last month]. Over 90% of those present voted in favour of them once the explanation was given but unfortunately, there were some (proxies) with block votes who came with the decision to vote against the RRPTs, and we couldn't convince them not to because they may not have been the decision-makers at the time," the spokesperson adds.
YTL Cement, which took majority control of Lafarge in May and now holds a 76.98% stake in it, has taken the glitch in its stride, conceding that it had rushed into turning the loss-making Lafarge around.
"They [the minority shareholders] did contact our office a week earlier [before the EGM] and we did send them some details. They said they will come back to us should they have any more queries, but we did not hear from them.
"Unfortunately, there may have been a misassumption that no queries meant everything was in order. On our side, I guess we erred in not realising that they may not have been satisfied with our explanation," the spokesperson says.
It is understood that YTL Cement has been engaging with the group of minority shareholders post-EGM.
"Basically, we are explaining the whole situation to the decision-makers who were not present at the EGM so that they understand the impact assessment of what we are trying to do," says the spokesperson.
It is not known who the shareholders that blocked the deal are but those who may have had adequate votes to do so include Permodalan Nasional Bhd (PNB), which has a 13.3% stake in Lafarge; FIL Ltd with 5.3%; and Kumpulan Wang Persaraan Diperbadankan (KWAP) with 4.4%.
At press time, neither PNB nor KWAP had responded to The Edge's requests for comments.
To recap, the RM3.51 billion worth of RRPTs that the minority shareholders of Lafarge blocked included the sale or purchase of clinker, cement, aggregates, manufacturing sand and concrete, and the provision of terminal management fees, among other things.
They, however, approved an RRPT worth RM44 million with Lafarge Holcim Ltd and its subsidiaries and associate that entails the sale and purchase of cement, clinker, gypsum and anhydrite and raw copper slag, among others.
Commenting on this, the YTL Cement spokesperson says, "This RRPT will allow an improvement in Lafarge's turnover because what YTL Cement will do is buy clinker from the company in Malaysia instead of buying from overseas.
"Secondly, YTL Cement has a big operation in terms of our cement terminal in Singapore. So, instead of buying cement from overseas, we are going to buy from Lafarge, which will effectively increase its turnover.
"Thirdly, Lafarge Concrete [(M) Sdn Bhd] buys a lot of aggregates externally but YTL Cement is offering it the chance to buy them from our own quarries — after all, we are one of the largest quarry operators in the country — at more favourable prices, which would give Lafarge better margins to operate on."
When asked what YTL Cement's next course of action was, given the latest development, the spokesperson says the group will continue to undertake its RRPT with Lafarge within a permitted threshold.
"We are allowed to do RRPTs of up to 5% of shareholders' value without seeking shareholders' approval, and we are still within that value. We will have to stay within this percentage for the time being," the spokesperson adds.
Last week, it was reported that YTL Cement's assets may be injected into Lafarge to ease business dealings with each other.
On this, the YTL Cement spokesperson says propositions have been brought to the table, but nothing has been firmed up yet.
"We have a few on our table, including appointing consultants and merchant banks on how to do the consolidation of the two companies going forward, which will take into cognisance the interest of all [stakeholders].
"We hope to do this consolidation before the next financial year-end but that will be put to the board and shareholders [for approval] when the time comes," the spokesperson says, adding that YTL Cement will be working hard to achieve synergy between the two companies and improve Lafarge's financial performance.
"What we have done for Lafarge is to improve its exports, which are now getting more positive response. Also, in the last four months since YTL took over, Lafarge's plants have been running at full steam except for the one in Rawang (Selangor), which is being refurbished," says the spokesperson.
Lafarge's latest financial statement does indicate an improvement in its bottom line. In the first half of its financial year ended June 30, 2019 (1HFY2019), the company's net loss shrank to RM95.35 million from RM152.52 million a year ago. Revenue, however, fell 6.4% year on year to RM1.01 billion.
If YTL Cement succeeds in returning Lafarge to the black despite the difficult operating environment in the cement industry, it will definitely garner a vote of confidence from its minority shareholders.
Lafarge's share price closed at RM2.80 last Friday — down 35% from its peak of RM4.34 registered on June 13 — giving the company a market capitalisation of RM2.38 billion.