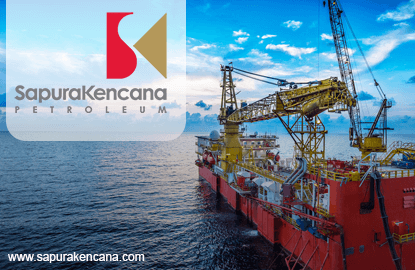 KUALA LUMPUR (Mar 25): SapuraKencana Petroleum Bhd (SKPetro) recorded a net loss of RM1.29 billion in its fourth quarter ended Jan 31, 2016 (4QFY16), compared to a net profit of RM129.13 million a year ago, due to a provision of impairment amounting to RM1.14 billion on its property, plant and equipment (PPE), as well as oil and gas (O&G) properties.
The 4QFY16 results were also brought down by a RM172.5 million deposit write-off in relation to the termination of its plans to acquire three petroleum assets in Vietnam from Petroliam Nasional Bhd in Jan 2016, said SKPetro in a results filing today.
Meanwhile, its 4QFY16 revenue was down 6.8% at RM2.23 billion from RM2.39 billion a year ago, in tandem with the low oil prices, it said.
For the full year ended Jan 31 (FY16), the O&G services and solutions provider also slipped into the red, with a net loss of RM791.56 million, as opposed to a net profit of RM1.43 billion in FY15, as a result of the group recognising a full year's impairment provision of RM2 billion on its PPE and O&G properties.
Excluding the RM2 billion provision, SKPetro's FY16 profit before tax (PBT) actually gained 1.2% to RM1.41 billion, compared to its FY15 PBT of RM1.4 billion, though margins slipped from 14% to 13.8%. The recognition of the impairment provision, deemed a kitchen sinking exercise, was done in response to the low oil price environment.
FY16's full-year revenue improved 2.4% to RM10.18 billion, from RM9.94 billion a year ago, due to increased revenue from its engineering and construction division, which is attributable to higher revenue from international projects executed during the year.
The group also reported a stronger cash position of RM1.95 billion in FY16, compared to FY15's RM1.26 billion.
In a separate statement, SKPetro president and group chief executive officer Tan Sri Shahril Shamsuddin said the group has generated strong operational performance in FY16 across all business segments through its commitment on precision in execution.
"Looking ahead, we still anticipate pressures on our margins in the near term, but remain confident in our ability to deliver fit-for-purpose solutions for our customers.
"We will navigate this period with an enhanced focus on opportunities in key markets such as in South East Asia, India, the Middle East and Mexico, and we will continue to strengthen key capabilities and ensure our cost base is competitive in a US$30 oil price environment with the embedded agility to benefit as the industry recovers," he said.
SKPetro's current order book stands at RM21.3 billion, of which RM6.5 billion is for FY17, RM3.9 billion for FY18, and the remainder RM10.9 billion to be allocated to its upcoming financial years accordingly, the statement read.