This article first appeared in Enterprise, The Edge Malaysia Weekly, on March 12, 2018 - March 18, 2018.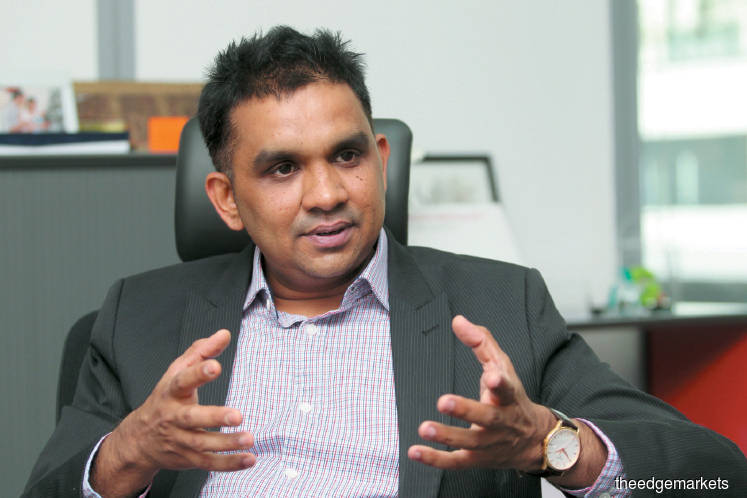 One of the main problems facing the manufacturing and services industries in the country is the overreliance on foreign workers. Ashok Ramachandran, managing director of Antah Schindler Sdn Bhd, wants to change this, at least where lifts and escalators are concerned.
He says the training and development of employees is an area that is often neglected in Southeast Asia, not just Malaysia. "There are two things in Asia that we need to do a lot more of — focus on quality and safety and also on people. Right now, we depend a lot on foreign workers. That was one of my initial observations when I first came to Malaysia.
"I couldn't understand why we could not make this an exciting industry for young people. When I was in Australia, the system was such that you can't work on a lift or an escalator unless you have undergone professional training, which is usually a four-year apprenticeship programme."
Ashok was regional manager at the company in Australia for three years before moving to Vietnam in 2012 and Malaysia in 2016.
Malaysia's dependence on foreign labour reached a critical level when the number of migrant workers surpassed the country's Indian population in 2016. According to the Department of Statistics, the migrant population stood at 3.1 million while the Indian population was only 2.1 million. The number of migrant workers is expected to exceed the country's Chinese population by 2034.
Like every other multinational corporation in the country, Antah Schindler — the local authorised distributor and service provider for the Schindler Group — has relied heavily on foreign labour. But Ashok says the number has been reduced significantly, from about 200 in 2016 to 40 last year. The company has been able to achieve this by introducing an apprenticeship programme and on-the-job training modules that have not only helped the company hire new employees but also to retain existing staff.
The Schindler brand has had a presence in Malaysia since the 1950s. However, only in 1974 did the global company establish an office here. Some of its prominent projects include Aspen Vision City, The Exchange 106 and the Pavilion Group.
With more than 40 years of experience in Malaysia at its disposal, the time was ripe for the company to get its training facilities up and running to groom home-grown talent, says Ashok. "We have training programmes in most of the high-income nations, so we brought that programme to Malaysia. We also wanted to launch an apprenticeship programme. So, we partnered the Selangor Human Resource Development Centre, which wants to train the future workforce and provide training modules that are almost free of charge.
"Where Schindler adds value is that we have developed a three-year programme, where we choose school-leavers who have completed their SPM. We have found that the students who come to us are from economically challenged families, which makes this initiative more meaningful because now, we are enabling them to have careers."
There are currently 150 students enrolled in the vocational training programme. They spend three months studying theories and three months doing their practical training at Schindler's facilities.
"So, they do this for two years and then they do their full-time training with us for a year before becoming qualified lift technicians. Then, they have to work with us for two years," says Ashok.
"What makes this programme interesting is that the modules are crafted with a strong focus on safety, integrity and customer excellence. So, you are not only going to see technicians who fix your lift but also ones who can converse with you in good English and assure you that they are complying with the highest standards of safety."
He says the goal to make sure that from 2020 onwards, all the company's technicians are duly certified. "The result? We have reduced our foreign workers from 200 to about 40 people. And by mid-2018, we will no longer have to depend on foreign workers. We are grooming our own people.
"I believe in the philosophy that the pyramid is the other way around, where the organisational chart is reversed. The workers are the ones who deal with most of the customers every day and the managers only deal with half of that. I deal with much fewer customers on a daily basis. So, I truly believe that if I take care of my people, they will make sure they do their best in their jobs."
For those with higher qualifications such as diplomas in related fields, the company offers a one-year programme. The trainees learn how to install and maintain lifts and escalators at its 12,000 sq ft training facility that has been certified by the Department of Occupational Safety and Health (DOSH).
Ashok says Antah Schindler is working with DOSH and the Malaysian Lift and Escalator Association to open up Schindler's training centres to other operators and stakeholders interested in getting certified for competence in the field. "This is the part of my job that I love. It is life-changing. You are giving people a livelihood. The best part is seeing the proud parents who thought the future of their children was bleak."