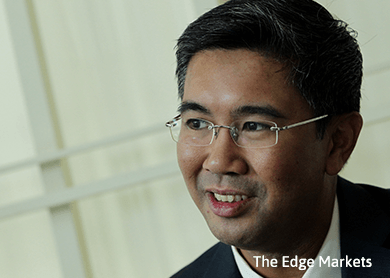 KUALA LUMPUR: The impact of the US Federal Reserve's imminent interest rate hike should already be fully discounted by the Malaysian bond and equities markets, said CIMB Group Holdings Bhd  group chief executive officer (CEO) Tengku Datuk Zafrul Tengku Abdul Aziz.
"I think it's all fully discounted. I was surprised that the rate hike has yet to be done, but we know now that the US economy is not growing as fast as we thought," he told the press on the sidelines of the Asian Strategy & Leadership Institute's 19th Malaysian Banking Summit yesterday.
An interest rate hike in the United States is largely expected to be imminent. There are concerns that Malaysia would see a significant outflow of foreign funds due to the high foreign shareholding in Malaysian government bonds and equities — at 45.1% and 22% respectively in January.
The World Bank, which is projecting 4.7% growth in gross domestic product for Malaysia,  has recently raised concerns that an anticipated new decline in commodity prices and volatile capital flows will pose "significant risks" to the Malaysian economy.
Standard Chartered Bank Malaysia Bhd CEO Mahendra Gursahani echoed Tengku Zafrul's views, noting that the uncertainty relating to the timing of the US monetary policy had created volatility in Asian markets.
"The economies in Asia and Malaysia have had enough time to adjust to what is imminent, and the speculation has only been on the timing.
"All of those inflows that came into Asia looking for yields and returns have already made their way back to the developed world — there is less of the hot money that flowed into this region in the past," he said, noting that Malaysia stands on a "far more stable" base now.
According to Tengku Zafrul, while the fundamentals of the Malaysian economy are not a concern, he is worried that the negative sentiment gets too carried away that it affects investments in the country.
"That will affect the fundamentals of the economy. But as at today, the fundamentals of Malaysia are actually relatively stronger than the other countries in the region," he said.
Tengku Zafrul acknowledged that the investment banking scene in Malaysia remains challenging in the short term, and that it is "highly unlikely" that there will be further mergers and acquisitions attempts among Malaysian banks, unless there are clear positive synergies.
This article first appeared in The Edge Financial Daily, on June 18, 2015.