This article first appeared in The Edge Financial Daily, on June 20, 2019.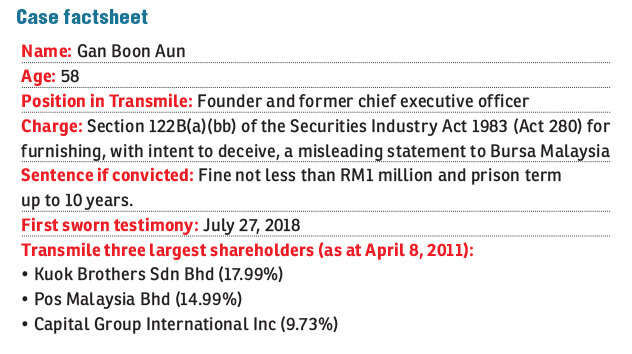 KUALA LUMPUR: Former Transmile Group Bhd chief executive officer and founder Gan Boon Aun said he was unaware of the accounting irregularities at the air freight company in relation to the "overstated" financial earnings filed with Bursa Malaysia 12 years ago.
"I'm not an accountant, so I wouldn't have known (about the accounting irregularities)," he told the Sessions Court yesterday.
Gan also pointed to the board of directors' responsibility for knowingly permitting the filing of the misleading financial statement to the exchange.
When Deputy Public Prosecutor Mohd Hafiz Mohd Yusof asked if he was only making excuses to blame other people in the company for the overstated financial accounts, Gan said: "No, I disagree."
Gan, however, admitted that he did not raise any concerns with regards to the financial statements at a board meeting that took place on the morning of Feb 15, 2007 – the same day Transmile's overstated financial earnings for the financial year ended Dec 31, 2006 (FY06) were filed with Bursa Malaysia. Gan was appointed to Transmile board on April 29, 1997 and resigned as a non-independent executive director on Aug 2, 2007.
According to Transmile's 2001 annual report, Gan is an economics graduate.
Yesterday was the second day of the resumed court proceedings after 58-year-old Gan gave his first sworn testimony in August 2018 for the trial of Transmile's accounting scandal.
Hafiz's line of questioning yesterday revolved mostly around minutes of the board meeting. However, while being cross-examined by Hafiz during the afternoon session, Gan complained of a migraine and that he could not continue with the cross-examination.
This led to Sessions Court Judge Hasbullah Adam adjourning yesterday's court proceedings to 10.30am today.
On Tuesday, Gan claimed that he did not have enough time to stop the release of the FY06 financial results and that the company's then external auditor Deloitte & Touche (D&T) did not alert him during a meeting that it was not appropriate to release the set of financial accounts.
In 2011, the Sessions Court had convicted and sentenced Transmile independent directors Shukri Sheikh Abdul Tawab and Jimmy Chin Keem Feung to one-year imprisonment and a fine of RM300,000 after they were found guilty under section 122B(b)(bb) of the Securities Industry Act 1983 for knowingly authorising the furnishing of the misleading financial statement to Bursa.
The misleading statement was in relation to the unaudited revenue figures which were reported to Bursa for both the fourth quarter of 2006 and the cumulative period of 2006.
The company then appealed the case to the High Court, which had in 2015 affirmed the conviction and sentence imposed by the Sessions Court.
Both Shukri and Chin, who were then members of the audit committee and independent directors of Transmile, were charged with the offence in November 2007. During the trial, 11 witnesses were called by the prosecution while both accused testified when their defence was called.
In Gan's case, 42 prosecution witness were called. Following that, the Sessions Court judge ruled that there was a prima facie case and the defence was called on March 16, 2011. Defence then commenced on July 27, 2018.
Gan's primary charge is for committing an offence under section 86(b) read together with section 122C(c) of the Securities Industry Act 1983 (Act 280) and punishable under section 88B of the same Act. The offence is for abetting Transmile in making a statement that is misleading in its "quarterly report on unaudited consolidated results for the financial year ended Dec 31, 2006".
However, he was called for defence for an alternative charge for committing an offence under section 122B(a)(bb) of the Securities Industry Act 1983 (Act 280) when he, with intent to deceive, furnished a misleading statement to Bursa with regard to the financial statements of the same year.
If convicted, Gan is liable to a fine of not less than RM1 million and up to 10 years' imprisonment.
Transmile's accounting scandal in 2007 was likened to the financial fraud at Enron in 2001. The air freight company, in which tycoon Robert Kuok Hock Nien had owned a majority stake at one time, reported stellar earnings for FY06 when in fact it was actually due to massive accounting irregularities. This was revealed after D&T refused to sign off the final accounts because it was doubtful of Transmile's receivables.