This article first appeared in City & Country, The Edge Malaysia Weekly, on August 10, 2020 - August 16, 2020.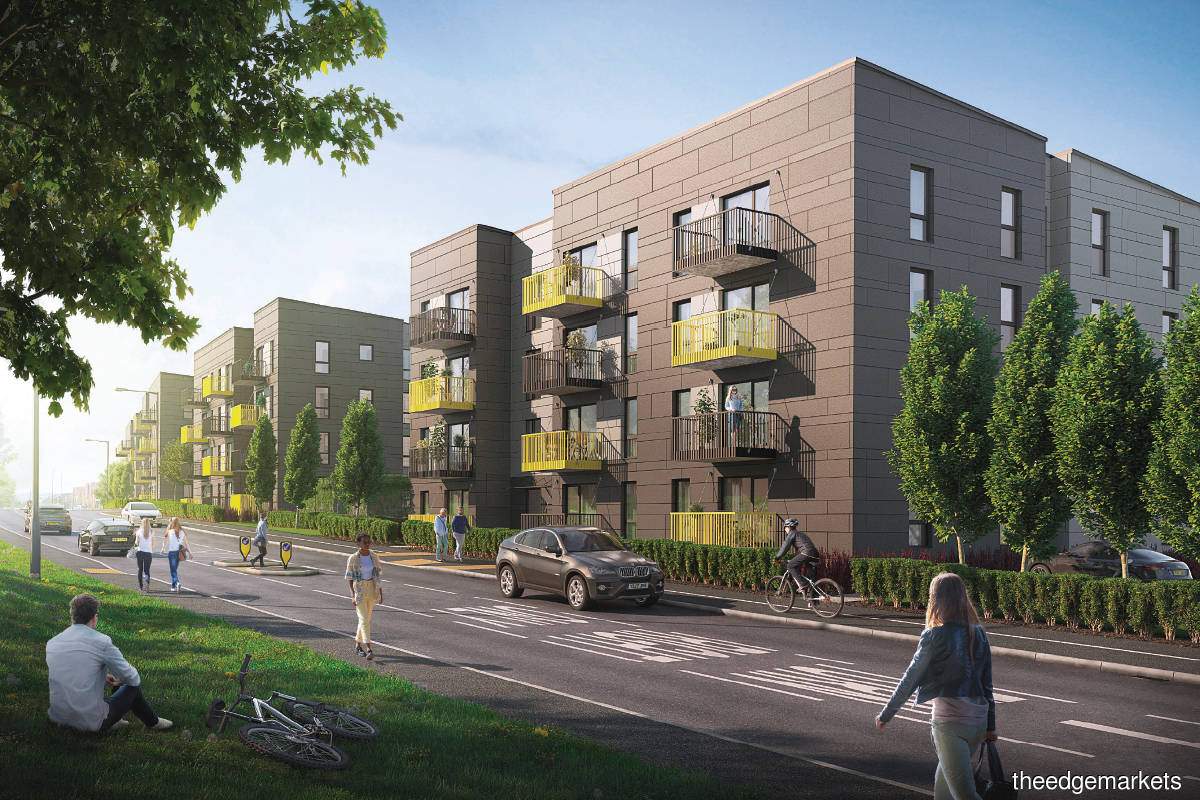 When home furnishing company IKEA founder Ingvar Kamprad met construction company Skanska's then CEO at a housing fair in 1996, they decided to embark on a low-cost, modular housing model named BoKlok, pronounced "book look" and meaning "live smart" in Swedish.
The BoKlok model was built to address the urgent need for affordable housing in the prevalent markets. Through a 50:50 joint-venture partnership, IKEA and Skanska completed the first BoKlok homes in 1997 in Sweden. They claim to have built almost 12,000 units so far throughout Sweden, Finland and Norway.
Over the past few months, BoKlok has been busy expanding the model into the UK market, following its announcement in late 2019. The company has three development sites across the south and southwest of England, specifically in Worthing, Bristol and Peacehaven, which are earmarked to provide 400 homes in total, subject to planning permission.
According to a press statement, the first development, in Airport Road, Bristol, received planning permission on June 24. It will provide 173 much-needed family homes, which will be available for market sale as well as social housing for the Bristol city council.
"We are delighted that we are able to bring forward our first project in the UK," says BoKlok UK managing director and country manager Graeme Culliton in a statement. The city council's planning committee, he says, unanimously approved the resolution to grant planning consent for the new BoKlok homes in Bristol.
"We particularly welcome the councillors' positive comments on the child- and family-friendly design of our development as well as their recognition that we strive to build inclusive communities," says Culliton.
"Throughout the evolution of this project, we have partnered with the local community, Bristol City Council and the Bristol Housing Festival to make quality, sustainable homes at a lower price. We continue to work with the planning officers to ensure that the proposed cycleway is safe for pedestrians and cyclists as they travel alongside our development."
BoKlok's first homes in the UK are expected to be completed in 2021.
Meanwhile, recently appointed BoKlok UK delivery director Noel Sheehan says the brand's sustainable, quality homes and low prices are very much in tune with the challenges faced by the British housing market.
"I was enticed by the prospect of off-site construction methods and the benefit they bring to the construction process, producing a higher-quality product in the most efficient means," he says.
BoKlok UK has also appointed technology-driven modular housing manufacturer TopHat to deliver part of its first product offerings in the UK.
Like all BoKlok developments, the 2 and 3-bedroom homes will be made from timber frames and feature key BoKlok characteristics such as natural light, low energy consumption, bright and airy Scandinavian design with open plans, high ceilings and large windows set in a sustainable community. The homes also come installed with IKEA kitchens and storage products. All homes will be certified by the Building Offsite Property Assurance Scheme, the company says.
Adapting to market needs
When the BoKlok model was first introduced, the company primarily focused on apartments that catered for the needs of single parents with children who were looking for a low-cost but comfortable and easy-to-maintain home.
As more people began appreciating the model, the firm expanded its product offerings to include townhouses and one-family homes to cater for a wider audience, from first-time homebuyers to bigger families. More recently, the company added SilviaBo — a housing concept for senior citizens aged 55 and up — to its offerings in Sweden.
Prices of BoKlok homes are calculated based on a "left-to-live" model, which is based on what people can afford to pay for housing.
The company strives to keep costs efficient without skimping on quality and environment standards by completing the homes in a factory and using modern, industrialised building methods. This method ensures the quality of homes and low and predictable costs.
In addition to saving material and transport costs, building the homes in factories is also safer and faster. According to the developer, the houses can be assembled in a day and it aims to get the houses ready within seven months from land allocation to occupancy. It aims to build around 1,200 homes a year.
Buying materials in large quantities also benefits the developer in terms of economies of scale. One of the materials used for BoKlok homes is wood, which maintains an environmentally efficient construction process. The reasoning behind this is the environmental impact as energy consumption of building houses made from wood is lower than that of other building materials such as brick, concrete and steel. Wood is also a renewable material, according to BoKlok.
Search for land continues
Meanwhile, the developer is searching for vacant land to expand its BoKlok offerings in the UK, Sweden and Norway, specifically a suitable plot that can accommodate up to 20 apartments at least.
"Our aim is to deliver high-quality homes to as many people as possible. For us, it is crucial to find land in locations where people with average incomes can afford to live," its website says.
Currently, the company has more than 400 employees working under the BoKlok brand in Sweden, Norway, Finland and the UK. The company oversees the entire value chain, from product and project development to factory production, construction, sales and customer relations after the residents have moved in.
"While Skanska is an industry leader in residential development and construction, IKEA has the same reputation with home furnishing and furniture production. The extensive BoKlok partnership takes the best bits from each company to create a concept in which advanced engineering know-how meets the human aspects of what a home should be," it says in a statement.