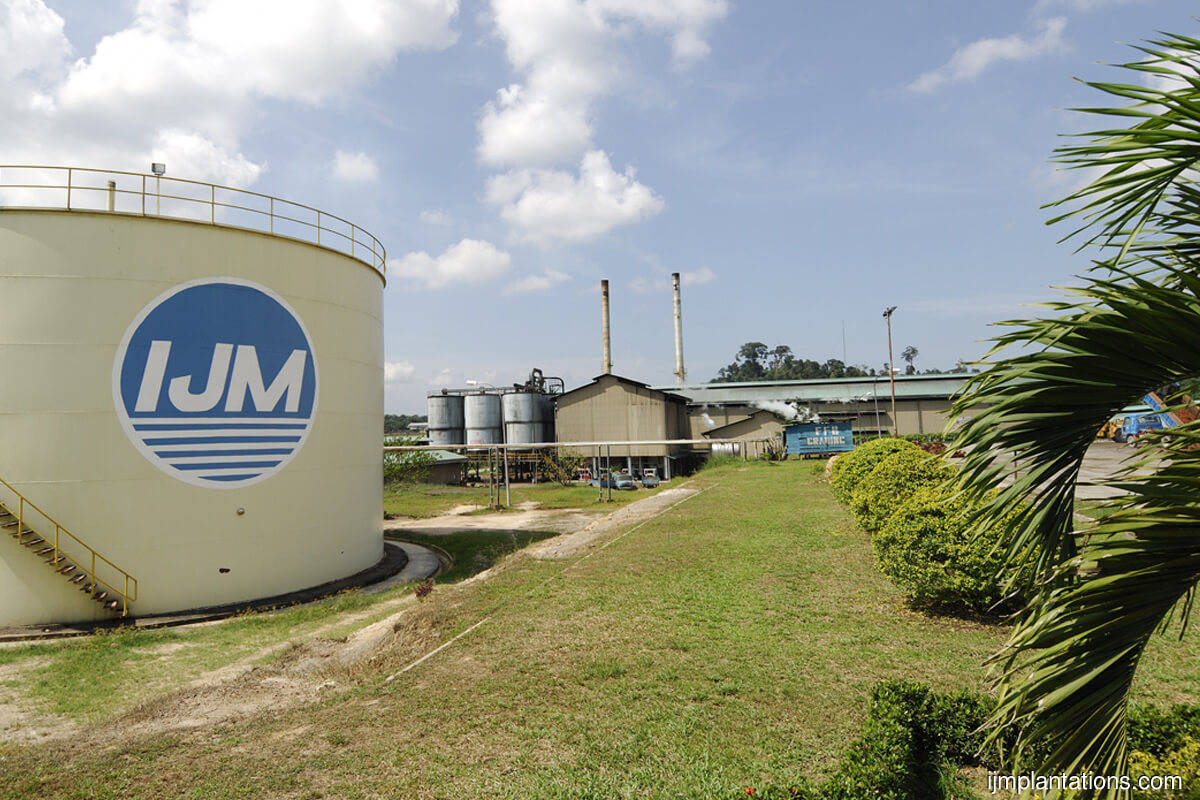 KUALA LUMPUR (June 10): Shares in IJM Plantations Bhd (IJMP) surged 60 sen or 24.39% to a three-and-a-half-year high of RM3.06 today on the back of Kuala Lumpur Kepong Bhd's (KLK) offer to acquire a 56.2% stake in the group for RM1.53 billion or RM3.10 per share.
At market close today, the counter was valued at RM2.69 billion. The counter, which was the second top gainer by value on the bourse, saw 23.05 million shares traded. Meanwhile, KLK gained four sen or 0.18% to RM21.80 after rising by as much as 36 sen or 1.65% to RM22.12 in early trade.
The counter was valued at RM23.57 billion at closing.
Hong Leong Investment Bank Research analyst Chye Wen Fei said in a note today that KLK's offer price is fair for IJMP shareholders given the lukewarm price sentiment on plantation stocks on the back of environmental, social and corporate governance (ESG) concerns, adding that that crude palm oil (CPO) prices have peaked, and the offer price represents an 18.8% premium to his target price (TP) for IJMP. He maintained his "buy" rating of IJMP, with a higher TP of RM3.10 (from RM2.61 earlier), in line with KLK's takeover offer price.
MIDF Research said the offer price of RM3.10 values IJMP at 19 times price-earnings ratio (PER), above its valuation of RM2.62 based on financial year ending March 31, 2022 (FY22) PER valuation of 16 times. It opined that the offer price is reasonable given that the current CPO price has breached RM4,000 per tonne, which is also an all-time high. "We think that the deal is fair for KLK to obtain a controlling stake in IJMP (at an 18% premium to our TP of RM2.62) and is more likely to appear attractive enough for IJMP's minorities to accept should the deal progress to a mandatory offer for the rest of IJMP shareholders," it said.
MIDF Research also maintained its "buy" call on IJMP, with an unchanged TP of RM2.62. PublicInvest Research analyst Nurzulaikha Azali is also positive on the proposal, saying the deal represents 1.9 times price-to-book (P/B) and RM44,500 per planted hectare, a slight premium to the industry's P/B and KLK's previous upstream asset acquisition. "The price of RM3.10 per share also represents a 24.5% premium to our valuation of IJMP at RM2.49 per share. We opine that the price tag is reasonable given current favourable CPO prices and IJMP's planted areas which are in prime age," she said.
Meanwhile, CGS-CIMB analyst Ng Lee Fang said she estimates the deal to potentially boost KLK's earnings by 2% to 9% for FY22. "We estimate the potential acquisition of IJMP to raise KLK's planted oil palm estates by 28.7% to 274,688ha. It will also allow KLK to lower its average estate age profile slightly; the average age of its palm oil estates of 12.2 years is higher than IJMP's 11.8 years," she said. She said KLK should have no problem funding the acquisition by cash as it had a cash balance of RM4 billion as at end-March 2021 and a net gearing level of 24%. "However, we estimate that the acquisition of IJMP could raise KLK's gearing to 37%/46% (assuming a 56.2%/100% stake in IJMP)," she added. She maintained her "add" call on KLK, with a TP of RM25.25.
On the other hand, PublicInvest Research analyst Chong Hoe Leong said the proposed acquisition could potentially contribute at least 10% of KLK's FY22 to FY23 earnings. Although the offer may look expensive, he thinks it is an earnings-accretive deal given the current strong CPO price momentum, low interest rate environment and synergies upon consolidation. He opined that there will be economies of scale given the close proximity of KLK and IJMP plantations in Sumatra and East Kalimantan. "Given the recent share price retracement, the potential upside is attractive and warrants an upgrade to 'outperform' based on our sum of parts-derived TP of RM25.51," he said.
MIDF Research said following the acquisition, KLK's total planted area will increase by 27.2% to 284,930ha from 223,964ha, way larger than its peers, namely IOI Corp Bhd (178,068ha) and Genting Plantations Bhd (159,521ha). "The larger planted area can lead to potential annual earnings expansion of 10% to 12%, assuming KLK acquires up to 100% of IJMP, whereas in a scenario where the acquisition is limited to the initial 56.2%, the annual earnings expansion for KLK is estimated to be 6%-9%," it said.
On top of that, it said synergies could be achieved from various factors, such as cost reduction (on the back of economies of scale from buying a larger amount of fertilisers), combined talent and technology, and earnings enhancement. The research house, however, left its earnings estimates for FY21, FY22 and FY23 unchanged at RM1.11 billion, RM1.09 billion and RM1.1 billion respectively, pending the outcome of the deal. It also maintained its "buy" call on KLK, with an unchanged TP of RM27.01.
Read also:
IJM Corp special dividend seen from planned plantation arm sale proceeds
KLK offers to buy IJM Plantations' shares from IJM Corp for RM1.53 bil