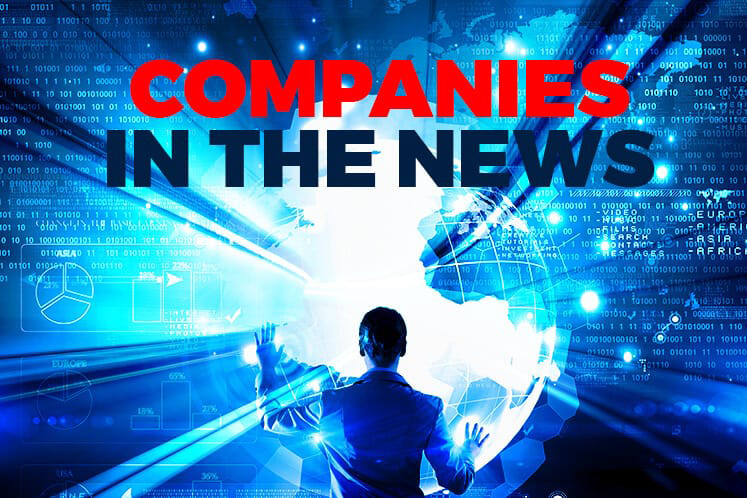 KUALA LUMPUR (Dec 5): Based on corporate announcements and news flow today, companies in focus on Wednesday (Dec 6) may include: IJM Corp Bhd, Hibiscus Petroleum Bhd, George Kent (M) Bhd, Bison Consolidated Bhd, YTL Corp Bhd, Syarikat Takaful Malaysia Bhd, NetX Holdings Bhd, Cahya Mata Sarawak Bhd, Prestariang Bhd, Pharmaniaga Bhd, Axis Real Estate Investment Trust (Axis-REIT), Advance Synergy Bhd and AppAsia Bhd.
Second finance minister Datuk Seri Johari Abdul Ghani has highlighted IJM Corp Bhd's success in securing Prudential Assurance Malaysia Bhd as the anchor tenant of the Tun Razak Exchange (TRX) building, which saw its concrete completion today and is slated to be handed over in the first quarter of 2019.
The RM500 million tower, which has so far secured tenants for 84% of its lettable 560,000 square feet, is one of IJM's three projects in TRX. Its second is a contract to design and build HSBC Malaysia's new headquarters, while it secured an RM30 million contract last week to construct the foundation and substructure of Affin Bank's office tower.
Year-to-date IJM has secured an order book of RM2.9 billion.
Hibiscus Petroleum Bhd has received Petronas Carigali Sdn Bhd's consent to acquire from Sabah Shell Petroleum Company Limited and Shell Sabah Selatan Sdn Bhd's (Shell) 50% participating interests in the 2011 North Sabah Enhanced Oil Recovery Production Sharing Contract (PSC).
Hibiscus said the PSC comprises four producing oil fields and associated infrastructure, namely St Joseph, South Furious, SF30, and Barton oil fields. It also contains pipeline infrastructure and the Labuan Crude Oil Terminal.
The PSC provides long-term production rights until 2040, with identified future developments opportunities.
George Kent (M) Bhd net profit for the third quarter ended Oct 31, 2017 rose 21% year-on-year to RM28.68 million from RM23.74 million, driven mainly by sales of water meters locally.
Quarterly revenue for the quarter rose 4% to RM127.09 million from RM122.09 million a year earlier.
George Kent declared a second interim dividend of 2 sen per share, amounting to RM11.27 million, to be paid on Jan 12, 2018.
For the nine months ended Oct 31, 2017, George Kent's net profit rose 22% to RM72.55 million from RM59.26 million, on the back of an 8% increase in revenue to RM444.08 million, versus RM409.82 million a year earlier.
Bison Consolidated Bhd is looking to open 90 new outlets next year and is setting aside about RM24 million for this expansion.
These new outlets will mostly be myNEWS stores. The group believes "the worst is over" in terms of same-store sales which has been negative this year, as Bison is in an aggressive store revamping mode.
YTL Hotels & Properties Sdn Bhd, the hospitality arm of YTL Corp Bhd, will be teaming up with long-term partner US-based Marriott International Inc to build two luxury hotels here.
Management agreements were signed between the two parties for the design and development of hotels under the JW Marriott brand in Kuala Lumpur Sentral and the Edition, which will be located near Kuala Lumpur City Centre.
The JW Marriott in KL Sentral, which will sit on five acres of land owned by YTL, may see completion in 2021.
Syarikat Takaful Malaysia Bhd launched a strategic bancatakaful partnership with AmBank Islamic Bhd to market its general takaful products to the bank's customer base across the country.
Through the partnership, AmBank Islamic will be able to distribute general takaful products for motor, fire/house and personal accident, across its distribution channels nationwide.
Besides that, both companies are committed to work together to promote new general takaful solutions tailored for AmBank Islamic customers.
NetX Holdings Bhd's 60%-owned subsidiary, PayAllZ Sdn Bhd (PSB), has entered into a deal with PayAllZ International Ltd (PIL) to provide technological and software support for PIL's supply of an e-money payment platform to a Cambodian bank.
PSB and Hong Kong-based PIL signed a six-year agreement which can be renewed every five years, NetX said.
PSB provides an e-wallet platform and service under the name of 'AllZ Wallet' for merchants to accept multiple payment channels.
Cahya Mata Sarawak Bhd (CMS) has obtained a six-month extension valued at about RM87.7 million from the Sarawak government to upkeep state roads.
The original contract was for 15 years, which will expire on Dec 31 this year, CMS said. With the extension, the contract will now end on June 30 next year.
The contract was first secured via its subsidiary CMS Roads Sdn Bhd in April 2003 at an estimated RM88.8 million a year, based on rates calculated at that time.
Prestariang Bhd will collaborate with Dell Global Business Center Sdn Bhd on the implementation of Sistem Kawalan Imigresen Nasional (SKIN) project. It has also appointed In Continu Et Services (INCS) as its strategic technology partner to perform the works and services on the project.
Prestariang SKIN Sdn Bhd (PSKIN), which is a wholly-owned subsidiary of Prestrariang Services Sdn Bhd, which in turn is a subsidiary of Prestariang, has entered into an agreement with Dell.
Both parties have agreed to collaborate and co-operate with each other on a confidential basis to mutually agree on the workshare, scope of works and price. A subcontract agreement shall be entered between the parties.
Pharmaniaga Bhd announced that it is partnering Delhi-based MSD Wellcome Trust Hilleman Laboratories Private Ltd (Hilleman) and a Ministry of Finance (MoF) entity to develop and manufacture halal vaccines to be incorporated in Malaysia's national immunisation programmes.
Pharmaniaga said it had entered into a Memorandum of Collaboration with Hilleman and the MOF unit, Technology Depository Agency (TDA), to coordinate their efforts to do so.
The project covers the exchange of personnel from the companies for purposes such as teaching, research, and training in relation to halal vaccines.
Axis Real Estate Investment Trust (Axis-REIT) has added its 40th property — an industrial facility in Gebeng, Kuantan — to its portfolio.
The property comprises two contiguous parcels of land with buildings which are used for pipe coating related industrial activities, said Axis-REIT's manager, Axis REIT Managers Bhd (ARMB).
This latest acquisition will increase the total assets under management of the trust to RM2.46 billion, ARMB said.
Advance Synergy Bhd (ASB) is considering selling an 80% stake in its indirect wholly-owned unit Synergy Cards Sdn Bhd to AppAsia Bhd.
ASB said the group has signed a Memorandum of Understanding (MoU) with AppAsia for the purpose of recording their intention to enter into a share sale agreement.
AppAsia said the MoU enables it to negotiate and finalise the terms of the proposed acquisition of Synergy Cards.
Both ASB and AppAsia expect to sign the share sale agreement by Feb 28, 2018, or a period mutually agreed by them.