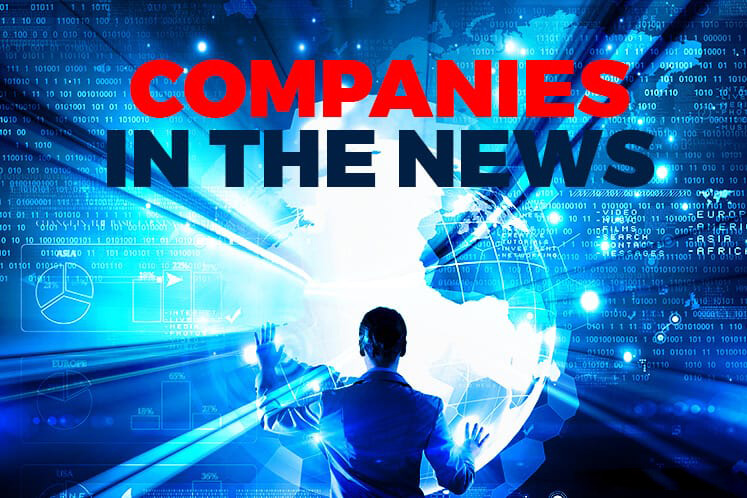 KUALA LUMPUR (Sept 4): Based on corporate announcements and news flow today, companies that may be in focus tomorrow (Sept 5) may include the following: IJM Corp Bhd, Pesona Metro Holdings Bhd, Borneo Aqua Harvest Bhd, Ark Resources Bhd, Sapura Energy Bhd and UEM Edgenta Bhd
IJM Corp Bhd has bagged a contract worth RM505 million to construct and complete the superstructure works of Affin Bank Bhd's new 47-storey corporate headquarters at the upcoming international financial district Tun Razak Exchange (TRX).
The new project, which is expected to be completed by December 2020, will boost IJM's outstanding construction order book which currently stands at a near all-time high of RM9.3 billion.
The office building, which has a gross floor area of 76,600 sq m and is built on a land area of 1.25 acres, comprises a 43-storey office tower, a four-storey podium carpark and three levels of underground parking, said IJM.
Pesona Metro Holdings Bhd has secured a contract worth RM264.3 million to build two blocks of serviced apartments in Bandar Sri Damansara, Petaling Jaya from TA Global Bhd.
The proposed development, which comprises two blocks of serviced apartments at 33-storey and 28-storey each, carpark, and residential facilities, is for 32 months and will end on April 14, 2021.
Persona Metro said the project is expected to be funded via internal generated funds and accordingly, has no effect on the group's gearing.
Borneo Aqua Harvest Bhd has proposed a bonus issue of up to 939 million shares, on the basis of one bonus share for every existing share, which shall be wholly capitalised from the share premium of the company.
The exercise will involve between RM60.89 million and RM93.9 million being capitalised, leaving the group with a remaining share premium of between RM85.99 million and RM119 million.
Assuming a maximum scenario, the group will have an enlarged share capital of 1.88 billion shares, worth RM478.27 million.
Ark Resources Bhd's non-independent non-executive chairman Datuk Mohd Salleh Yeop Abdul Rahman has resigned from the position with effect from today.
The resignation comes after Mohd Salleh, 72, disposed of his 10.39% indirect stake in Ark Resources, held via Rintis Komersial Sdn Bhd, on Aug 29.
He has thus ceased to be a substantial shareholder of Ark Resources.
Sapura Energy Bhd has signed three farm-in agreements for offshore exploration permits held by private Australian oil and gas company, Finder Exploration Pty Ltd.
Under the agreements, Sapura will acquire a 70% interest in the three exploration permits, and assume operatorship of the exploration, while Finder, which is based in West Perth, will retain the remaining 30% interest in the permits.
All three exploration permits are for locations within the North West Shelf oil and gas province off Western Australia, which Sapura said is "highly prolific".
Via the farm-in joint venture, Sapura and Finders plan to drill two exploration wells in the Carnavon Basin permits between 2019 and 2020.
UEM Edgenta Bhd has clarified that the delay of the construction of the Pan Borneo Highway in Sabah will not have a significant impact on the group as the project size is small in relative to its total earnings.
The project falls under the group's asset consultancy segment, which contributes only 7%, or RM65.8 million, of the group's revenue during the first half of the financial year 2018.
UEM Edgenta chief executive officer Datuk Azmir Merican stressed that since the project is immaterial to the company's earnings, UEM Edgenta will be able to make up for any potential losses from the contract.
Additionally, UEM Edgenta will only pursue performance-based contracts (PBC) for its infrastructure segment from January 2019, to improve cost efficiency and service delivery.
Azmir said the initiative to move to PBC, from the traditional input-based contracts, started one and a half years ago, and the method has been used in more developed markets.
Azmir added that some of its infrastructure management and maintenance contracts with PLUS Expressways Bhd have been renewed to suit the PBC agenda.