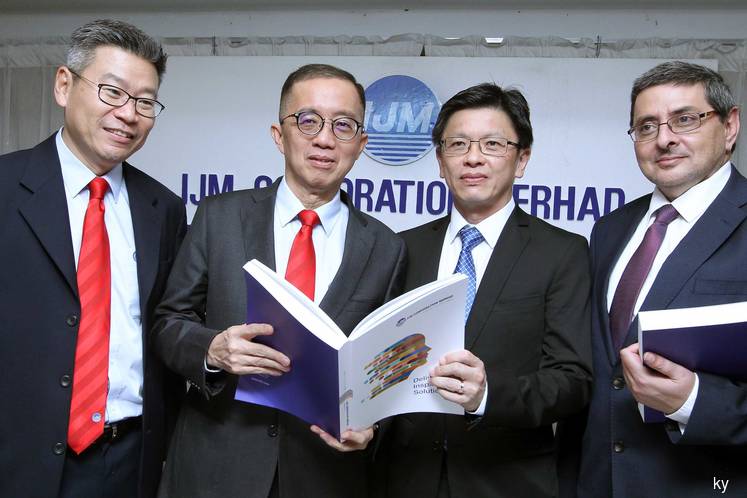 KUALA LUMPUR: IJM Corp Bhd, which announced a 5.3% drop in its net profit for the first quarter ended June 30, 2019 (1QFY20) yesterday, aims to replenish its construction order book with some RM1.5 billion worth of new jobs in the financial year ending March 31, 2020 (FY20).
But chief executive officer-cum-managing director Datuk Soam Heng Choon stressed that the group will be selective in its bidding. "The jobs must be of quality. Credit risk is one area we look at. We do a lot of credit risk profiling on customers' ability to pay as well as [the contract's] margin," he told reporters during a briefing today on the group's financial performance.
In particular, the group, which has yet to secure any new jobs in FY20, will be looking at securing highway-related projects in India, said Soam, as the Indian government is pushing out a lot of projects.
On property development, the group is targeting RM1.6 billion in sales for FY20 — comparable to last year's sales. It has secured RM480 million as at end-1QFY20, and plans to launch RM1.5 billion worth of properties this year to drive sales.
"The property market is still soft and challenging, but the Home Ownership Campaign has helped a lot. Overall, sales are very much dependent on the type of product, pricing and location. So we will do pre-registrations before any official launch to ensure enough take-ups," Soam said.
It now has unbilled property sales of RM2 billion and outstanding construction work orders worth RM6.1 billion, which it said will provide earnings visibility for the next three years.
 
While the group achieved a 6.9% year-on-year rise in revenue to RM1.54 billion in 1QFY20 from RM1.44 billion, net profit slid to RM59.42 million from RM62.76 million. The decline was due mainly to a provision for impairment and losses in its plantation division, said Soam.
On the termination of its underground package of the Light Rail Transit Line 3 (LRT3) project by the project's turnkey contractor MRCB George Kent Sdn Bhd, Soam only said "[the matter] is still in the initial stage, whereby both parties have exchanged letters".
"We reserve our legal rights and do not want to prejudice the case, so it is not convenient for us to tell you the content of the letters," he added.
IJM Corp announced last month that its unit had received a termination notice for the RM1.12 billion job, for which it was appointed to undertake in March last year. The group also said preliminary works had started before the project was suspended three months later.
Meanwhile, Soam said the Government has yet to approach the group on the potential takeover of its highway. "As of now, we cannot comment on this matter as there are a few offers on the table. Let the Government decide in the next few weeks. Once it is decided and carried to Cabinet, we will be [clearer on] which model they are going with. Only then can we comment on the valuation, [whether it] is reasonable or not," Soam added.
 
Khazanah Nasional Bhd said earlier this month it has submitted a proposal on toll highways to the government, alongside several other proposals from various parties. "It is up to the Government to consider and decide on these proposals," the sovereign wealth fund said in a statement.
An English daily reported on Aug 19, citing sources, that the Government had received a plan to take over 15 highways for RM43 billion, under which Khazanah would set up a special-purpose vehicle to acquire the concessionaires on the Government's behalf, which it would finance by raising funds via debt papers.
The proposal is said to include the acquisition of highways owned by Plus Malaysia Bhd, including the North South Expressway for RM30.8 billion, and those owned by Projek Lintasan Kota Holdings Sdn Bhd for RM3.1 billion, Gamuda Bhd for RM5.6 billion, and IJM Corp Bhd for RM2.7 billion.