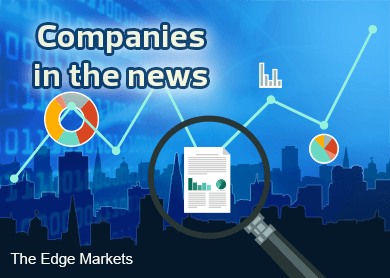 KUALA LUMPUR (June 16): Based on corporate news flow and announcements today, stocks in focus tomorrow (Wednesday, June 17) could include: IJM Corp Bhd, SapuraKencana Petroleum Bhd, Astro Malaysia Holdings Bhd, MAA Group Bhd, Tanah Makmur Bhd, Century Logistics Holdings Bhd, Parkson Holdings Bhd, Press Metal Bhd, Mudajaya Bhd, Multi Sports Holdings Ltd.
IJM Corp Bhd's 60%-owned subsidiary Kuantan Port Consortium Sdn Bhd (KPC) has been granted an extension on its concession to operate Kuantan Port, together with the development and operation of a new deep water terminal (NDWT) adjacent to it.
In a statement, IJM Corp said KPC has today executed a new privatisation agreement with the Malaysian government and Kuantan Port Authority for the concession, which will commence from June 1.
A further 30-year extension will be granted upon the fulfilment of the Phase 2 development of the NDWT by Dec 31, 2039.
The new concession replaces a previous agreement dated Nov 22, 1997, which would have expired on Dec 31, 2027 — which both parties executed a termination agreement to end. 
The NWDT will be developed by KPC in two phases, with a total investment of about RM3 billion.
SapuraKencana Petroleum Bhd may be seeing its fabrication yard utilisation rate drop to 30% next year, according to its president and group chief executive officer Tan Sri Shahril Shamsuddin.
Its fabrication yard in Lumut was running at an utilisation rate of 80%. By next year the utilisation rate will decrease to 25% to 30%. The group will be seeing several fabricated structures sailing away from now until September.
Shahril noted that there are still jobs for grabs, especially in countries such as India which has not dropped its capital expenditures like elsewhere.
Year to date, it has secured over RM1 billion worth of jobs. It needs an additional of RM5 billion until year end to replenish its order book, to maintain its performance.
Astro Malaysia Holdings Bhd saw its net profit jump 31% to RM168.3 million, or 3.23 sen per share, for the first financial quarter ended April 30, 2015 (1QFY16) from RM128.33 million, or 2.47 sen per share, a year ago, due primarily to higher earnings before interest, taxes, depreciation, and amortisation (Ebitda) and lower depreciation expenses.
The country's leading pay-television operator attributed the improved net profit in 1QFY16 to the increase in Ebitda of RM31.3 million, fall on depreciation of set-top boxes of RM22.3 million and amortisation of software of RM4.4 million and decrease in net finance costs of RM7 million, which was offset by an increase in tax expenses of RM24.4 million.
Revenue grew 6.1% to RM1.33 billion from RM1.25 billion in 1QFY15, mainly due to the increase in subscription, advertising and other revenue of RM33.4 million, RM14 million and RM28.8 million respectively.
The group also declared a first interim dividend of 2.75 sen per share for the financial year ending Jan 31, 2016 (FY16), payable on July 15, 2015.
Astro (fundamental: 1.1; valuation: 2.1) 's Ebitda margin increased by 0.3% against 1QFY15 mainly due to lower installation costs, lower selling and distribution expenses as a percentage of revenue.
However, the increase was offset by higher cost of merchandise sales and impairment of other investment.
Boustead Plantations Bhd announced to Bursa Malaysia that it has entered into Sales and Purchase Agreements (SPA) for proposed disposals of eight parcels of freehold land totalling 159.15 ha in Kulaijaya, Johor, for RM94.22 million on June 15.
The first SPA was between CIMB Trustee and Sanggul Suria Sdn Bhd (SSSB), for the proposed disposal of three parcels of freehold land in Kulaijaya, Johor, which has a collective land size of 57.03 ha for RM12.28 million.
Another SPA was between its wholly-owned unit Boustead Sungai Manar Sdn Bhd (BSM) and Hanson Quarry Products (Segamat) Sdn Bhd (HQSB), for the proposed disposal of 5 parcels of freehold land in Kulai, measuring 102.12 ha for RM81.94 million.
Recall that Boustead Plantations had on May 19 this year, announced its plans to sell two parcels of freehold land measuring 88.17 ha in Kulaijaya, Johor, for RM49 million cash.
The lands are currently used for quarry and/or plantation related activities. The total audited net book value of the lands as at Dec 31, 2014 was RM14 million.
Upon completion of the proposed disposals, Boustead Plantations is expected to realise an estimated gain of RM121.74 million (net of taxation and estimated expenses), which translates into a gain of approximately 7.6 sen per share for the financial year ending Dec 31, 2015.
The group's net gearing ratio also will reduce to 0.29 times from 0.37 times currently.
The proposed disposals are expected to be completed by the fourth quarter of 2015.
MAA Group Bhd obtained the greenlight from Bank Negara Malaysia (BNM) to commence negotiation to sell its 75% equity in takaful unit, MAA Takaful Bhd, to Zurich Insurance Company Ltd.
Both MAA Group (fundamental: 0.9; valuation: 2.55) and Zurich would be required to obtain the prior approval of the Minister of Finance, with the recommendation of BNM before entering into a final agreement.
Tanah Makmur Bhd is expecting its performance to be strengthened by both its plantation and property development segments for its financial year 2015 (FY15).
The group is targeting higher fresh fruit bunch (FFB) production this year, as more planted areas will enter prime age.
In addition it anticipated CPO (crude palm oil) prices to recover in the second half of 2015, driven by improving global demand and the potential impact of El Nino.
The group is also expecting to further expand CPO production, with its palm oil mill expected to operate at a higher processing capacity.
Its expansion in plantation continues with the palm oil mill expected to operate at a higher processing capacity of 45 tonnes per hour ('tph') from 30 tph currently from end-July 2015 onwards.
Its property development segment provides a bright outlook for the group as well, with many projects completing ahead of schedule.
The group also discovered the presence of bauxite during the clearing of parts of its land for its property development activities. Ancillary to the property development business, the mining achieved accumulated bauxite sales of 197,789 tonnes for the first half of 2015.
Century Logistics Holdings Bhd announced to Bursa Malaysia that its wholly owned unit Century Total Logistics Sdn Bhd (CTL) has been approved by the Malaysian Investment Development Authority to receive a special incentive package.
CTL received the letter dated June 15, and the incentive package will enable CTL to qualify for income tax exemption via the investment tax allowance (ITA) of 60% of its qualifying capital expenditure within a five-year period, from the 2015 year of assessment.
The ITA can then be utilised to deduct up to 70% of the statutory income for each year of assessment.
The special incentive package is expected to contribute positively to the future earnings of the Century Logistics (fundamental: 2.6; valuation: 2.4).
Retail giant Parkson Holdings Bhd is disposing 30% stake in Parkson Hanoi Co Ltd to reduce share of losses from the latter and facilitate the process required for the closure of its loss-making Landmark 72 store at the capital of Vietnam.
In a filing to Bursa Malaysia, Parkson (fundamental: 1.8; valuation: 1.7)'s 67.61%-owned Singapore listed outfit, Parkson Retail Asia Ltd (PRA) has made the said announcement to the Singapore Exchange.
PRA (fundamental: 2.2; valuation: 1.4)  said its wholly-owned subsidiary Parkson Vietnam Co Ltd  had entered into a capital assignment agreement today with an individual name Hoang Manh Cuong (Cuong), to disposal 30% stake in Pakson Hanoi for US$5,000 (RM18,763).
Parkson Hanoi is now 75.4% owned by Parkson Vietnam, 16.4% owned by a company called Thuy Duong Investment Joint Stock Company, and the remaining 8.2% owned by another individual called Le Minh Dung.
Subsequent to the disposal, which is expected to be completed by June 30, Parkson Vietnam's stake in Parkson Hanoi will reduce to 45.5%.
By reducing its equity stake in Parkson Hanoi, the PRA group's share of Parkson Hanoi's losses will be correspondingly reduced.
PRA said Parkson Hanoi has been loss-making for the past few years with loss before tax (LBT) of approximately SG$5 million (RM13.94 million) for the financial year ended June 30, 2013 (FY13).
The LBT widen to SG$7 million (RM19.51 million) for FY14, and for the nine months period in FY15, the company has incurred a LBT of SG$7 million.
Press Metal Bhd's proposed Phase 3 expansion of its aluminium smelter project is expected to begin full operation by the last quarter of 2015.
The company had earlier reportedly said that the proposed phase 3 expansion was to begin operations in two stages, with stage one to begin by the last quarter of 2015 and stage two by the first quarter of 2018.
In an announcement to Bursa Malaysia, Press Metal (fundamental: 0.95; valuation: 2) has executed an amended and restated Power Purchase Agreement (PPA) with Syarikat Sesco Bhd (Sesco), a wholly-owned subsidiary of Sarawak Energy Berhad, for the supply of additional 500MW of electricity for the proposed Phase III expansion project.
Under the amended PPA, Sesco will combine the supply and delivery of the 500MW power into one stage, to begin by the last quarter of 2015.
The initial 25-year PPA, announced on Dec 16 last year, stated that the 500 MW was to be supplied and delivered to the expanded smelter in two stages, namely 330MW by the last quarter of 2015 and 170MW by the first quarter of 2018.
Meanwhile, Press Metal's 80%-owned subsidiary, Press Metal Bintulu Sdn Bhd has commenced ramp up operations for the Samalaju smelter on June 8, 2015. The smelter is expected to be in full operation before the Proposed Phase 3 Smelter comes into operation.
The Phase 3 smelter, with a designed capacity of 320,000 tonne, will be built next to the company's existing smelter in Bintulu's Samalaju Industrial Park within the Sarawak Corridor of Renewable Energy (SCORE).
With the additional 500MW of power, Press Metal will further invest into SCORE and be able to increase its total smelting capacity from the existing 440,000 tonne to 760,000 tonne to become the largest smelter in South East Asia.
Mudajaya Group Bhd's subsidiary MJC Precast Sdn Bhd (MJC) will team up with IBS International Precast Sdn Bhd (IBS International) to undertake the business of manufacturing of industrialised building system (IBS) precast products for building projects.
Mudajaya (fundamental: 0.55; valuation: 1.2) said in the announcement to the stock exchange both parties entered into Joint Venture and Shareholders Agreement (JVA) on Monday (June 15).
A joint venture company called VS Millennium Sdn Bhd (VS Millennium) would be task to undertake the job. Mudajaya will hold 70% stake in VS Millennium while remaining 30% will be control by IBS International. The proposed subscription in VS Millennium is expected to be completed within 6 months from the date of JVA.
VS Millennium would be changed to "Mudajaya-IBS Sdn Bhd", subject to approval being obtained from the Companies Commission of Malaysia.
MJC would fund its share of equity participation in VS Millennium through internally generated funds.
China based Multi Sports Holdings Ltd announced a proposed a par value reduction of each issued and unissued share in the capital of the company to halve to US$0.025( 9 sen) and an employees' share option scheme(ESOS) of up to 15% of the issued and paid up share capital of the company.
Multi Sports (fundamental: 1.45; value: 2.1) said upon completion of the exercise, the authorised share capital of the company would remain intact at US$50million (RM187.33million) but will be divided into 2billion shares of par value of US$0.025 each, while the total number of issued and paid-up shares will remain intact at 517.50million shares.
The Board expects the proposed par value reduction to be completed by the third quarter of 2015 and the Proposed Esos to be implemented in the same quarter.
Multi Sports said the rational for this exercise is the company's share price was traded at a discount of about 36.19% to the existing par value of 19 sen each as at June 15, when the share closed at 12 sen or US$0.03 (based on exchange rate of USD1:RM3.7610).
The current share price of the company is not conducive for the company to embark on any fund raising exercises and/or corporate exercises involving issuance of equity and equity-related securities.
The group said the reduction of par value would not result in any change to its net asset position and will not have any material effect on its earnings and earnings per share (EPS).
The effective date of the exercise would be determined by the directors of the company, it said.
The sports shoes manufacturer also proposed an ESOS which entails the issuance of up to 15% of the issued and paid-up share capital of the company, excluding treasury shares, for the eligible directors, non-executive directors and employees of Multi Sports and its subsidiaries for a duration of five years and not exceeding 10 years.
The company intends to utilise the proceeds arising from the exercise of the options, if any, as working capital for the group, as and when received by the company.