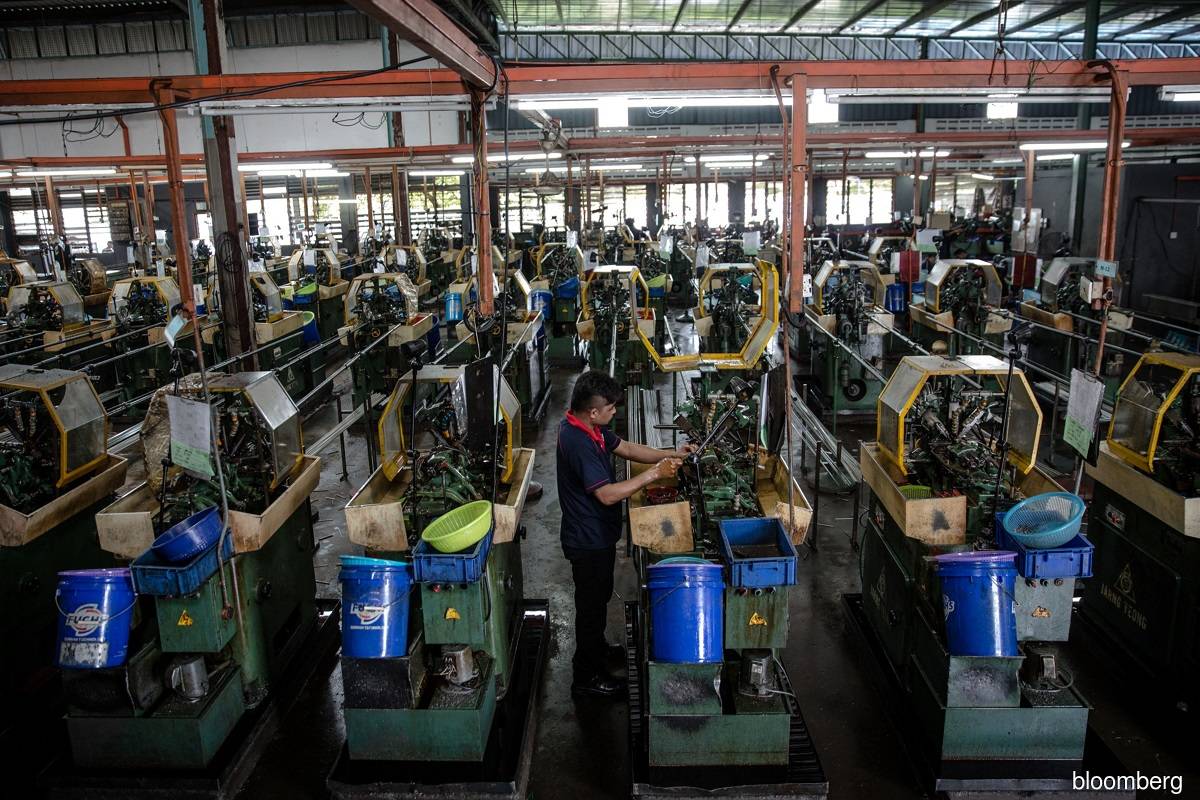 KUALA LUMPUR (July 1): The IHS Markit Malaysia Manufacturing Purchasing Managers' Index (PMI), a composite single-figure indicator of manufacturing performance, fell to 39.9 in June 2021 from 51.3 a month earlier as Malaysia's Covid-19-driven movement restriction policies resulted in output and incoming orders moderating to the greatest extent since the worst of the initial outbreak of the pandemic in April 2020.
In a statement today, IHS Markit said the country's manufacturing sector lost considerable momentum at the end of the second quarter of 2021 (2Q21) as Covid-19 infections led to the reintroduction of stricter containment measures to curb the spread of the pandemic.
"Business confidence hit the lowest reading on record," IHS Markit said.
The IHS Markit Malaysia Manufacturing PMI is compiled by IHS Markit from responses to questionnaires sent to purchasing managers of around 400 manufacturers, according to IHS Markit.
It said the PMI is a weighted average of five indices, namely new orders (30%), output (25%), employment (20%), suppliers' delivery times (15%) and stocks of purchases (10%).
"The indices vary between 0 and 100, with a reading of above 50 indicating an overall increase compared to the previous month, and below 50 an overall decrease," IHS Markit said.
IHS Markit chief business economist Chris Williamson said in the statement that Malaysia's manufacturers reported a renewed downturn in June as the recent rise in Covid-19 infections and associated containment measures once again dampened demand, stymied production and disrupted supply chains. 
From a positive perspective, Williamson said the IHS Markit survey showed signs of inflationary pressures cooling quite markedly, and firms largely held on to staff in order to maintain production capacity.
"However, the concern is that future output expectations have slumped, falling to the lowest since the survey began almost 10 years ago, as companies grew more concerned about the potential impact of further virus waves. If such low confidence persists, companies may grow increasingly reluctant to hold on to staff, and will instead move further towards focusing on cost reduction," Williamson said.
In the statement, IHS Markit said that looking at the historical relationship between official statistics and the PMI, the latest reading is representative of a renewed downturn in Malaysia's industrial production and gross domestic product (GDP), following a gradual recovery from earlier waves of infections.
IHS Markit said this highlights that the pandemic remains the greatest downside risk to the Malaysian economy.
"Both production and new order volumes weakened in June. The rates of deterioration were the most marked since the peak rates of decline seen last April. Firms commonly attributed the weakness to stricter virus-fighting measures, which dampened demand in both domestic and external markets. 
"Foreign demand for Malaysian manufactured goods was subdued, though the pace of reduction in export sales was softer than that seen in total new orders.
"At the same time, the rate of job shedding was broadly unchanged from May in the latest survey period. Employment levels fell only slightly as firms took the opportunity to reduce volumes of outstanding business where spare capacity was available. The resulting rate of backlog depletion was the quickest since February," IHS Markit said.
According to IHS Markit, lower production requirements due to Covid-19 restrictions meant that businesses reported a sharp moderation in purchasing activity, with buying falling to an extent not seen since April 2020. 
Despite the reduction in demand, input prices rose for the thirteenth month running in June 2021.
"Anecdotal evidence suggested that higher raw material costs amid shortages and delivery delays contributed to increased input prices. 
"Firms sought to partially pass higher cost burdens on to clients as output prices rose moderately. This extended the current sequence of inflation to 13 months, though the latest reading was the softest since February," IHS Markit added.