This article first appeared in The Edge Financial Daily, on August 14, 2018.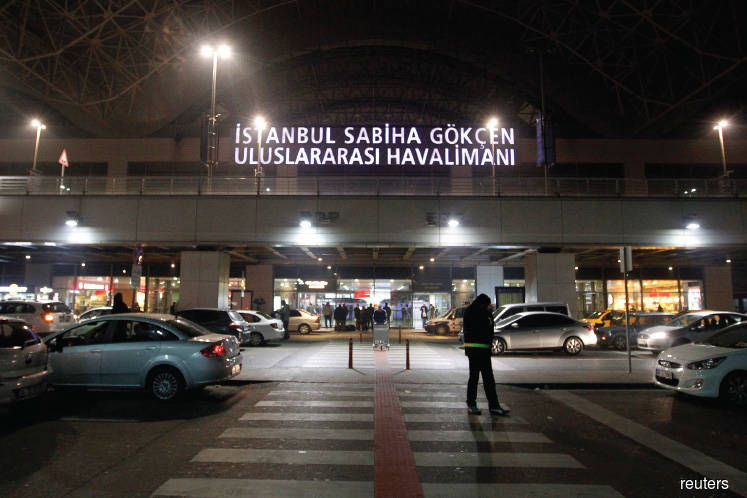 KUALA LUMPUR: A total of RM4.6 billion in market capitalisation was erased as investors spooked by the Turkish lira crisis dumped shares in the largest private healthcare service provider, utility player and airport operator listed here yesterday.
IHH Healthcare Bhd fell by 30 sen or 5.22% to close at RM5.45, with about 58.6 million shares changing hands, resulting in a loss of RM2.47 billion in market cap.
Tenaga Nasional Bhd (TNB), the dominant utility player of the country, saw about RM1.25 billion erased as its share price slipped 22 sen or 1.39% to close at RM15.56, with about 12.21 million shares traded.
Leading the decliners on the FBM KLCI was Malaysia Airports Holdings Bhd (MAHB), which saw about RM879.8 million wiped off as its share price fell 53 sen or 5.38% to close at RM9.33, with about 12 million shares traded.
While the three companies were not the only victims yesterday as a sea of red greeted investors at the opening bell, investors were paying close attention to the impact of the decline in the lira on their financial performance as a result of their exposure to Turkey.
According to Rakuten Trade Sdn Bhd vice president of research Vincent Lau, the decline seen in the stock market was largely driven by the negative sentiment, which also coincided with the recovery in the Malaysian stock market, which had gained significantly following a decline post-14th general election.
"I think it is a situation where investors and traders take the money off the table given the profit that they could have made by now. It makes sense given the uncertainties surrounding the Turkish lira crisis as well as the trade conflict between the US and China. I think of the crisis in Turkey to be restricted within the country itself and that there are not too many Malaysian corporates exposed to it," Lau said, adding that companies with exposure to Turkey could see their fundamentals affected, but only if the country's contribution to their revenue is over 5%.
IHH Healthcare's 60%-owned Turkey-based Acibadem integrated healthcare chain contributed about one-third of the group's revenue in the first financial quarter ended March 31, 2018 (1QFY18).
Acibadem is one of Turkey's leading private healthcare providers, with hospitals and medical centres, and also operates in Macedonia and Bulgaria. In 2017, it strengthened its presence in Istanbul by opening the largest private hospital there, Acibadem Altunizade.
TNB also has exposure to Turkey but it is limited, according to Nomura Global Markets Research.
"TNB's key investment in Turkey is its 30% stake in Gama Enerji, which the group acquired in 2016 for a consideration of US$255 million. Gama Enerji is part of TNB's renewable energy capacity expansion plan as it generates electricity from wind, hydro and natural gas, and has a total installed capacity of more than 1,100mw," Nomura said in its report yesterday.
It added that the exposure is limited as Gama Enerji is only an associate, which contributed to only 0.2% of TNB's reported profit after tax in FY17.
As for MAHB, the revenue contribution from its Turkey operations was about 23% of its total revenue in FY17. The group saw an improvement in its revenue in Turkey on the back of a 5.6% improvement in passenger traffic at its wholly-owned Istanbul Sabiha Gokcen International Airport (ISG).
It was reported last week that MAHB may be selling a much bigger stake in ISG, although this could not be confirmed by the airport operator.
An analyst who requested anonymity said the deal could give MAHB the much-needed funds for its expansion of airports locally, but with the crisis in Turkey now, it might have a negative impact in terms of valuation as well as how the deal could proceed.
The lira, which earlier hit a fresh all-time low of 7.24 against the US dollar, led to a deep sell-off in emerging-market currencies, leading to a rout across the stock market in the region. This was due to worries of a repeat of the Asian Financial Crisis (AFC) triggered by the 1997 collapse of the Thai baht that eventually led to an economic meltdown in Southeast Asia as the contagion spread.
Alan Tan, the head of research and chief economist of Affin Hwang Investment Bank Bhd, said the lira crisis alone is unlikely to cause a financial crisis similar to the AFC.
"I think it is unlikely that the impact will cause a global recession. Of course, there will be an impact on countries with weaker fundamentals, such as those with twin deficits or excessive debt levels. As for Malaysia's case, we have a comfortable account surplus and the fiscal deficit is also improving," Tan said.
Similar to Tan, Jameel Ahmad, the global head of currency strategy and market research of FXTM, said that as it stands, a financial crisis would be an over-exaggeration but global investors are becoming acutely aware that the risk of the lira crisis spiralling into other markets is something that cannot be overlooked.