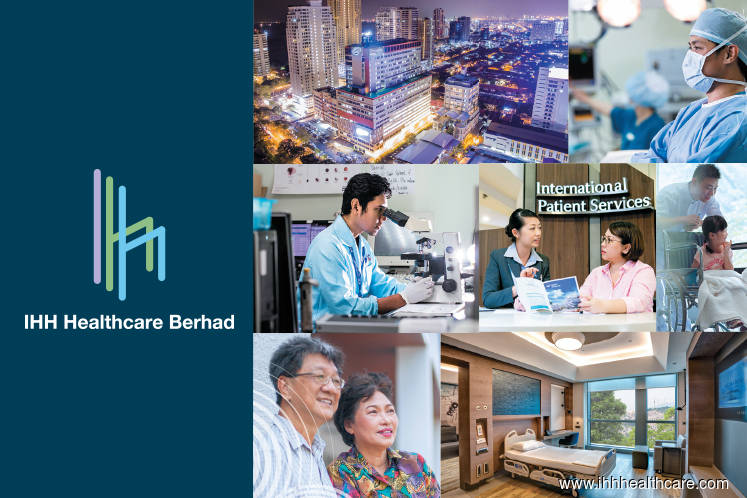 KUALA LUMPUR (Feb 28): IHH Healthcare Bhd does not expect any substantial long-term impact on its operations from the ongoing COVID-19 outbreak, although patients are expected to defer non-emergency treatments in light of the current situation.
"We expect short-term headwinds as [the viral outbreak] impacts the global economy and our operations, as well as [result in] slower medical tourism, [as] patients delay non-emergency treatments," said the group's managing director-cum-chief executive officer Dr Kelvin Loh Chi-Keon.
"The situation is still developing and we are hopeful this will not have a substantial long-term impact. Patients are expected to defer non-essential procedures but for those that require critical or essential [care, they] are still coming to us," he said.
Loh was addressing reporters in a teleconference call today as the group released its corporate earnings for its fourth and final quarter ended Dec 31, 2019 (4QFY19).
To mitigate the viral outbreak's impact on medical tourism, the group has been undertaking initiatives like border and outpatient reviews and screenings in Singapore and Hong Kong, among others.
He said the group has taken in some suspected cases in various geographies where it operates, but those cases have been transferred to their respective government hospitals as required by regulatory authorities.
"It is a difficult period for our healthcare staff but I am glad we have been extremely well-prepared.
"We have every confidence we can weather this storm and [we] do not think it will have a substantial long-term impact. And amid this backdrop, the rising demand for quality healthcare remains strong," he reiterated.
He also shared updates on the group's progress in deleveraging its non-lira debt exposure.
"We have significantly reduced the non-lira debt from 583 million euros as of December 2018, to 267 million euros as at end-2019 and we have made further progress since.
"Acibadem Holdings has refinanced another 50 million euros in debt, and further swapped 37 million euros into lira-denominated debt in 2020. Today, excluding the European operations, the total non-Lira debt stands at about 190 million euros," Loh said.
The group, he added, will continue to enforce strict fiscal discipline and use its cash flow to pare down its foreign debt.
In 4QFY19, IHH's net profit fell 92% year-on-year to RM40.63 million from RM509.42 million before, despite a 21.2% jump in revenue to RM3.84 billion from RM3.17 billion.
In its filing with the stock exchange, IHH attributed the lower profitability to higher net interest expenses, as additional loans were taken for acquisition, working capital and the conversion of euro interest to Turkish lira interest, which is higher.
Tax expenses also increased by RM67.2 million, mainly due to the reversal of deferred tax assets during the quarter under review. The group also said it registered foreign exchange losses in 4QFY19 compared to gains recognised in the year-ago quarter.
IHH also said its earnings before interest, taxes, depreciation, and amortisation were partially eroded by pre-operating expenses of Gleneagles Chengdu Hospital, which opened in October 2019, besides recognising a lower revaluation gain of RM11.4 million on its PLife REIT's investment properties during the quarter, compared with a year ago.
This brings IHH's full-year FY19 net profit to RM551.48 million, down 12.1% from RM627.69 million in the preceding year. Meanwhile, annual revenue grew 29.4% to RM14.91 billion, from RM11.52 billion in FY18. The group declared a first and final single-tier dividend of four sen per share, payable on April 30.
On the Main Market of Bursa Malaysia, shares in IHH settled two sen or 0.35% higher today at RM5.70 apiece, valuing the group at RM50.19 billion.
Read more:
https://www.theedgemarkets.com/article/ihh-seeks-growth-cluster-game-plan