This article first appeared in The Edge Malaysia Weekly, on January 27, 2020 - February 02, 2020.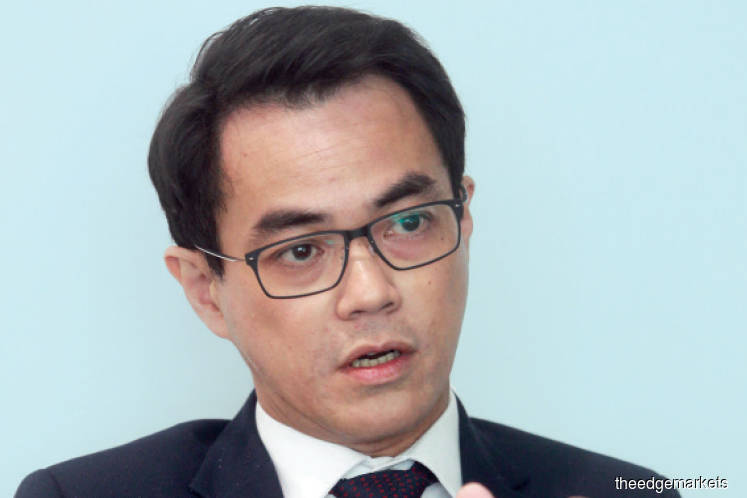 Loh: Over the next few years we will be focused on growth from existing markets.
Photo by Mohd Izwan Mohd Nazam/The Edge
IN his first interview with The Edge after taking over as managing director and CEO of IHH Healthcare Bhd in January this year, Dr Kelvin Loh Chi-Keon says the healthcare group is likely to tweak its strategy, with a focus on cluster intensive development.
While nothing has been firmed up, this plan is interesting, as it may involve the healthcare group's divesting its assets. And IHH has assets in many parts of the world.
It has 80 hospitals in 10 countries across the globe, comprising Bulgaria, the Netherlands, Mauritius, Singapore, Malaysia, China (Hong Kong), Turkey, India, Brunei and Sri Lanka.
"We may consider divestments, I think we should. I will go so far as to say that we will do a portfolio review of our entire operations, and if there are assets in areas that we do not foresee a good cluster growth, we may consider recycling our capital for the asset, and using it to grow others. We are going to seek growth by focusing on clusters, or geographical clusters. Build up three, four, five or six hospitals in one cluster, which will give us a lot of synergy in terms of scale for our revenues and costs," Loh says.
In a nutshell, a cluster is more capital-efficient than a standalone hospital. IHH, to recap, has under its belt such healthcare brands as Parkway, Pantai, Mount Elizabeth, Gleneagles, a 90% stake in Acibadem Holdings in Turkey, and a 31.1% stake in Fortis-owned hospitals.
IHH, Loh says, will seek growth firstly in geographies that the company is already in, and will plan in terms of the cluster strategy when entering a new market.
Loh explains how the cluster mechanism works by using the example of IHH's acquisition of Prince Court Medical Centre Sdn Bhd for RM1.02 billion cash from former parent Khazanah Nasional Bhd. The deal is in the midst of being concluded. "If we take Prince Court into our Klang Valley cluster, we get all the efficiencies Prince Court could never get by itself."
Other than Prince Court, IHH's hospitals in the Klang Valley include Gleneagles Hospital Kuala Lumpur, Pantai Hospital Kuala Lumpur, Pantai Hospital Ampang, Pantai Hospital Cheras and Pantai Hospital Klang.
IHH has also been leveraging its international reach better in order to cut costs. A few months ago, it called for a tender for 30 cardiac angioplasty machines and managed to save US$10 million (about RM40 million).
"We locked in the technology to upgrade the cardiac angioplasty machines, which helped bend the healthcare cost inflation curve," Loh says.
In IHH's notes to its interim financial statement for the nine months ended September, the company indicated that it had capital expenditure commitments of RM857.93 million, so savings such as those in the global tender for cardiac angioplasty machines should come in handy.
On the possibility of the company's venturing into new markets, Loh says, "We constantly look for growth. But we have grown to a big size, so it's fair to say that over the next few years we will be focused on growth from existing markets because they are far from saturated and still have a long way to go. We will utilise the cluster strategy I spoke of, and we can improve our ROE [return on equity]."
In 2018, IHH made a key acquisition when it bought 31.1% of Fortis Healthcare Ltd in India for RM2.38 billion.
 
Better numbers
It is also noteworthy that IHH's financials have been improving.
For the nine months ended September 2019, IHH raked in RM510.85 million in net profit from RM11.08 billion in revenue. For the corresponding period a year ago, it posted a net profit of RM118.27 million on the back of RM8.35 billion in revenue.
IHH had retained earnings of RM4.4 billion for the period in review. Its cash and cash equivalents stood at RM4.64 billion, while on the other side of the balance sheet, the company had long-term debt commitments of RM7.74 billion and short-term borrowings of RM1.2 billion.
"Our net debt-to-Ebitda ratio is around 1.5 times across the whole group, which is very manageable," Loh says.
IHH's finance costs for the period in review were RM658.44 million, down about 50% from RM1.32 billion a year ago. Close to 60% of the finance costs, or RM392.62 million, stemmed from Acibadem Saglik Yatirimlari Holding AS in Turkey, while the  Fortis operations in India accounted for RM134.81 million.
"It (the debt level) is relevant to the markets. Both Turkey and India are very high-growth markets, so the debt rates are relative to inflation. One of the strategies we are deploying is that the funding in every country is based on its own currency; in other words, if you earn in that currency, you fund in that currency.
"Acibadem in Turkey is a very good example. We've taken down the foreign debt from something like €600 million in 2018 to below €200 million over the next few months, and it will go down even further from there," Loh says.
Asked if things will be more manageable, he says, "Absolutely, we will have much less forex risk than we had before."
 
Issues in India persist
Other than high finance costs, IHH's acquisition of 31.1% of Fortis Healthcare in November 2018 has encountered problems, with matters being adjudicated in court. The next hearing date is set for Feb 3.
Prior to IHH's acquisition of the block of shares in Fortis, a legal firm had submitted a report highlighting certain issues that required Fortis' reassessment on claims and transactions with possible related parties. Fortis had investment placements — inter-corporate deposits (ICDs) — with three companies amounting to INR4,450 million (about RM261.2 million) that were impaired entirely by the company in FY2018.
The ICDs were used to repay and grant loans to certain entities connected to the former directors and shareholders of Fortis. The placement of ICDs, the subsequent assignment and cancellation of assignment were also done without following ordinary treasury procedures and Fortis' treasury mandate, and specific authorisation was not obtained from the former Fortis board.
The third party to which the ICDs were previously assigned had filed a civil suit against several entities, including Fortis, in February 2018. The Securities and Exchange Board of India issued interim investigation orders after looking at these transactions and instructed Fortis to take the necessary steps to recover INR4,030 million from its previous controlling shareholders (prior to IHH's acquisition) and other parties identified.
Nevertheless, Loh says, "Fortis is an important acquisition for us, a transformative acquisition. We are very proud of it, we have done a fair bit of work and we are very happy with the result. Bed occupancy has gone up, the balance sheet issue has been solved, Ebitda is now in the double-digit territory. We are happy to drive the operational efficiencies, we have a new management team and it's doing well."
With a market capitalisation in excess of RM50 billion, IHH is among the largest companies in Malaysia, so every move it makes will be closely watched.