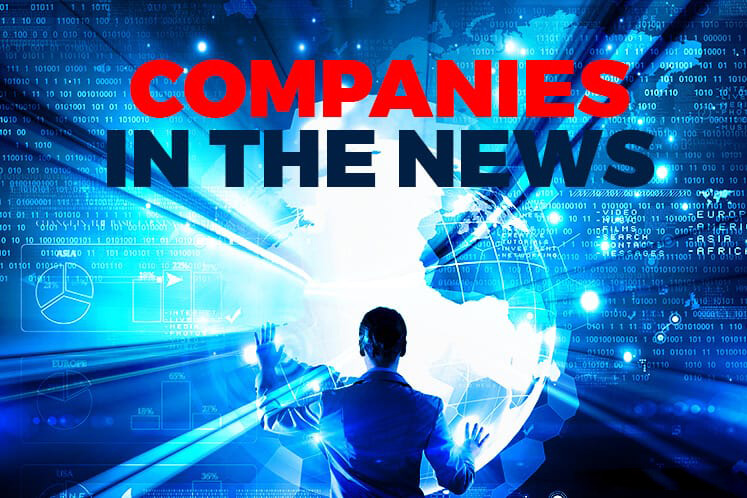 KUALA LUMPUR (Aug 30): Based on corporate announcements and news flow today, companies in focus on Tuesday (Sept 3) could include IHH Healthcare Bhd, Malaysia Airports Holdings Bhd, Supermax Corp Bhd, Sunsuria Bhd, Serba Dinamik Holdings Bhd, AirAsia Bhd, Malaysia Steel Works (KL) Bhd, Prestariang Bhd, Tenaga Nasional Bhd and Malaysia Building Society Bhd.
IHH Healthcare Bhd's net profit for the second quarter ended June 30, 2019 (2QFY19) rose 12% to RM184.99 million compared with RM165.11 million a year ago, as the group continues to book in contributions from two new acquisitions that were completed in the final quarter of last year.
Aside from the boost of the Amanjaya Specialist Centre (completed last October) and Fortis Healthcare (acquired a month later) acquisitions, the better earnings were also a result of the continuous ramp up of its Gleneagles Hong Kong Hospital in Hong Kong, and the Acibadem Altunizade Hospital in Turkey, both of which opened their doors in March 2017, and sustained organic growth from other existing operations.
Quarterly revenue jumped 37% year-on-year to RM3.65 billion from RM2.66 billion, while earnings before interest, tax, depreciation and amortisation improved by 47%.
The improved 2QFY19 lifted its six-month net profit ended June 30 by 23% to RM274.5 million from RM222.34 million a year ago, while revenue rose 32% to RM7.29 billion from RM5.51 billion.
Malaysia Airports Holdings Bhd's (MAHB) net profit for the second quarter ended June 30, 2019 jumped 86% year-on-year to RM160.08 million from RM86.12 million as revenue rose to RM1.26 billion from RM1.15 billion previously. MAHB declared an interim dividend of 5 sen, payable on Oct 1.
However, for the six months ended June 30, MAHB's net profit fell to RM309.66 million from RM530.72 million. Revenue for the period, however, rose to RM2.51 billion versus RM2.37 billion previously.
But its share price fell as much as 50 sen or 5.85% to RM8.05 in afternoon trades today on news the Government will reduce the passenger service charge (PSC) for international travellers flying beyond Asean from klia2 and other airports besides the Kuala Lumpur International Airport (KLIA) to RM50, from RM73 previously, from October.  
Supermax Corp Bhd's net profit jumped 59% to RM15.06 million for the fourth financial quarter ended June 30, 2019 (4QFY19) from RM9.47 million a year ago, on higher revenue from global sales of its natural rubber and nitrile rubber gloves.
Revenue for the quarter under review rose 14.1% to RM375.96 million from RM329.46 million a year ago, which Supermax attributed to the commissioning of new replacement lines within the group and a stronger US dollar against the ringgit.
The strong quarterly performance lifted the group's net profit for the full financial year (FY19) by 16% to RM123.75 million from RM106.66 million in the previous year while revenue grew 14.2% to RM1.49 billion in FY19 from RM1.3 billion in FY18.
Sunsuria Bhd chief executive officer Koong Wai Seng has resigned from his executive position, after helming the property developer for about three years. Koong, 52, resigned "to pursue other personal goals and interests".
In May 2016, Koong, who was the group's deputy chief executive officer at the time, replaced Ho Hon Sang as the chief executive officer after the latter resigned to pursue other interests.
AirAsia Bhd has signed an agreement for a firm order of 30 A321XLR and 12 additional A330neo aircraft from Airbus to join the budget airline's future long-haul fleet.
"The introduction of the A321XLR provides AirAsia X with greater flexibility to better manage capacity on key routes as well as respond to seasonal demand. The A321XLR also gives AirAsia X an advantage when it comes to exploring opportunities to operate non-stop flights between Southeast Asia and secondary cities in countries like Australia, China and Japan," AirAsia said.
Malaysia Steel Works (KL) Bhd (Masteel) slumped to a net loss of RM10.39 million for the second quarter ended June 30, 2019 from net profit of RM7.98 million a year earlier, due to lower sales volume and selling price resulting in lower margin.
In a filing, Masteel said revenue for the quarter fell to RM294.68 million from RM324.69 million previously. Loss per share was 2.44 sen compared to earnings per share of 1.89 sen in the year-ago quarter.
For the six months ended June 30, Masteel posted a net loss of RM19.07 million versus net profit of RM25.7 million in the year-ago period. Revenue dropped to RM574.9 million from RM759.5 million a year earlier.
Tenaga Nasional Bhd's (TNB) net profit for the second quarter ended June 30, 2019 fell 9.7% year-on-year to RM1.12 billion from RM1.24 billion, due to regulatory adjustments which are now accounted for every month starting from this financial year, and MFRS 16 Leases. Revenue for the quarter rose to RM12.88 billion from RM12.5 billion, mainly due to higher electricity sales.
TNB declared an interim dividend of 30 sen per share amounting to RM1.71 billion, to be paid at a date to be announced. For the six months ended June 30, TNB's net profit fell to RM2.67 billion from RM3.36 billion. However, revenue for the period was higher at RM26.12 billion versus RM24.77 billion a year earlier.
Malaysia Building Society Bhd registered a 24% year-on-year increase in the second quarter profit of its financial year 2019, as the group recorded lower than expected credit losses during the quarter under review.
Hence, net profit climbed to RM106.23 million from RM85.69 million a year ago. Revenue grew 3% to RM817.66 million from RM794.14 million.
In terms of cumulative net profit for the six months ended June 30, MBSB's net profit more than halved to RM190.06 million from RM402.48 million a year ago, mainly on higher ECL charged of RM245.44 million as opposed to an ECL write-back of RM7.99 million previously, and as interest income fell 46% to RM77.8 million from RM143.21 million, while other operating expenses rose 12.18% to RM201.50 million. Cumulative revenue also retreated to RM1.6 billion from RM1.61 billion.